Textbook
OfficeGrader 2013
ISBN: 978-1-118-79795-2
September 2013, ©2014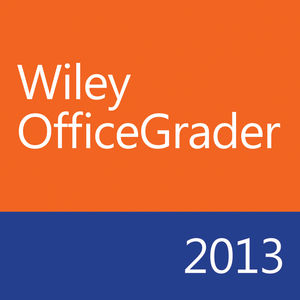 Wiley's OfficeGrader corrects your students' task-based assignments. Your students work on real-world problems like those they will encounter in the workforce ensuring they are ready for real professional challenges. OfficeGrader is a suite of software programs that automatically grade Word documents,
Excel spreadsheets, PowerPoint slide decks, and Access databases. It is composed of four separate applications: WordGrader, ExcelGrader, and AccessGrader.  OfficeGrader 2013 also has backward compatibility and will work for previous versions of Microsoft Office.
OfficeGrader not only saves time, it facilitates efficient and consistent grading -- saving valuable time for other important teaching activities. Grading is easier than ever allowing faster assignment turnaround to students.

How does it work? OfficeGrader
compares the student file against a correct master file
returns files with redline corrections and comments to guide your students
provides marked-up assignments in a folder and a spreadsheet of student grades, saving you time
and effort—that can be easily imported back into WileyPLUS, Blackboard, or other course management programs.
What does it do?

OfficeGrader allows an instructor to grade Office documents against a solution file. You can grade any number of documents (from one to hundreds) at a single time. OfficeGrader provides you with a marked-up version of
each student file and a spreadsheet of all the student grades. The marked-up versions can be returned to tudents, providing them with both a graded summary and in-depth feedback. OfficeGrader offers an "after the fact" method of plagiarism detection. All files that have been graded in the previous batch (only) are compared for common errors. The resulting report shows groups of students with the same errors. You may specify the threshold for being included in the report (100% of errors in common, 90%, etc.)

Just as in the workplace, the method an employee uses is of minor significance as long as the final result is correct, OfficeGrader grades tasks with a similar outlook. If there are multiple ways to accomplish the task, Office
simulation software often grades only one or a few methods correctly, frustrating students. Unlike simulation software, OfficeGrader looks at the final result, and counts all methods correct that achieved that result.
OfficeGrader not only grades projects that come with the MOAC textbooks, but grades your custom projects. We realize many schools have customized projects they've developed over the years, and want to continue to utilize those specific projects. With OfficeGrader, you can continue to utilize these projects with our powerful automated grading!
See More
Learn more about