E-book
The Freaks Shall Inherit the Earth: Entrepreneurship for Weirdos, Misfits, and World Dominators
ISBN: 978-1-118-80031-7
208 pages
April 2014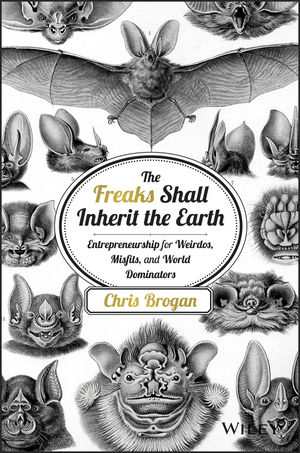 Do you ever wonder where you fit in? Do you sometimes get that feeling that you have something much bigger to offer the universe, but then it fills you with fear and anxiety, so you think maybe I'll just pay it safe? But what is safe? The factory job? The cubicle job?

Factories all over have been converted to open spaces for startups. Skyscrapers have entire floors open for lease because the "same as everyone else" class of jobs have dried up. Many of us were raised to seek out a job that required us to fit in, to conform, to adapt until we fit the mold.

The Freaks Shall Inherit The Earth is a guide for the kind of person who wouldn't normally pick up a business book.

The personal business revolution is upon us. Here's your recipe book for starting your revolutionary business, including some of what you will learn:
How to be as weird as you want while providing a viable business structure to support it
What most people are missing from the basic frameworks of doing business
How to turn passions into businesses
How to build out the Digital Channel
What Kickstarter and Square mean for the future of business)
Take the plunge. Learn to fail and then win. Dare to do something that "everyone else" doesn't. The Freaks Shall Inherit the Earth will help.

Bestselling author and successful entrepreneur Chris Brogan explains step-by-step how to build your business from the ground up, all without compromising the unique mindset and personal values that make you a freak in the first place.
See More
Preface ix
1 Business New and Old and New Again 1
2 The Wild Colors and the Solid Spine 13
3 Choose Your Own Adventure: Defining Success 25
4 Skill Building for Your Business Goals 35
5 Fall in Love with Not Knowing 51
6 Structure a Framework for Your Days 65
7 Are You an Employeepreneur? 77
8 Create Systems That Work for You 87
9 Are You a Solo or Small Business Owner? 99
10 Fall in Love with Not Knowing, Redux 113
11 Worship Obstacles and Challenges 129
12 Build Your Own Media Empire 139
13 Connect with Your Freaks 153
14 Own Everything 163
15 When It All Goes Wrong 175
16 Take Action! Fight Crime! Save the World! 183
Index 189
See More
Chris Brogan is Publisher and CEO of Owner Magazine, a business magazine helping you improve your worth by growing your capabilities and connections. He is a sought-after keynote speaker who has addressed crowds of thousands, been on the Dr. Phil show, and once presented to a princess. Chris has consulted with companies you know like Disney, Microsoft, Coke, Titleist, Pepsico, Google, Motorola, and many more.
See More