Z.E.R.O.: Zero Paid Media as the New Marketing Model
ISBN: 978-1-118-80115-4
288 pages
October 2013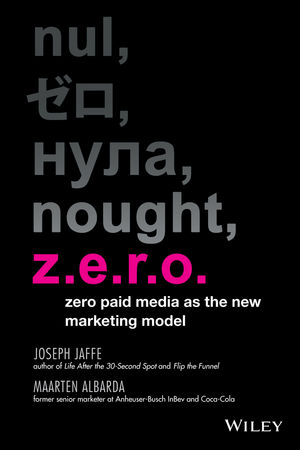 The world has changed. Everyone keeps reminding marketers and advertisers about the never ending and accelerating forces of technology disruption, consumer changes, and innovation evolution in the marketing world today. Sounds exciting except for the fact that we're doing absolutely nothing about it. Zero. 

Simply put, under current operating conditions, the advertising industry will not be able to sustain itself and without taking action, is likely to result in severe to catastrophic outcomes- from financial underperformance to job loss to even a collapse of the current media ecosystem.

The solution? The Marketing Model can be fixed by slashing your ad budget, and  investing in the Z.E.R.O. framework:
Zealots
Entrepreneurship
Retention
Owned Assets
See More
Foreword Chris Burggraeve vii
Preface The Obesity Epidemic xi
A Note from the Authors xv
SECTION I The Problem 1
CHAPTER 1 Madison Avenue: We Have a Problem 3
CHAPTER 2 A Perfect Storm Is Coming 9
CHAPTER 3 The Economic Case 21
CHAPTER 4 The Business Case 31
CHAPTER 5 The Media Case 37
CHAPTER 6 The Consumer Case 47
CHAPTER 7 The Creative Case 57
SECTION II The Z.E.R.O. Vision 67
CHAPTER 8 Is It Time to Blow Up the Entire Model? 69
CHAPTER 9 Introducing Z.E.R.O. 81
SECTION III The Z.E.R.O. Action Plan 127
CHAPTER 10 Culture and Talent 131
CHAPTER 11 Tenure 139
CHAPTER 12 Compensation 145
CHAPTER 13 Budget Setting 155
CHAPTER 14 Measurement and Insights 169
CHAPTER 15 Use Existing Customers to Gain New Ones 181
CHAPTER 16 Customer Experience Becomes the Key Strategic Differentiator 191
CHAPTER 17 The Innovation Imperative 203
CHAPTER 18 Become a Data Junkie 219
CHAPTER 19 From Campaigns to Commitments to Ecosystems 231
CHAPTER 20 That's Great . . . Now What the Hell Do I Do Next? 241
Epilogue 255
Notes 261
Index 267
See More
October 07, 2013
Zero Paid Media as the New Marketing Model
Connect with Wiley Publicity
In May 2013, WPP's Sir Martin Sorrell conceded his clients were wasting 15 to 25 percent of their advertising dollars, only he didn't know exactly which 25 percent was being wasted. This statement resurrected a similar comment made by retailing pioneer John Wanamaker almost exactly 100 years earlier. Only Wanamaker estimated that number to be 50 percent.
But what if both were wrong? What if that number were way higher than 50 percent? What if we could measure it? What if we knew what to do with the wasted budget—whether to redistribute or optimize inefficient budgets from acquisition to retention? From incumbent channels to innovation platforms?
What if brands could move from being tenants to landlords? From being media dependent to media discerning?
Authors Joseph Jaffe and Maarten Albarda not only feel this is possible, but highly probable, given two forces that—when combined—will deliver a perfect storm that will rock the media world to its core. The push of media inflation, noise and clutter, consumer resistance and apathy, and fleeting viewers will ultimately intersect with the pull of the increasingly digital, social, and connected world, powered by startups, content creation, and customer-centric ecosystems powered by technology. The results will be catastrophic to those who remain paralyzed on the sidelines, but ecstatic to those who take action.
In Z.E.R.O., Jaffe and Albarda introduce the power of Zealots (advocacy), Entrepreneurship (innovation), Retention (customer-centricity), and Owned Assets (direct-to-consumer channels) under a unified call-to-action that, in a perfect world, would create an optimal media budget of Z.E.R.O.
The authors pull Z.E.R.O. punches in delivering some tough love that ultimately is grounded in a shared passion to save the industry (from itself) and, in doing so, reinvent brands and brand building in a time where commoditization trumps differentiation; where automation overshadows humanity; where noise drowns out signal; where the status quo prevails over risk-taking; and where mediocrity dulls creativity.
Z.E.R.O. is a no-holds-barred call to action for corporations and their marketers to adapt or die amid an increasingly turbulent, changing, and dynamic media landscape.
In three sections, authors Jaffe and Albarda outline the problems and challenges that are leading to the Perfect Storm approaching (Section 1), the introduction and delivery of the Z.E.R.O. Manifesto (Section 2) in which the vision and idea of Z.E.R.O. is presented, and finally a ten-point Action Plan with pragmatic recommendations marketers can start doing to ensure not just survival, but also the ability to thrive in the turbulent (yet exciting) world that lies ahead.
Z.E.R.O. is not a pipe dream. It's a reality for companies like Red Bull, Nike, Apple, Starbucks, and Amazon.com.
See More