E-book
SketchUp for Interior Design: 3D Visualizing, Designing, and Space Planning
ISBN: 978-1-118-80493-3
304 pages
January 2014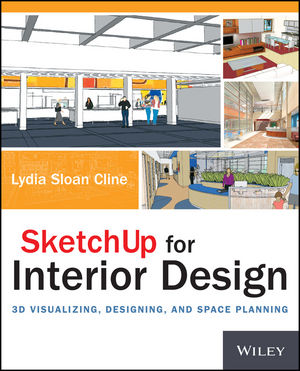 A practical guide to SketchUp addressing the specific needs of interior designers
Already a common and popular tool for architects and landscape architects, SketchUp is increasingly finding a place in the professional workflow of interior designers. SketchUp for Interior Design is a practical introduction for interior designers and students who want to learn to use the software for their unique needs. The book covers the basics of creating 3D models before showing how to create space plans, model furniture, cabinetry, and accessories, experiment with colors and materials, incorporate manufacturers' models into project plans, and create final presentations and animated walk-throughs for clients. Each chapter includes clear explanations and helpful illustrations to make this an ideal introduction to the topic.
Includes downloadable sample models and 39 tutorial videos
Features sample questions and activities for instructors and additional online resources for students and self-learners
Provides instruction on using SketchUp in both PC and Mac formats
See More
Foreword vii
Chapter 1: What Is SketchUp and How Do Interior Designers Use It? 1
What Is SketchUp? 1
Who Uses It? 2
Is It Easy to Learn? 2
What Is SketchUp Used For? 2
The Difference between Traditional CAD Drawings and Models 2
How SketchUp Displays the Model 3
Types of Models 3
What SketchUp Make (Free Version) Can Do 4
What SketchUp Pro Can Do 5
How Designers Use SketchUp 9
Chapter 2: Getting Started 13
Hardware, Operating System, and Browser Requirements 13
The Video Card 14
The Space Navigator 3D Mouse 14
Use a Tablet PC 15
Download SketchUp Make 16
The Workspace 20
Run Multiple SketchUp Files at the Same Time 22
Save Options 23
Backup Files 24
Chapter 3: Exploring the Interface 25
Select or Change a Template 25
Add the Large Tool Set 25
The Select Tool 27
The Rectangle Tool 28
The Inference Engine 28
The Push/Pull Tool 29
Input Numbers 30

The Pan and Orbit Tools 31
The P Modifier Keys 32
The Escape Key 32
The Zoom Tool 32
The Views Toolbar: Generate Orthographic Drawings 32
Select with Selection and Crossing Windows 35
Select by Clicking, Right-Clicking, and Holding the Shift and Control Keys 36
The Move Tool 37
Customize the Desktop 38
Make a Custom Template 41
The Help Function 42
Manage Dialog Boxes 42
Chapter 4: Modeling Furniture, Cabinetry, and Accessories 45
Faces and Edges 45
The Eraser Tool and Erasing 45
The Pencil and Freehand Tools 46
The Move Tool 47
Stickiness 48
Groups 49
Causes of a Non-Filling Face 51
Color-Coordinate the Model's Lines with the Axes by Changing the Edge Style Setting 52
Model a Table 53
Model a Bookcase 62
Model a Clock with Radial Array 79
Chapter 5: Drafting, Modeling, and Furnishing a Floor Plan 85
Prepare a Raster File for Import 85
Draft a Plan by Tracing a Raster Image 85
Trace Interior Walls 93
Edge Styles Again 94
From Plan to Model 96
Flashing Planes 100
Draft a Plan from a Paper Sketch 102
Interior vs. Exterior Models. 108

Components in Single- vs. Double-Sided Walls 108
Create Plan and Elevation Views 116
Model a Building from an AutoCAD Plan 121
Interact with Revit, 20–20, and Other Programs 124
"Clipping" (Disappearing Geometry) 125
Model a Sloped Ceiling with the Protractor Tool 125
Chapter 6: Modeling a Two-Story House Interior 131
Model the Shell and First Floor 131
Model the Second Floor 137
Model the Living Room 145
Model a Cabinet 147
Model Crown Molding with the Follow Me Tool 151
Model a Stairs Guard 155
Edit a Downloaded Staircase 156
The Outliner 164
Chapter 7: Painting with Colors, Textures, and Photo-Matching 169
What Is Painting? 169
Paint with Native SketchUp Materials 169
Paint with Textures 174
Paint the Stairs 176
Import Swatches from Other Models 178

Put New Colors and Textures into the Software 178
Check Face Orientation on Painted Surfaces with Entity Info and Face Style 180
Apply a Real-Life Design Scheme to the Model 180
Import a Texture 183
Import an Image 188
Photo-Match an Interior Space 202
Chapter 8: Enhancing and Presenting the Model 209
Annotate the Model: Dimensions and Text 209
Dimension a Floor Plan. 214 Scenes 224
The Walk-Through Tools 231
What Are Dynamic Components? 233
Save vs. Export 236
Enhance with Other Software 238
Enhance with Hand-Rendering 238
Why SketchUp May Run Slow 246
Chapter 9: Plugins and LayOut 253
What's a Plugin? 253
LayOut 265
SketchUCation Forum 277
Index 279
See More
Lydia Sloan Cline is a professor at Johnson County Community College, where she teaches SketchUp, AutoCAD, manual drafting, and interpreting architectural drawings. She is also the author of Architectural Drafting for Interior Designers and Drafting and Visual Presentation for Interior Designers.
See More