Software
Investment Banking Valuation Models CD
ISBN: 978-1-118-80664-7
September 2013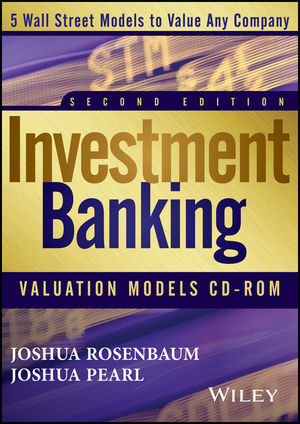 5 Investment Banking Models to Master Valuation Principles
Investment Banking, Second Edition is the most widely used reference guide in investment banking. Investment Banking Valuation Models CD-ROM includes world-class valuation and transaction models to complement this global best-selling guide in investment banking.
Five valuation model templates along with completed versions are accessible with this CD-ROM. Each model comes complete with a user's guide.
The models include:
Comparable Companies Analysis
Precedent Transactions Analysis
Discounted Cash Flow Analysis
Leveraged Buyout Analysis
Merger Consequences Analysis
See More
Joshua Rosenbaum is a Managing Director at UBS Investment Bank in the Global Industrial Group. He originates, structures, and advises on M&A, corporate finance, and capital markets transactions. Previously, he worked at the International Finance Corporation, the direct investment division of the World Bank. He received his AB from Harvard and his MBA with Baker Scholar honors from Harvard Business School.
Joshua Pearl is an investment analyst at Brahman Capital Corp. Previously, he structured and executed leveraged loan and high yield bond financings, as well as leveraged buyouts and restructurings as a Director at UBS Investment Bank in Leveraged Finance. Prior to UBS, he worked at Moelis & Company and Deutsche Bank. He received his BS in Business from Indiana University's Kelley School of Business.
See More