E-book
Genealogy Online For Dummies, 7th Edition
ISBN: 978-1-118-80818-4
432 pages
January 2014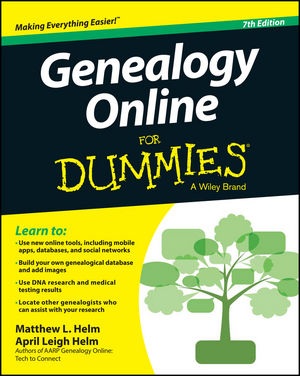 Research your family history using the latest online tools and apps
Genealogy Online For Dummies, 7th Edition is the perfect book to help you conduct genealogical research. Updated to cover the latest online tools, this new edition shows you how to leverage social networks and the rapidly increasing number of mobile apps to locate family members and trace their histories. You?ll discover how to start your investigation, develop a research plan of action, identify sites and resources that will be of the most use to you, get information from government records, preserve electronic materials, and share your findings with the rest of the family.
Shows you how to conduct research into family history using the latest online tools, mobile apps, and other resources
Explains how to use online and offline research techniques and tools for genealogical research, find and share information with other genealogists, and create your own site to showcase your family tree, digital images, and compiled genealogies
Includes access to free versions of RootsMagic Essentials and Legacy Family Tree Standard Edition as well as information on free websites for storing your genealogical information
Covers DNA research and testing, new geocoding applications, U.S. Census information available online, international records, public access catalogs, and more
Genealogy Online For Dummies, 7th Edition helps you follow the clues to uncover your family?s legacy ? the fun and easy way.
See More
Introduction 1
Part I: Getting Started with Genealogy Online 5
Chapter 1: Beginning Your Ancestral Journey 7
Chapter 2: Hunting for Sources and Ancestral Treasures 35
Chapter 3: Searching Primar y Resource Sites 63
Chapter 4: Using All of Your Censuses 101
Part II: Bringing Your Ancestor to Life 131
Chapter 5: Digging Deeper into Your Ancestors' Lives 133
Chapter 6: Searching for that Elusive Ancestor 173
Chapter 7: Mapping the Past 199
Chapter 8: Going Beyond Borders: International and Ethnic Records 227
Part III: Making Sure Your Family History Checks Out 271
Chapter 9: Specializing in Your Family History 273
Chapter 10: Fitting into Your Genes: Molecular Genealogy 291
Part IV: Doing Things the Genealogical Way 319
Chapter 11: Share and Share Alike 321
Chapter 12: Finding Your Research Path 355
Chapter 13: Help Wanted 365
Chapter 14: Taking It on the Road 379
Part V: The Part of Tens 387
Chapter 15: Ten Sites Worth Bookmarking 389
Chapter 16: Ten Helpful Sites 393
Index 399
See More
Matthew L. Helm and April Leigh Helm have shared an interest in researching family history for more than 20 years and manage several leading online genealogical resources, including GenealogyToolbox.com and www.HistoryKat.com.
See More