The Codes Guidebook for Interiors, 6th Edition
ISBN: 978-1-118-80936-5
608 pages
September 2014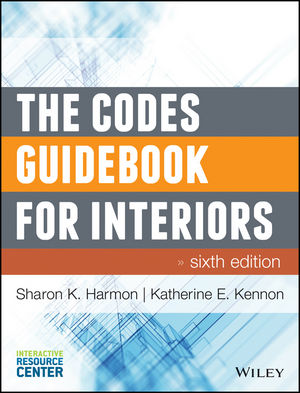 All new, print copies of this book features access to the Interactive Resource Center. The IRC is an online learning environment which contains animations, interactive exercises, and other learning resources tied to the book. An access card with redemption code for the online IRC is included with all new, print copies or can be purchased separately.
Get up to speed on the latest codes with the complete reference for interiors.

The Codes Guidebook for Interiors, Sixth Edition is the standards reference of choice for designers and architects, and the only guide devoted exclusively to codes applicable to interiors. With jargon-free explanations of all standards and regulations of concern to designers and architects, the book takes readers step-by-step through the codes relevant to each stage in the design process. The updated sixth edition features the latest information on fire codes, performance codes, building and finish standards, energy codes, and accessibility regulations, plus enhanced illustrations that clearly demonstrate how codes apply in real-life scenarios.
Interior designers, architects, and facility managers need a basic understanding of the various codes involved with building interiors. These codes are updated on a continuous basis, and professionals must stay on top of new requirements and upcoming codes processes. The Codes Guidebook for Interiors is a complete reference, organized by stage for easy navigation, and comprehensive enough for use as a review for the NCIDQ and ARE exams. The sixth edition contains the most recent developments in interior codes and regulations, including:
2012 ICC codes, including the IBC, and ICC International Green Construction Code
Coverage of changes to ADA standards and ICC/ASI accessibility requirements
New standards, terminology, and federal regulations
Updated information on sustainability as it relates to codes and regulations
The companion website features expanded content, and the image bank provides further visual examples of the information presented in the text. Having all applicable codes in a single resource saves hours of research time, and can dramatically reduce the potential for costly planning oversights. Whether renovation or new construction, small or large, codes apply to every project. The Codes Guidebook for Interiors provides designers with the comprehensive information they need to stay up-to-date.
See More
Inset Index

Preface

Acknowledgments

Introduction: How to Use This Book

Definitions

Using Codes in the Design Process

Organization of the Book

Available Codes and Standards

Prescriptive and Performance

Accessibility Regulations

Sustainability Requirements

Figures in the Book

Getting Started

Minimum Requirements

CHAPTER 1 ABOUT THE CODES

A Brief History

Code Publications

Federal Regulations

Standards Organizations

State and Local Codes

Interior Codes Checklist

CHAPTER 2 OCCUPANCY CLASSIFICATIONS AND LOADS

Understanding Occupancy Classifications

Comparing the Codes

Description of Occupancies

New Versus Existing Occupancies

More Than One Occupancy Type

Accessibility Requirements

Determining Occupant Loads

Using the Occupant Load

Checklist

CHAPTER 3 CONSTRUCTION TYPES AND BUILDING SIZES

Understanding Construction Types

Comparing the Codes

Combustible versus Noncombustible

Determining Construction Types

Sustainability Considerations

Understanding Building Height and Area

Height and Area Limitations

CHAPTER 4 MEANS OF EGRESS

Comparing the Codes

Means of Egress Components

Exit Accesses

Exits

Areas of Refuge

Exit Discharges

Means of Egress Capacity

Arrangement of Exits

Signage

Emergency Lighting and Communication

Checklist

CHAPTER 5 FIRE AND SMOKE RESISTANT ASSEMBLIES

Comparing the Codes

Compartmentation in a Building

Fire Walls

Fire Barriers, Horizontal Assemblies, and Fire Partitions

Smoke Barriers and Smoke Partitions

Opening Protectives

Through-Penetration Protectives

Test Ratings

Using Rated Materials and Assemblies

Sustainability Considerations

Checklist

CHAPTER 6 FIRE-PROTECTION SYSTEMS

Comparing the Codes

Detection Systems

Alarm Systems

Extinguishing Systems

Checklist

CHAPTER 7 PLUMBING AND MECHANICAL REQUIREMENTS

Comparing Plumbing Codes

Number of Plumbing Fixtures

Plumbing Fixture Requirements

Toilet and Bathing Facilities

Plumbing Sustainability Considerations

Comparing Mechanical Codes

Mechanical Requirements

Mechanical Sustainability Considerations

Checklist

CHAPTER 8 ELECTRICAL AND COMMUNICATION REQUIREMENTS

Comparing Electrical Codes

Electrical Components and Devices

Grounding and Circuit Interrupters

Light Fixtures

Required Electrical Systems

Electrical Sustainability Considerations

Comparing Communication Codes

Communication Components and Devices

Types of Communication Systems

Communication Sustainability Considerations

Checklist

CHAPTER 9 FINISH AND FURNITURE SELECTION

Types of Finishes and Furnishings

Comparing the Codes

Standards and Testing

Determining Finish Classifications

Obtaining Test Results

Accessibility Requirements

Other Code Restrictions

Sustainability Considerations

Checklist

CHAPTER 10 CODE OFFICIALS AND THE CODE PROCESS

The Authority Having Jurisdiction

Code Enforcement

The Code Process

Documentation and Liability

Future Technology

Appendix A Accessibility and the ADA

Places Requiring Accessibility

Original ADAAG

New ADA Guidelines

Level of Compliance

Regulation and Enforcement

Responsibility for Compliance

Appendix B Sustainability

Green Rating Systems

Sustainable Standards and Certification Programs

Life Cycle Assessments

Environmental Product Declarations

Additional Tools

Appendix C Existing and Historic Buildings

Existing Buildings

Historic Buildings

Sustainability Considerations

Appendix D Family Residences

Construction Types and Building Size

Means of Egress

Fire and Smoke Resistance

Fire Protection

Plumbing

Mechanical

Electrical and Communication

Finishes and Furniture

Accessibility Considerations

Sustainability Considerations

Bibliography (By Topic)

Glossary

Index
See More
SHARON KOOMEN HARMON has more than twenty-five years' experience in interior design and project management. Combining this with her strong interest in natural health, she now owns Life Design for Health, which helps people pursue a holistic approach to health and well-being.
KATHERINE E. KENNON, AIA, is a professional architect, educator, and code consultant. She is an adjunct professor at Watkins College of Art, Design, and Film in Nashville, TN. She also conducts continuing education seminars on design, building codes, and accessibility issues for design students and professionals.
See More
Learn more about