E-book
Strategy for the Corporate Level: Where to Invest, What to Cut Back and How to Grow Organisations with Multiple Divisions, 2nd Edition
ISBN: 978-1-118-81835-0
400 pages
May 2014, Jossey-Bass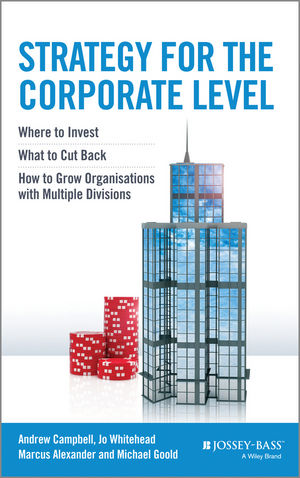 A revised edition of the bestselling classic
This book covers strategy for organisations that operate more than one business, a situation commonly referred to as group-level or corporate-level strategy. Corporate-level strategy addresses four types of decisions that only corporate-level managers can make: which businesses or markets to enter, how much to invest in each business, how to select and guide the managers of these businesses, and which activities to centralise at the corporate level. This book gives managers and executive students all the tools they need to make and review effective corporate strategy across a range of organisations.
See More
PREFACE vii
ACKNOWLEDGEMENTS xi
PART I – INTRODUCTION AND HISTORY 1
Chapter 1 Strategy for the Corporate Level: Summary of the Main Messages 3
Chapter 2 Some History: From Boston Box to Three Logics that Drive Corporate Action 31
PART II – PORTFOLIO STRATEGY: WHERE TO INVEST AND WHAT TO AVOID 73
Chapter 3 How to Find Good Businesses and Avoid Bad Businesses 75
The Business Attractiveness matrix 83
Chapter 4 How to Make Businesses More Successful 99
The Heartland matrix 104
Chapter 5 How to Buy Low and Sell High 117
Fair Value matrix 133
Chapter 6 Making Decisions about Where to Invest and What to Avoid 139
PART III – WAYS OF ADDING AND SUBTRACTING VALUE FROM CORPORATE HEADQUARTERS 157
Chapter 7 Ten Sources of Value from Direct Influence 159
Chapter 8 Nine Sources of Value from Coordinating across Business Divisions 181
Chapter 9 Eight Ways Headquarters can Destroy Value 199
Chapter 10 How to Identify Sources of Added Value for Your Company 219
PART IV – MANAGEMENT STRATEGY: HOW TO STRUCTURE, HOW MUCH TO CENTRALISE AND HOW TO GROW THE BUSINESS DIVISIONS 237
Chapter 11 Structuring the Organisation into Businesses and Divisions 239
Chapter 12 Corporate-level Strategy in Integrated Companies – The Apple Example 259
Chapter 13 How Much to Centralise: Designing Corporate Headquarters 279
Chapter 14 Developing New Capabilities at Corporate Headquarters 303
Chapter 15 Encouraging Synergy and Cooperation across Business Divisions 321
PART V – RETROSPECTIVE 331
Chapter 16 Lessons from 20 Years of Consulting Experience 333
Appendix The Links between International Strategy and Corporate-level Strategy 347
INDEX 379
See More
Andrew Campbell, BA, MA, MBA, is a Director of Ashridge Strategic Management Centre. He is programme director of Group Level Strategy, Making Successful Acquisitions, Advanced Organisation Design and Designing Operating Models. Before joining Ashridge, Andrew was a Fellow of the Centre for Business Strategy at London Business School. Prior to that, he spent six years with McKinsey & Co. Andrew has published numerous articles with the Harvard Business Review and authored many books including Corporate Level Strategy (Wiley, 1994) and Designing Effective Organizations (Jossey-Bass, 2002).
Marcus Alexander, MA, MBA, is a Director of Ashridge Strategic Management Centre. Marcus has taught on a wide range of open and tailored programmes over the last 23 years at Ashridge. Prior to that, he had worked in Investment Banking, in strategy consulting, at the Boston Consulting Group in several countries, and as co-founder of a business that he subsequently sold to an Advertising group. His publications include Corporate-Level Strategy (Wiley, 1994) as well as many articles in the Harvard Business Review, California Management Review and Long Range Planning.
Michael Goold, BPhil, MA, MBA, is a founding Director of Ashridge Strategic Management Centre. His research and consulting interests and expertise are concerned with corporate strategy and structure, especially in multi-business companies. Prior to establishing the Centre in 1987, he was a Senior Fellow at the London Business School. Michael has extensive consulting experience with senior management. From 1971 to 1983 he was a member of the Boston Consulting Group, and in 1978 was elected a Vice President and Director of the firm.
Jo Whitehead, MA, MBA, PhD, is a Director of Ashridge Strategic Management Centre. Before joining Ashridge, Jo was a Vice President and Director of the Boston Consulting Group (BCG) and acted as BCG's Director of Energy Research and Marketing. Jo also worked as an Assistant Professor at London Business School, where he taught primarily on Executive Education programmes. Jo co-authored the book Think Again, with Andrew Campbell and Sydney Finkelstein (Harvard Business Press, 2009). His most recent book is What You Need to Know about Strategy (Capstone, 2011).
See More