The Agility Factor: Building Adaptable Organizations for Superior Performance
ISBN: 978-1-118-82137-4
208 pages
August 2014, Jossey-Bass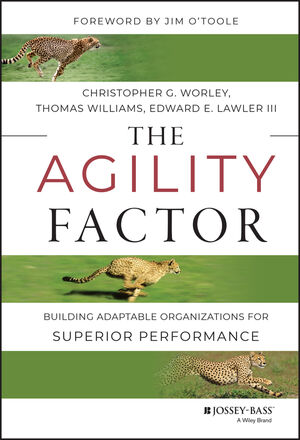 A research-based approach to achieving long-term profitability in business
What does it take to guarantee success and profitability over time? Authors Christopher G. Worley, a senior research scientist, Thomas D. Williams, an executive advisor, and Edward E. Lawler III, one of the country's leading management experts, set out to find the answer. In The Agility Factor: Building Adaptable Organizations for Superior Performance the authors reveal the factors that drive long-term profitability based on the practices of successful companies that have consistently outperformed their peers. Of the 234 large companies across 18 industries that were studied, there were few companies that delivered sustained performance across the board. The authors found that across industries, the most successful companies were not the "usual suspects" found in the media, but companies who possessed a quiet agility that allowed them to quickly perceive and respond to changes so that they could continue to grow. Agility gives organizations the ability to adapt to fluctuations in the environment, test possible responses, and implement changes quickly. This book offers specific, research-based case studies to help organizational leaders use agility to achieve sustained profitability and performance while also becoming more adaptable to a changing marketplace.
For executives, leaders, consultants, board members and all those responsible for the long-term health of organizations, this insightful guide outlines:
The components of agility for business organizations
How to successfully build agility within an organization
How agility has its foundation in good management practices
How to use agility to gain a competitive advantage in the marketplace
See More
Foreword by James O'Toole ix
Preface xiii
CHAPTER 1 SEARCHING FOR SUSTAINED PERFORMANCE 1
CHAPTER 2 ORGANIZING FOR AGILITY 25
CHAPTER 3 STRATEGIZING AND PERCEIVING 53
CHAPTER 4 TESTING AND IMPLEMENTING 83
CHAPTER 5 TRANSFORMING TO AGILITY 111
Afterword: Some Reflections on Agility 139
Notes 147
About The Authors 157
Acknowledgments 159
Index 161
See More
Christopher G. Worley is Senior Research Scientist at the University of Southern California's Center for Effective Organizations. He is also professor of management at Pepperdine University's Graziadio School of Business and Management.
Thomas Williams is a Senior Executive Advisor at Strategy& (formerly Booz & Company) where he consults to large global companies on issues of strategy, organization, and management systems.
Edward E. Lawler III is Director of the Center for Effective Organizations at the University of Southern California and Distinguished Professor of Management and Organization in the USC Marshall School of Business.
See More