Storyscaping: Stop Creating Ads, Start Creating Worlds
ISBN: 978-1-118-82328-6
256 pages
April 2014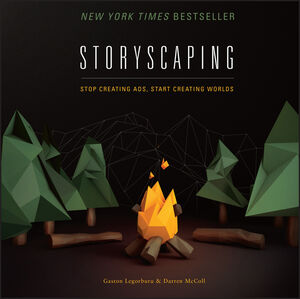 How to use powerful tools to engage customers with your brand
Marketers, technologists, and corporate leaders are looking for ways to more effectively connect consumers with their brand. Storyscapes introduces "storyscaping" as a way to create immersive experiences that solve the challenge of connecting brands and consumers. This book describes a powerful new approach to advertising and marketing for the digital age that involves using stories to design emotional and transactional experiences for customers, both online and offline. Each connection inspires engagement with another, so the brand becomes part of the customer's story. Authors Gaston Legorburu and Darren McColl explain how marketers can identify and define the core target audience segment, define your brand's purpose, understand the emotional desires of your consumers, and more.
Shows how to map how the consumer engages with the category and product/service
Explains how to develop an organizing idea and creative plan for an immersive storyscape experience
Defines the role of marketing channels around the organizing idea
Establishes how technology can be applied to the experience
Learn how to measure, optimize, and evolve the customer experience through the use of strong narratives that compel consumers to buy into your brand. www.storyscaping.com
See More
Acknowledgments vii
About the Authors viii
PART ONE Great Storytelling Alone Won't Save Your Business 1
00 INTRODUCTION 3
01 FROM THE CAMPFIRE 17
02 YOUR FIRST KISS 35
03 BRAVE NEW WORLDS 55
PART TWO Storyscaping Immersive Experiences for Powerful Brand and Consumer Connections 77
04 THE STORYSCAPING MODEL 79
05 POWER OF WHY 91
06 WALK THE WALK 107
07 INSIGHT TO DESIRE 125
08 IN THEIR SHOES 143
09 THE ORGANIZING IDEA 165
10 MEET YOUR STORYSCAPE 181
11 WORLDS THAT SELL 199
12 SHOCK YOUR CULTURE 219
References 231
Index 241
See More
GASTON LEGORBURU is Worldwide Chief Creative Officer of SapientNitro, a new breed of agency that is redefining storytelling for an always-on world. Recognized by Adweek 50 as a game-changer who is modeling the agency of the future, Gaston sets much of the strategic and creative vision for the agency and provides clients forward-thinking insights on their most critical marketing challenges. This has earned him the honor of many recognitions in marketing and advertising and a seat on the juries of such prestigious advertising award shows as D&AD, Cannes Festival of Creativity, ADC, the One Show and the Webbys.
DARREN McCOLL is the Global Chief Brand Strategy Officer of SapientNitro, where he collaborates with global teams and clients to help create worlds of immersive stories and experiences. "Daz" as he is known, brings insight and strategic guidance to many of the world's biggest brands including: Virgin, McDonald's, Nestlé, Mars, Foster's, Burger King, Subway, Footlocker, ESPN, Volvo, Chrysler and Coca-Cola. He is a sought after speaker with experience that spans markets worldwide and his work has earned him many awards including: Effies, New York Festivals, The One Show, Clios, D&AD (Black Pencils), and three coveted Cannes Lions Grand Prix.
See More
April 08, 2014
Storyscaping: Stop Creating Ads, Start Creating Worlds Goes
Connect with Wiley Publicity
SapientNitro today announced the publication of Storyscaping: Stop Creating Ads, Start Creating Worlds, authored by two of the agency's award-winning creative executives, Gaston Legorburu, worldwide chief creative officer and Darren "Daz" McColl, global chief brand strategy officer. Published by Wiley, Storyscaping reveals how companies can harness changing human behavior to create interactive, immersive experiences that excite, captivate and inspire, thereby creating a deeper connection between brand and consumer. The book outlines an innovative approach to storytelling that leverages the latest connected techniques spanning brand communications, digital marketing and experience, multi-channel commerce and technology.
"As a writer who covers the intersection of story and technology, I'm always looking for a unique perspective on what the future holds," said Frank Rose, writer, speaker and author of The Art of Immersion. "Storyscaping brings that future to life, giving marketers the tools they need to create an immersive world for their own consumers."
The book is based on SapientNitro's Storyscaping® approach, and explains how to leverage the entire experience space so brands create worlds, not ads, by building not just compelling story lines, but technology-enabled, always-on intelligent story systems. Evolved over years of working with some of the world's most influential brands, and informed by SapientNitro's thousands of connected creatives and technologists, Storyscaping provides marketers with the tools to move from "stories told" to "stories lived."
"We wrote this book to offer business and marketing leaders a practical, step-by-step guide for transforming their brand stories into worlds of experience and consumer participation," said Gaston Legorburu, Storyscaping co-author and SapientNitro worldwide chief creative officer. "We drew upon the collective talent of our people, our work with clients, and interviews with legendary brand executives and influential marketers to expose the processes, tools and environments required to create immersive and intelligent story systems."
This approach allows executives to fundamentally shift how they see their brand in order to engage their customers in ways that traditional advertising cannot. We see it as moving from an 8 crayon box to a 24 crayon box. It's a transition from traditional storytelling (using words and pictures in an imaginary space) to creating immersive experiences where consumers get involved with brands in a physical or virtual space, at the time and manner of their choosing. This possibility is enabled through the intelligent deployment of technology. These additional crayons, the new and increasingly innovative possibilities, will take us from a story told to a story lived.
"SapientNitro is constantly testing new approaches in the cauldron of real client work," said Daz McColl, Storyscaping co-author and SapientNitro global chief strategy officer. "Through this book we have shared not only our approach and philosophy but our working model, and very importantly some powerful real world examples."
Published by John Wiley & Sons, Inc. the book is available for purchase today through major booksellers. For more information, please visit www.storyscaping.com.
Comments about Storyscaping from brand and storytelling luminaries include:
"Storyscaping is a unique and immediately applicable way for a brand to tell their WHOLE story, across all the channels necessary. In today's ever changing media landscape it is important for brands to get the entire picture, not just a few pieces. This is a must read for anyone in the marketing and media ecosystem."
--Nancy Hill, President and CEO, American Association of Advertising Agencies
"I have known Gaston for years. He has always been a big advocate of story and storytelling systems. In this book he reveals his in-depth passion alongside a set of inspirational practices that will help us all become better storytellers, better story-doers and better story-systems builders."
--Jonathan Mildenhall, Senior Vice President, Integrated Marketing Content and Design Excellence, The Coca-Cola Company
"BRAVO Gaston Legorburu and Darren McColl. Storyscaping: Stop Creating Ads, Start Creating Worlds is a blockbuster tale about stories and the power they have to turn brands into stands. In a world that is ad rich and idea poor, these authors are the heroes who will save your job and career by giving you the ultimate tool for the next generation of marketers: the great story."
--Joey Reiman, CEO, BrightHouse and Author of The Story Of Purpose
"As an actor and producer, I'm immersed in the world of storytelling. Today's consumer expects more engagement and interaction with brands and products.
Daz is one of the most insightful guys I know in the world of marketing, and he and Gaston's work on Storyscaping will change the way we look at telling stories to consumers long into the future."
--Omar Epps, Actor, Producer, Media Entrepreneur
See More
Instructors Resources
Request a print evaluation copy
Contact us

See More
See Less