The Handbook of Dialectology
ISBN: 978-1-118-82755-0
632 pages
July 2017, Wiley-Blackwell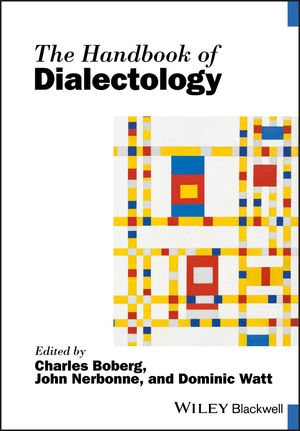 The
Handbook of Dialectology
provides an authoritative, up-to-date and unusually broad account of the study of dialect, in one volume. Each chapter reviews essential research, and offers a critical discussion of the past, present and future development of the area.
The volume is based on state-of-the-art research in dialectology around the world, providing the most current work available with an unusually broad scope of topics
Provides a practical guide to the many methodological and statistical issues surrounding the collection and analysis of dialect data
Offers summaries of dialect variation in the world's most widely spoken and commonly studied languages, including several non-European languages that have traditionally received less attention in general discussions of dialectology
Reviews the intellectual development of the field, including its main theoretical schools of thought and research traditions, both academic and applied
The editors are well known and highly respected, with a deep knowledge of this vast field of inquiry
See More
Introduction.
Charles Boberg, John Nerbonne and Dominic Watt
Section 1: Theory (section editor: Dominic Watt)
Section Introduction.
Dominic Watt
1. Dialectology, Philology and Historical Linguistics.
Raymond Hickey
2. The Dialect Dictionary.
Jacques Van Keymeulen
3. The Dialect Atlas.
Bill Kretzschmar
4. Structural Dialectology and the Study of Sound Change.
Matthew Gordon
5. Dialectology and Generative Linguistic Theory.
Frans Hinskens
6. Sociodialectology.
Tore Kristiansen
7. Dialectometry.
Hans Goebl
8. Dialect Contact and New Dialect Formation.
David Britain
9. Dialect Change: Diffusion, Leveling and Convergence.
Peter Auer
10. Perceptual Dialectology and Subjective Evaluation of Dialects.
Dennis Preston
11. Dialect Intelligibility.
Charlotte Gooskens
12. Applied Dialectology: Dialect Coaching, Dialect Reduction and Forensics.
Dominic Watt
Section 2: Method (section editor: John Nerbonne)
Section Introduction.
John Nerbonne
13. Dialect Sampling Methods.
Ronald Macaulay
14. The Dialect Questionnaire.
Carmen Llamas
15. Written Dialect Surveys.
Jack Chambers
16. Dialectological Field Interviews.
Guy Bailey
17. Corpus-based Approaches to Dialect Study.
Lieselotte Anderwald and Benedikt Szmrecsanyi
18. Acoustic Phonetic Dialectology.
Erik Thomas
19. Computational Dialectology.
Wilbert Heeringa and Jelena Prokić
20. Dialect Maps.
Stefan Rabanus
21. Electronic Media and Dialect Study.
Jacob Eisenstein
22. Regression Analysis of Categorical Data.
John Paolillo
23. The Statistical Analysis of Aggregate Dialect Differences.
John Nerbonne and Martijn Wieling
24. Spatial Statistics for Dialectology.
Jack Grieve
Section 3: Data (section editor: Charles Boberg)
Section Introduction.
Charles Boberg
25. Dialects of British and Southern Hemisphere English.
Kevin Watson
26. Dialects of North American English.
Charles Boberg
27. Dialects of German, Dutch and the Scandinavian Languages.
Sebastian Kürschner
28. Dialects of French.
Damien Hall
29. Dialects of Italy.
Tullio Telmon
30. Dialects of Spanish and Portuguese.
John Lipski
31. Dialects of the Slavic Languages.
Vladimir Zhobov and Ronelle Alexander
32. Dialects of Arabic.
Enam Al-Wer and Rudolf de Jong
33. Dialects of Indic.
Ashwini Deo
34. Dialects of Chinese.
Chaoju Tang
35. Dialects of Japanese.
Takuichiro Onishi
36. Dialects of Malay/Indonesian.
Sander Adelaar
See More
Charles Boberg is Associate Professor in the Department of Linguistics at McGill University in Montreal, Canada. His research focuses on variation and change in North American English, particularly Canadian English and accents in film and television. He is the author of The English Language in Canada: Status, History and Comparative Analysis (2010) and a co-author of the Atlas of North American English (with William Labov and Sharon Ash, 2006).
John Nerbonne worked at HP Labs and the German AI Center before becoming Professor of Digital Humanities at the University of Groningen in 1993. Nerbonne works in quantitative linguistics, using computational and statistical methods. He is a member of the Royal Netherlands Academy of Arts and Sciences, was president of the Association for Computational Linguistics in 2002, and a Humboldt prize winner in 2013.
Dominic Watt
is Senior Lecturer in Forensic Speech Science at the University of York, UK. His research interests are in forensic phonetics and linguistics, speech perception, sociophonetics, and language and identity studies. He is co-author of
English Accents and Dialects
(with Arthur Hughes and Peter Trudgill, 2012), and co-editor of
Language and Identities
(with Carmen Llamas, 2010) and
Language, Borders and Identity
(2014).
See More
More in this series