Practical Poetics in Architecture
ISBN: 978-1-118-82889-2
248 pages
June 2015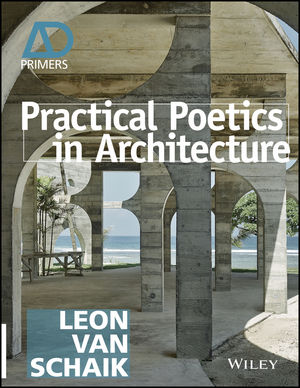 Integrate poetics into real-world spaces by bringing theory down to earth
Practical Poetics in Architecture takes poetics out of the theory class and into the design studio, showing architects how the atmospheric and experiential qualities of built structures can be intentionally considered and planned. With an emphasis on analysing and explaining the sensibility of poetics at work in designing and constructing architecture, this book features projects from architects around the world that demonstrate the principles of poetics come to life. The rich illustration of two hundred colour images, including analytical diagrams, plans, sections, and photos, make this insightful guide a highly visual foray into a topic that has thus far remained more theoretical than practical. The text is matter-of-fact and concrete, yet remains richly connected to its forbears and the writings of William Lethaby, Gaston Bachelard, and Steen Eiler Rasmussen. The perspective is contemporary in its examples and its connections to the evolving science of perception.
An established seminar topic in theory classes around the world, poetics tends to rely heavily on classic philosophic texts — until now. Practical Poetics in Architecture brings theory down to earth to show architects how to invoke poetics when designing real projects.
Integrate poetics principles into real-world designs
Consider atmosphere in terms of form, space, and acoustics
Study actual projects that bring poetics into real spaces
Take cues from analytical diagrams of projects accounting for context
Poetics — the accumulated experience of place, space, and culture — has become more critical in recent years as the atmospheric and experiential qualities of built spaces have become more elusive in the virtual age. Practical Poetics in Architecture provides real guidance for real projects, and brings poetics out of the mind and onto the plans.
See More
Preface 008
Introduction 013
Chapter 1: Making Home 030
1.1 Richard Blythe, Treehouse, Hobart, Tasmania, Australia, 2013 032
1.2 dRMM, WoodBlock House, London, 2013 041
1.3 John Brown (housebrand), FAB house prototype, Calgary, Alberta, Canada, 2014 050
1.4 Feary + Heron, remodelling and new Plant Room at Eagle's Nest, Zennor, Cornwall, England, ongoing 058
1.5 Minifie van Schaik Architects, Wattle Avenue House, Mildura, Victoria, Australia, 2012 066
Chapter 2: Feeding Body, Mind and Soul 076
2.1 Joost Bakker, MFWF Greenhouse, Melbourne, 2012 078
2.2 Jo Van Den Berghe, 't Raboes Project, Eemnes, Netherlands, 2013 087
2.3 Peter Hogg + Toby Reed Architects, Precinct Energy Project, Dandenong, Australia, 2013 094
2.4 Peter Hogg + Toby Reed Architects, Arrow Studio, Tylden, Victoria, Australia, 2013 101
2.5 Kurtogpi Architects, Borgarfjördur College, Borgarnes, Iceland, 2008 107
2.6 Sean Godsell Architects, RMIT Design Hub, Melbourne, 2012 115
2.7 CRAB studio, Abedian School of Architecture, Robina, Queensland, Australia, 2014 124
Chapter 3: Healing Our City 136
3.1 Kerstin Thompson Architects, Community Police Station, Marysville, Victoria, Australia, 2012 138
3.2 CZWG, Canada Water Library, Southwark, London, 2011 146
3.3 O'Donnell + Tuomey, Saw Swee Hock Student Centre, London School of Economics and Political Science (LSE), London, 2014 156
3.4 DSDHA, South Molton Street Building, London, 2012 164
3.5 Three University Makeovers: Cincinnati, Budapest, Melbourne 172
Chapter 4: Capturing Nature 192
4.1 m3architecture, University of Queensland Aquatic Centre, Brisbane, 2012 194
4.2 W Architects, The Oliv, Singapore, 2013 202
4.3 Kristin Green Architecture, La Plage du Pacifique, Vanuatu, ongoing 209
4.4 WOHA, PARKROYAL on Pickering, Singapore, 2013 217
4.5 Ushida Findlay, Poolhouse 1, Home Counties, England, 2001 225
Conclusion: A Reflection on Practical Poetics 235
Select Bibliography 239
Index 242
See More
Leon van Schaik, AO, LFAIA, RIBA, PhD, is Innovation Professor of Architecture at the Royal Melbourne Institute of Technology (RMIT). From his base in Melbourne, he has promoted local and international architectural culture through an influential practice-based research programme and the commissioning of innovative architecture. His PhD programme at RMIT in architecture and design practice has become an important template for institutions worldwide; it has recently been awarded a several-million-Euro grant by the EU Marie Curie Actions Fund to extend its activities internationally by partnering with institutions in Europe. At the 75th anniversary awards of the RAIA, Schaik was awarded the inaugural Neville Quarry Prize for Architectural Education. In 2006 he was made an Officer (AO) in the General Division of the Order of Australia for his services to architecture and education.
See More