North Carolina: Change and Tradition in a Southern State, 2nd Edition
ISBN: 978-1-118-83360-5
536 pages
January 2018, Wiley-Blackwell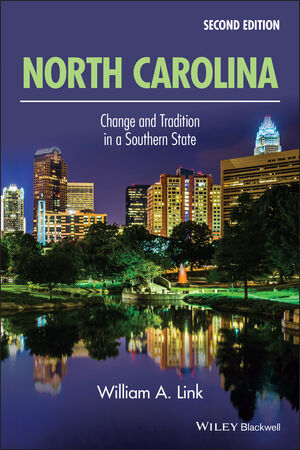 North Carolina 2nd edition
is a single volume, fascinating history of the state that covers political, economic, cultural and social dimensions of the Tar Heel state's past. This new edition includes new material and an updated history to the present day.
The most up-to-date history of the state, encompassing events up until 2015
The new edition includes six sections of primary-source documents
Includes the very latest historical literature
Answers meaningful questions concerning the history and the future of this unique and quickly growing state
See More
Preface and Acknowledgments
Part One: Colonial North Carolina
Chapter One: European Invasion
Chapter Two: Origins of North Carolina
Chapter Three: A Slave Society
Suggested Readings
Selected Documents
Part Two: The Revolutionary Republic
Chapter Four: Immigrants and the Backcountry World
Chapter Five: The Age of Revolution
Chapter Six: The New Republic
Suggested Readings
Selected Documents
Part Three: The Civil War Crisis
Chapter Seven: Social Change in Antebellum North Carolina
Chapter Eight: Political Parties and the Coming of the Civil War
Chapter Nine: The Civil War
Suggested Readings
Selected Documents
Part Four: Reconstruction and Its Aftermath
Chapter Ten: Reconstruction
Chapter Eleven: Social Change in the Post-Reconstruction Era
Chapter Twelve: Populism and the Crisis of the 1890s
Suggested Readings
Selected Documents
Part Five: Modernizing North Carolina
Chapter Thirteen: Progressive North Carolina
Chapter Fourteen: World War I and the 1920s
Chapter Fifteen: Depression, New Deal, and World War II
Suggested Readings
Selected Documents
Part Six: Toward the Twenty-First Century
Chapter Sixteen: Postwar North Carolina
Chapter Seventeen: The Civil Rights Revolution
Chapter Eighteen: Modernizers and Traditionalists
Suggested Readings
Selected Documents
Appendix
State Symbols
Governors
U.S. Senators
North Carolina Population, 1790-2010
Index
See More
William A. Link is Richard J. Milbauer Professor of History at the University of Florida. He is the author of seven books on the history of the South, including Roots of Secession: Slavery and Politics in Antebellum Virginia (2003), Righteous Warrior: Jesse Helms and the Rise of Modern Conservatism (2008), North Carolina: Change and Tradition in a Southern State (2009), and Links: My Family in American History (2012). His most recent book is Atlanta, Cradle of the New South: Race and Remembering in the Civil War's Aftermath (2013).
See More