E-book
Health Program Management: From Development Through Evaluation, 2nd Edition
ISBN: 978-1-118-83476-3
384 pages
September 2014, Jossey-Bass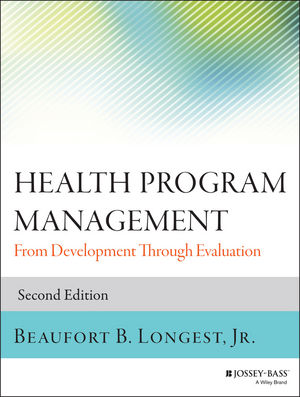 Learn how to effectively plan, implement, and evaluate health programs
Health Program Management: From Development Through Evaluation, Second Edition is a practical and useful introduction to the management of health programs. While providing an overview of the current best practices in management, the textbook goes beyond simple management techniques, teaching students how to develop, lead, and evaluate their programs to ensure quality outcomes. The focus is on the three core management concepts of strategy, design, and leadership, but time is also devoted to describing facilitative management activities integral to successful programs. Students will learn techniques for communication, decision-making, quality assurance, marketing, and program evaluation within the structure of the book's program management model. Logically organized with a separate chapter for each activity, this resource provides a thorough, systematic overview of the effective development, implementation, and evaluation of health programs.
Health Program Management: From Development Through Evaluation, Second Edition provides a comprehensive approach to management throughout all stages of a health program.
Learn to develop a strategy that steers the program toward specific goals
Discover how to design, market, and lead an effective health program
Become familiar with the manager's role in a quality health program
Evaluate potential and existing programs for performance and capability
Students and aspiring managers and leaders preparing themselves for the challenges of managing health programs will find the information and techniques to develop the skills they need in Health Program Management: From Development Through Evaluation, Second Edition.
See More
List of Figures, Tables, and Exhibits xi
Preface xv
Acknowledgments xxi
The Author xxiii
Chapter 1 The Work of Managers in Health Programs 1
Key Definitions 2
The Work of Program Managers in Terms of Core and Facilitative Activities 7
Core Activities in Program Management Work 7
Facilitative Activities in Program Management Work 12
Roles Played by Program Managers: The Mintzberg Model 17
Competencies That Underpin Program Management Work 20
Managing Health Programs Ethically 24
Managers and the Success of Programs 29
Appendix A: Example of a Health Program: The Global Health Program of The Bill and Melinda Gates Foundation 35
Appendix B: Example of a Health Project: The Mass General Care Management Project 37
Chapter 2 Developing/Strategizing the Future 39
Developing the Underlying Theory of a Program 40
Using Program Theory and Logic Models in Establishing and Maintaining Effective Stakeholder Relationships  42
Developing/Strategizing Activity 44
Situational Analysis: Determining a Program's Current Situation 45
Reconsidering and Revising a Program's Current Situation 54
Assessing and Controlling Performance to Achieve Desired Results 59
The Link between Developing/Strategizing and the Performance of Programs 66
Writing a Business Plan 67
Planning for Interventions Undertaken by Programs 69
Chapter 3 Designing For Effectiveness 81
Creating Organization Designs 82
Key Concepts in Formal Organization Design 83
Application of the Key Organization Design Concepts 99
Informal Aspects of Organization Designs 102
Designing Program Logic Models 107
The Staffing Process in Health Programs 109
Chapter 4 Leading to Accomplish Desired Results 119
Leading Defined 120
Influence and Leading; Interpersonal Power and Influence 121
Motivation as a Basis for Leading Effectively 123
The Ongoing Search to Understand Effective Leading 139
Toward an Integrative Approach to Effective Leading in Health Programs 151
Chapter 5 Making Good Management Decisions 161
Decision Making Defined 162
Involving Other Program Participants in Decision Making 163
Key Characteristics of Management Decisions and Decision Making in Programs 166
The Decision-Making Process 168
Chapter 6 Communicating for Understanding 203
Communicating: Key to Effective Stakeholder Relations 204
A Model of the Communication Process 208
Barriers to Communicating Effectively 211
Communicating within Programs 217
Communicating with External Stakeholders 222
Communicating When Something Goes Wrong 226
Chapter 7 Managing Quality—Totally 237
Quality Defined 239
Measuring Quality 241
Managing Quality 242
A Total Quality Approach to Managing Quality 243
Patient/Customer Focus 244
Continuous Improvement 245
Teamwork 254
Chapter 8 Commercial and Social Marketing 269
Commercial Marketing 270
Social Marketing 270
Commercial Marketing in Health Programs 271
The Five Ps of Commercial Marketing 276
Social Marketing in Health Programs 288
Conducting Social Marketing Initiatives in Health Programs 289
Ensuring the Success of Social Marketing Initiatives 294
Ethics Considerations in Commercial and Social Marketing Strategies 295
Appendix C: A Step-by-Step Social Marketing Process 303
Chapter 9 Evaluating 309
Program Evaluation Defined 310
What Do Program Managers Evaluate? 311
Program Theory and Logic Models 312
Types of Program Evaluations 316
The CDC Framework for Conducting Program Evaluations 318
Standards in the CDC Evaluation Framework 319
Steps in the CDC Evaluation Framework 320
Index 341
See More
BEAUFORT B. LONGEST, JR., PHD, is professor of health policy and management at the University of Pittsburgh Graduate School of Public Health. He has written eight books and coauthored three others. He is a fellow of the American College of Healthcare Executives and holds memberships in the Academy of Management, Academy Health, and the American Public Health Association.
See More