The JCMS Annual Review of the European Union in 2013
ISBN: 978-1-118-83550-0
236 pages
September 2014, Wiley-Blackwell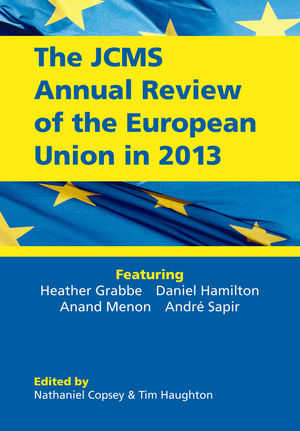 The Annual Review, produced in association with JCMS, The Journal of Common Market Studies, covers the key developments in the European Union, its member states, and acceding and/or applicant countries in 2013.
Includes specially commissioned articles by Anand Menon on European foreign policy, Daniel Hamilton on EU-US relations, Heather Grabbe on the 'transformative power' of the EU, André Sapir's reflections on the recommendations of the Sapir Report 10 years after its publication and a contribution on David Cameron's EU Referendum pledge
Contains analytical articles and keynote contributions written by leading experts in their respective fields covering political, economic and legal issues
The most up-to-date and authoritative source of information for those engaged in teaching and research or who are simply interested in the European Union
See More
Editorial: Opening Pandora's Box? The EU in 2013
Nathaniel Copsey and Tim Haughton

1. The JCMS Annual Review Lecture
Anand Menon

2. Transatlantic Challenges: Ukraine, TTIP and the Struggle to be Strategic
Daniel S. Hamilton

3. Six Lessons of Enlargement Ten Years On: The EU's Transformative Power in Retrospect and Prospect
Heather Grabbe

4. Still the Right Agenda for Europe? The Sapir Report Ten Years On
André Sapir

5. Farewell Britannia? 'Issue Capture' and the Politics of David Cameron's 2013 EU Referendum Pledge
Nathaniel Copsey and Tim Haughton

6. In the Shadow of Austerity: Ireland's Seventh Presidency of the European Union
Brigid Laffan

7. Lithuania's EU Council Presidency: Negotiating Finances, Dealing with Geopolitics
Ramûnas Vilpišauskas

8. Governance and Institutions: The Unrelenting Rise of the European Parliament
Desmond Dinan

9. The Steep Road to European Banking Union: Constructing the Single Resolution Mechanism
David Howarth and Lucia Quaglia

10. Justice and Home Affairs
Jörg Monar

11. Challenging Events, Diminishing Influence? Relations with the Wider Europe
Richard G. Whitman and Ana E. Juncos

12. Relations with the Rest of the World: From Chaos to Consolidation?
Amelia Hadfield and Daniel Fiott

13. Eurozone Governance: Recovery, Reticence and Reform
Dermot Hodson

14. Developments in the Economies of Member States Outside the Eurozone
Richard Connolly and Christopher A. Hartwell

15. Chronology: The European Union in 2013
Fabian Guy Neuner

Index
See More
Nathaniel Copsey is Professor in Politics at Aston University, UK.
Tim Haughton is Reader (Associate Professor) in European Politics at the University of Birmingham, UK.
See More
More in this series