E-book
Cool Infographics: Effective Communication with Data Visualization and Design
ISBN: 978-1-118-83715-3
368 pages
October 2013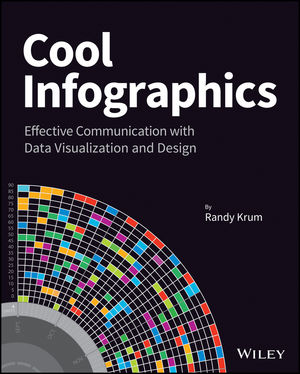 Make information memorable with creative visual design techniques
Research shows that visual information is more quickly and easily understood, and much more likely to be remembered. This innovative book presents the design process and the best software tools for creating infographics that communicate. Including a special section on how to construct the increasingly popular infographic resume, the book offers graphic designers, marketers, and business professionals vital information on the most effective ways to present data.
Explains why infographics and data visualizations work
Shares the tools and techniques for creating great infographics
Covers online infographics used for marketing, including social media and search engine optimization (SEO)
Shows how to market your skills with a visual, infographic resume
Explores the many internal business uses of infographics, including board meeting presentations, annual reports, consumer research statistics, marketing strategies, business plans, and visual explanations of products and services to your customers
With Cool Infographics, you'll learn to create infographics to successfully reach your target audience and tell clear stories with your data.
See More
1 The Science of Infographics 1
Information Overload 9
The Rise of the Informavore 9
The Rise of Big Data 11
Why Infographics Work 14
Pattern Recognition 15
The Language of Context 16
The Picture Superiority Effect 20
The Art of Storytelling 27
Introduction/Foundation 28
Ah-Ha! The Main Event 28
Conclusion/Call-to-action 29
Media Formats of Infographics 31
Static Infographics 31
Zooming Infographics 34
Clickable Infographics 37
Animated Infographics 42
Video Infographics 45
Interactive Infographics 48
Final Thoughts 52
2 Online Infographics 57
Vertical Versus Horizontal Layouts 58
Types of Online Infographics 67
Informative Infographics 69
Persuasive Infographics 71
Visual Explanations 78
Infographic Advertisements 83
PR Infographics 88
Infographic Posters 90
Intellectual Property Issues 98
Copyright 98
Creative Commons 100
Trademarks and the Fair Use Doctrine 103
Images and Illustrations 105
AIGA, the Professional Association for Design 107
Should You Copyright Your Infographic? 107
Final Thoughts 108
3 Infographics and SEO 113
The Search Engine Challenge 115
The Objective of SEO 118
The Link Bait Challenge 119
It's All About Relevance 123
Online Lifespan 126
Infographic Release Strategy 135
Landing Pages 135
Self-promotion 148
Promotion, Publicity, and Outreach 155
Final Thoughts 169
4 Infographic Resumes 173
Key Benefits 180
What's the Risk? 180
Designing an Infographic Resume 181
Timeline Designs 183
Relative Experience Designs 187
Geographic Designs 190
Company Logos and Icons 192
Software Application Logos 201
Using an Infographic Resume 204
Job Application Systems 204
Standalone Infographic Resume 205
Combined Infographic Resume Design 208
Publishing Infographic Resumes Online 210
Designing Infographic Resumes for Print 211
Infographic Resumes on the iPad (or Tablet) 215
Infographic Resume Design Tools 217
All About You 228
5 Internal Confidential Infographics 233
Improving Internal Communications 234
The Fear of Confidential Information 236
Ideas for Visualizing Internal Data 238
Budgets 238
Sales and Profit Data 244
Business Processes 246
Strategies 251
Better Presentations Using Infographics 259
Final Thoughts 268
6 Designing Infographics 271
Be Accurate 272
Visualizing Area 274
Pick a Good Topic 281
Trending Topics 281
Controversial Topics 282
Search for Prior Art 282
Focus on the Key Message 283
The 5-second Rule 284
Tell One Story Really Well 285
Visualize When Possible 288
Big Fonts Are NOT Data Visualizations 288
Visuals Are Perceived as More Important 290
Minimize Text 291
Eliminate Chart Legends 293
Be Data Transparent 295
No Data Sources List 296
Vague Data Sources 297
Questionable Data Sources 298
Best Practices 298
The Fine Print 299
Company Logo 299
Copyright License 300
Original Landing Page URL 300
Designer Credit 301
Putting It Together 302
Final Thoughts 302
7 Design Resources 305
Desktop Software Tools 306
Vector Graphics 306
Image Editing 314
Online Data Visualization Tools 317
Finding Data Online 328
Online Infographics Design Sites 330
Reading List 337
Index 339
See More
Randy Krum is founder and president of InfoNewt, an infographic design and data visualization company, and the creator of Cool Infographics (coolinfographics.com). He designs infographics for both online publications and internal communications, and consults on building infographic landing pages, social sharing links, infographic SEO, reaching key influencers, and tracking results.
See More