E-book
Strategic Safety Management in Construction and Engineering
ISBN: 978-1-118-83935-5
256 pages
March 2015, Wiley-Blackwell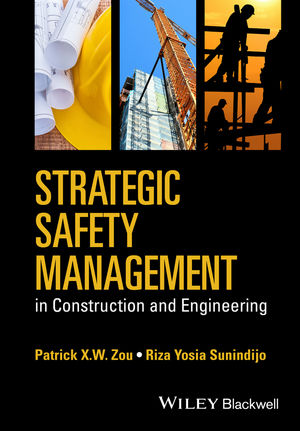 Although the construction and engineering sector makes important contributions to the economic, social, and environmental objectives of a nation, it has a notorious reputation for being an unsafe industry in which to work. Despite the fact that safety performance in the industry has improved, injuries and fatalities still occur frequently. To address this, the industry needs to evolve further by integrating safety into all decision making processes.

Strategic Safety Management in Construction and Engineering takes a broad view of safety from a strategic decision making and management perspective with a particular focus on the need to balance and integrate 'science' and 'art' when implementing safety management. The principles covered here include the economics of safety, safety climate and culture, skills for safety, safety training and learning, safety in design, risk management, building information modelling, and safety research methods and the research-practice nexus. They are integrated into a strategic safety management framework which comprises strategy development, implementation, and evaluation. Practical techniques are included to apply the principles in the context of the construction and engineering industry and projects. Case studies are also provided to demonstrate the localised context and applications of the principles and techniques in practice.
See More
Foreword vii
Acknowledgements ix
1 Safety Management in Construction and Engineering: An Introduction 1
The importance of the industry 1
Characteristics of the construction and engineering sector 2
Why a book on strategic safety management? 6
Historical development and current trends in construction safety management 6
The book's contents 10
References 14
2 Economics of Safety 17
Costs of construction accidents 18
Benefits of investment in safety 29
Return on investment in safety management 33
A case study on return on investment in safety risk management 35
Optimisation of investment in safety risk management 40
Evaluation of investment in safety risk management 44
Conclusions 49
References 49
3 Safety Climate and Culture 53
Safety climate 54
Safety culture 58
Safety culture maturity measurement criteria and frameworks 62
Safety culture maturity measurement instrument 65
Case studies 69
Utility of safety culture 80
Conclusions 81
References 82
4 Skills for Safety 86
An overview of the skill set 86
Conceptual skill 92
Human skill 95
Political skill 99
Technical skills 103
Skill development model 106
Skill development strategies 111
Conclusions 117
References 118
5 Safety Training and Learning 123
Training and learning defined 124
Approaches to learning: pedagogy and andragogy 124
Safety learning in construction and engineering 128
Techniques for evaluating safety training and learning 139
Case study 142
Conclusions 148
References 149
6 Safety in Design, Risk Management and BIM 152
What is safety in design? 152
Why is it necessary to implement safety in design? 155
Safety in design policies and guidelines 156
Safety risk management 160
Current issues and possible solutions 170
Case studies 172
Building information modelling (BIM) for safety in design 175
Conclusions 177
References 177
7 Research Methodology and Research–Practice Nexus 180
A typical research process 181
Research methodologies 183
Current state of play on safety research methodologies 193
Social desirability bias in research design 195
Why and how social desirability bias happens 197
Techniques for minimising social desirability bias in safety research 200
Research-practice nexus 203
Discussions 207
Assessing the relevance of research outcomes in practical application 208
Conclusions 208
References 210
8 Strategic Safety Management 214
A strategic safety management framework 215
Developing safety management strategies 216
Implementing safety management strategies 220
Evaluating safety management strategies 224
Case study 225
Conclusions 230
References 231
Bibliography 234
Index 237
See More
Patrick Xiao Wei Zou is Professor and Research Leader of Construction Engineering and Management at Swinburne University of Technology, Australia. With a PhD in Civil Engineering from the University of New South Wales (UNSW), Australia, he has held a professorship at the University of Canberra and associate professorship at UNSW, and visiting academic appointments at several universities in the UK, USA, Singapore and China. Dr Zou is an award winning researcher and teacher in the fields of safety management, risk management, and sustainable building and construction systems. Prior to entering to academia he worked as construction engineer.
Riza Yosia Sunindijo is a Lecturer in Construction Management in the Faculty of the Built Environment, at the University of New South Wales. He has also worked as a project engineer, project manager, and sustainability champion for a range of multi-national construction and project management organisations
See More