E-book
Ionic Liquids Completely UnCOILed: Critical Expert Overviews
ISBN: 978-1-118-84009-2
592 pages
December 2015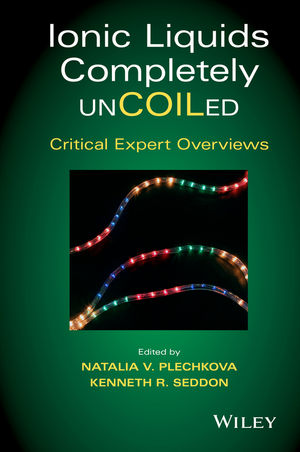 Critical overviews from the front line of ionic liquids research
Ionic Liquids Completely UnCOILed: Critical Expert Overviews concludes the discussion of new processes and developments in ionic liquid technology introduced in the previously published volumes, Ionic Liquids UnCOILed and Ionic Liquids Further UnCOILed.
The goal of this volume is to provide expert overviews that range from applied to theoretical, synthetic to structural, and analytical to toxicological. The value of book lies in the authors' expertise, and their willingness to share it with the reader.
Written by an international group of chemists, the book presents eleven overviews of specific areas of ionic liquid chemistry including:
What is an Ionic Liquid?
Molecular modelling
Crystallography
Chemical engineering of ionic liquid processes
Toxicology and Biodegradation
Organic reaction mechanisms
Edited by Professor Ken Seddon and Dr Natalia Plechkova, world leaders in the field of ionic liquids, this book is a must read for R&D chemists, educators, and students, and for commercial developers of environmentally sustainable processes. It offers insight and appreciation for the direction in which the field is going, while also highlighting the best published works available, making it equally valuable to new and experienced chemists alike.
See More
Contents of "Ionic Liquids UnCOILed" vii
Contents of "Ionic Liquids Further UnCOILed" ix
COIL Conferences xi
Preface xiii
Acknowledgements xv
Contributors xvii
Abbreviations xix
1 What Is an Ionic Liquid? 1
Andrew P. Abbott, Karl Ryder, Peter Licence, and Alasdair W. Taylor
2 N MR Studies of Ionic Liquids 13
Paul M. Bayley, Jan Novak, and Maria Forsyth
3 'Unusual Anions' as Ionic Liquid Constituents 39
Philipp Eiden and Ingo Krossing
4 Investigating the Structure of Ionic Liquids and Ionic Liquid: Molecular Solute Interactions 55
Christopher Hardacre, Claire Mullan, and Tristan G. A. Youngs
5 Molecular Modelling of Ionic Liquids 83
José N. Canongia Lopes, Margarida Costa Gomes, and Agilío A. H. Pádua
6 Chemical Engineering of Ionic Liquid Processes 107
Carolin Meyer, Sebastian Werner, Marco Haumann, and Peter Wasserscheid
7 Vibrational Spectroscopy of Ionic Liquid Surfaces 145
Chariz Peñalber-Johnstone and Steven Baldelli
8 Raman Spectroscopy and the Heterogeneous Liquid Structure in Ionic Liquids 165
Satyen Saha, Takashi Hiroi, Koichi Iwata, and Hiro‐O Hamaguchi
9 (Eco)Toxicology and Biodegradation of Ionic Liquids 189
Stefan Stolte, Marianne Matzke, and Jürgen Arning
10 Ionic Liquids and Organic Reaction Mechanisms 209
Tom Welton
11 Crystallography of Ionic Liquids 231
Neil Winterton
Index 535
See More
Dr. NATALIA V. PLECHKOVA attained her BSc and MSc in chemical engineering at the Russian Mendeleev University of Chemical Technology, Moscow, and her PhD in chemistry, under the guidance of Professor Seddon. Since then she has been a research fellow and project manager in the QUILL (Queen's University Ionic Liquid Laboratories) Research Centre, focussing on various aspects of ionic liquids, including their synthesis, characterisation, and applications (including biomass dissolution and carbon dioxide capture).
Prof. KENNETH R. SEDDON, OBE is Chair of Inorganic Chemistry at the Queen's University of Belfast, and director of the QUILL Research Centre, the world-leading industrial-academic consortium that was awarded the 2006 Queens's Anniversary Prize for Higher and Further Education, and was involved with implementing a full-scale process for removing mercury from natural gas streams with Petronas, for which an unprecedented three global IChemE awards (2013), and the Nicklin medal, along with the 'Teamwork in Innovation' Award (2014) from the Royal Society of Chemistry were presented.
See More