E-book
How to Teach Adults: Plan Your Class, Teach Your Students, Change the World, Expanded Edition
ISBN: 978-1-118-84128-0
256 pages
March 2014, Jossey-Bass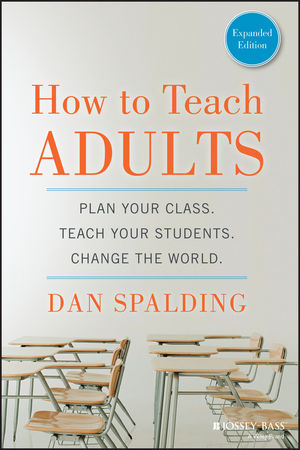 Your hands-on guide to teaching adults. . . no matter what the subject
In this expanded edition of How to Teach Adults, Dan Spalding offers practical teaching and classroom management suggestions that are designed for anyone who works with adult learners, particularly new faculty, adjuncts, those in community colleges, ESL teachers, and graduate students. This reader-friendly resource covers all phases of the teaching process from planning what to teach, to managing a classroom, to growing as a professional in the field.
How to Teach Adults can guide new instructors who are trying to get up to speed on their own or can help teacher trainers cover what their students need to know before they get in front of a class. It is filled with down-to-earth tips and checklists on such topics as connecting with adult students, facilitating discussions, and writing tests, plus everything you need to remember to put into your syllabus and how to choose the right textbook. Dan Spalding reveals what it takes to teach all students the skills they need to learn, no matter what the topic or subject matter.
Full of vivid examples from real-world classrooms, this edition:
Shows how to get started and tips for designing your course
Includes information for creating a solid lesson plan
Gives suggestions for developing your teacher persona
How to Teach Adults offers the framework, ideas, and tools needed to conduct your class or workshop with confidence.
See More
Preface vii
Acknowledgments xiii
About the Author xix
1 Foundations of Teaching 1
2 How to Get Started Teaching 25
3 How to Design Your Course 39
4 How to Lesson Plan 55
5 Grading and Assessments 81
6 How to Run Your Class 101
7 How to Present Information 127
8 How to Develop Your Teacher Persona 143
9 Growing as a Teacher 161
10 The Future of Education 191
Appendix: Teacher Glossary 207
References 211
Further Reading 215
Index 223
See More
DAN SPALDING has more than ten years' experience teaching adults in both academic and nonacademic settings. He has developed curriculum for nonprofits, consulted with online learning startups, and is currently building a web platform to help people discuss and learn about the Antarctic.
See More
Learn more about