E-book
Lean Six Sigma Business Transformation For Dummies
ISBN: 978-1-118-84487-8
328 pages
July 2014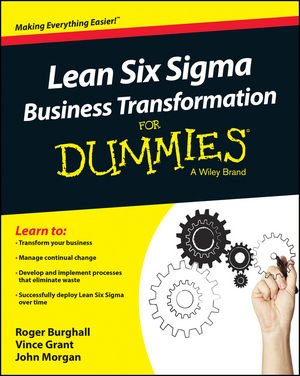 Use Lean Six Sigma to transform your business.
Lean Six Sigma is a powerful method for improving both the efficiency and quality of projects and operations. In this new book, the team that bought you Lean Six Sigma For Dummies shows you how to take Lean Six Sigma to the next level and manage continual change in your organization. You'll learn to design a roadmap for transformation that's tailored to your business objectives; develop and implement processes that eliminate waste and variation across the company; synchronize your supply chain; and successfully deploy Lean Six Sigma over time.
Lean Six Sigma Business Transformation For Dummies shows you how to:
Define your transformation objectives and create a bespoke 'Transformation Charter' for your organization.
Assess your company's readiness for transformation.
Establish a 'Transformation Governance System' to help you manage the transformation programme effectively.
Bring your people with you! Plan and achieve the cultural change needed to make the transformation process successful.
Join up the dots between planning and effective execution with Strategy Deployment.
Deploy a 'Continuous Improvement' toolkit to achieve everyday operational excellence.
Sustain the transformation programme and widen the scope across the organization (including deploying to the supply chain).
Adopt a 'Capability Maturity Approach' to drive business improvement – recognizing that change is a continuous transformational journey, just as pioneers like Toyota have done.
Use a range of Lean Six Sigma Tools – using the right tools, at the right time (and in the right order!) enables continuous improvement by eliminating waste and process variation.
See More
Introduction  1
Part I: Getting Started with Lean Six Sigma  5
Chapter 1: Introducing Lean Six Sigma 7
Chapter 2: Introducing Business Transformation 23
Chapter 3: Learning to DRIVE 43
Part II: Scoping the LSS Transformation Journey  67
Chapter 4: Defining Your Transformation Objectives 69
Chapter 5: Assessing Readiness for Transformation 89
Chapter 6: Establishing the Transformation Governance System 107
Part III: Planning the Transformation Journey  123
Chapter 7: Understanding Business Breakthroughs and Fundamentals 125
Chapter 8: Planning for Strategy Deployment 139
Chapter 9: Implementing Strategy Deployment 157
Chapter 10: Establishing a Continuous Improvement Organisational Structure 181
Part IV: Starting out on the Transformation Journey  193
Chapter 11: Creating the Right Culture 195
Chapter 12: Achieving Everyday Operational Excellence 217
Part V: Sustaining the Transformation  239
Chapter 13: Widening the Scope of the Transformation 241
Chapter 14: Managing the Capabilit y Maturit y Journey 259
Part VI: The Part of Tens  269
Chapter 15: Ten T ips for Smoothing the Transformation Process 271
Chapter 16: Ten Pitfalls to Avoid 277
Chapter 17: Ten Places to Go for Help 285
Index  293
See More
Roger Burghall is Associate Partner at Catalyst Consulting and a highly experienced business consultant and change manager. Vince Grant is a Director of Catalyst Consulting and an expert in Lean Six Sigma methodologies. John Morgan is the author of Lean Six Sigma For Dummies.
See More