Allies for Inclusion: Disability and Equity in Higher Education: ASHE Volume 39, Number 5
ISBN: 978-1-118-84611-7
152 pages
January 2014, Jossey-Bass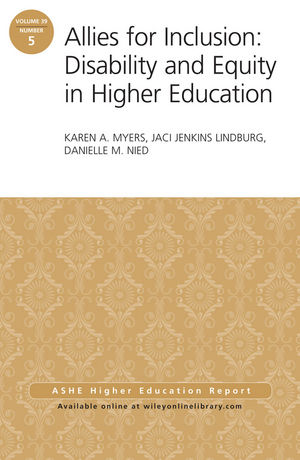 Here is an overview of students with disabilities in postsecondary institutions and the importance of allies in their lives. It is a call to action for faculty, staff, and administrators in all facets of higher education, and emphasizes the shared responsibility toward students with disabilities and toward creating meaningful change.
This monograph begins with a look into the future of disability education. How will students create their own identities? Will there be a need for disability accommodations or will a universally designed world eliminate that current necessity? It also looks at the past, with discussions of disability legislation such as the ADA of 1990, the impact of Supreme Court decisions, descriptions of college students with disabilities, and the paradigm shift from the medical "deficit" model of disability to one that focuses on the individual's lived experience as a social construct.
Drawing on theoretical frameworks in multiple disciplines, disability identity development is explained, ally development is defined, and disability services are explored. The monograph ends with a discussion of where disability education is now and how faculty, staff, and administrators will continue to be allies of inclusion for students in the years to come.
This is the 5th issue of the 39th volume of the Jossey-Bass series ASHE Higher Education Report. Each monograph is the definitive analysis of a tough higher education issue, based on thorough research of pertinent literature and institutional experiences. Topics are identified by a national survey. Noted practitioners and scholars are then commissioned to write the reports, with experts providing critical reviews of each manuscript before publication.
See More
Executive Summary ix
Foreword xiii
Acknowledgments xvii
The Future of Equity and Inclusion: Creating Meaningful Change 1
Disability Defined: What Does It Mean? 6
Overview of the Monograph 8
A Historical Overview of the Disability Movement 13
Key Definitions and Early Policies 13
Groundbreaking Legislation: The Rehabilitation Act and ADA 16
Discussion of Key Court Cases 21
Conclusion 28
Disability of College Campuses: An Overview 31
Disability in Higher Education: What Is It? 32
College Students With Disabilities: Who Are They? 35
College Students With Disabilities: What Are They Saying? 38
Perceptions and Preferences of Students and Employees With Disabilities 41
Disability Services in Higher Education: What Is Provided? 43
Students With Disabilities: A Shared Responsibility 46
Conclusion 48
Understanding Campus Complexity: Problems, Challenges, and Marginalization 49
Models of Disability 50
Major Student Development Theories Related to Disability 55
Attitudes Toward Disability 59
Disability Services on Campus 63
Student Veterans With Disabilities 65
Conclusion 66
Increasing Awareness: Allies, Advocacy, and the Campus Community 69
Defining Ally 70
Membership 72
Allies From Majority Identities 73
Allies Within Community 74
Theories of Ally Development 75
Praxis 80
Community of Allies 82
Allies for Disability: A Paradigm for Support 82
Conclusion 84
Increasing Awareness: Language, Communication Strategies, and Universally Designed Environments 85
Language of Disability 86
Communication Strategies 89
Communication Tips 90
Universally Designed Environments 93
Universal Design 93
Universal Instructional Design 94
Universal Design for Student Development 96
Conclusion 98
The New Movement in Disability Education and Advocacy 101
A New Vision for Disability 101
Education Curriculum 104
Inclusion Initiatives 104
The New Look of Disability 106
A Personal Call to Action 106
A Global Call to Action 107
References 109
Name Index 121
Subject Index 125
About the Authors 131
See More
KAREN A. MYERS, PhD, is an associate professor and director of the higher
education administration graduate program at Saint Louis University and the
director of the award-winning international disability education project, Allies for
Inclusion: The Ability Exhibit.
JACI JENKINS LINDBURG, PhD, is the assistant director of academic affairs for the
Division of Continuing Studies and a member of the faculty in women's and gender
studies at the University of Nebraska-Omaha.
DANIELLE M. NIED, MS, is the assistant director for housing and residence life for
leadership and training and PhD student in the higher education program at Saint
Louis University.
See More
Learn more about