The Cold War: A Post-Cold War History, 3rd Edition
ISBN: 978-1-118-84840-1
288 pages
February 2016, Wiley-Blackwell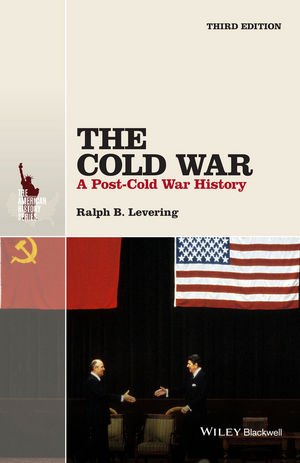 Now available in a fully revised and updated third edition,
The Cold War: A Post-Cold War History
offers an authoritative and accessible introduction to the history and enduring legacy of the Cold War.
Thoroughly updated in light of new scholarship, including revised sections on  President Nixon s policies in Vietnam and President Reagan s approach to U.S.-Soviet relations
Features six all new counterparts sections that juxtapose important historical figures to illustrate the contrasting viewpoints that characterized the Cold War
Argues that  the success of Western capitalism during the Cold War laid the groundwork for the economic globalization and political democratization that have defined the 21st century
Includes extended coverage of the Cuban Missile Crisis, the most dangerous confrontation of the nuclear age thus far
See More
List of Illustrations ix
Preface and Acknowledgments xii
Prologue: Uneasy Allies, 1941–1945 1
1 Downward Spiral during the Truman–Stalin Years, 1945–1953 19
Issues in the Emerging Cold War 20
Images and Domestic Politics Harm Relations 28
Counterparts: George Kennan and Nikolai Novikov 30
Containment and Countercontainment, 1947–1949 34
The Most Dangerous Phase, 1950–1952 42
Conclusion 55
2 The Institutionalized Cold War, 1953–1962 58
The Cold War at Home 62
A Modest Improvement in East–West Relations, 1953–1955 70
The Second Dangerous Phase, 1956–1962 78
Counterparts: J. William Fulbright and Barry Goldwater 92
Showdown: The Cuban Missile Crisis 100
Conclusion 107
3 The Shift toward Relative Détente, 1963–1972 111
An Improved Atmosphere in 1963 113
Vietnam at Center Stage, 1964–1968 118
Toward a New Balance of Power, 1969–1972 131
Counterparts: Daniel Ellsberg and Henry Kissinger 140
Conclusion 151
4 The Roller ]Coaster Years, 1973–1984 154
Détente Bogs Down, 1973–1976 157
Carter Rides the Roller Coaster, 1977–1980 174
Reagan Challenges the Cold War Status Quo, 1981–1984 188
Counterparts: Jeane Kirkpatrick and Christopher Dodd 202
Seeking Improved US–Soviet Relations, 1983–1984 207
Conclusion 210
Epilogue: The Cold War Ends, 1985–1991 214
Counterparts: Mikhail Gorbachev and Ronald Reagan 222
Bibliographical Essay 230
Index 251
Photo Essay: The Cold War at Midpassage, 1957–1973 110
Maps
Map 1.1 Map of Korea 51
Map 2.1 Map of Israel 83
Map 3.1 Map of Vietnam 123
Map 4.1 Map of the Horn of Africa 179
Map 4.2 Map of Central America 200
See More
Ralph Levering
is Emeritus Professor of History at Davidson College. He is the author or co-author of nine books,, including
Debating the Origins of the Cold War: American and Russian Perspectives
(2002) and
The Kennedy Crises: The Press, the
Presidency, and Foreign Policy
(1983).
See More
More in this series