E-book
The 52-Week Low Formula: A Contrarian Strategy that Lowers Risk, Beats the Market, and Overcomes Human Emotion
ISBN: 978-1-118-85357-3
240 pages
April 2014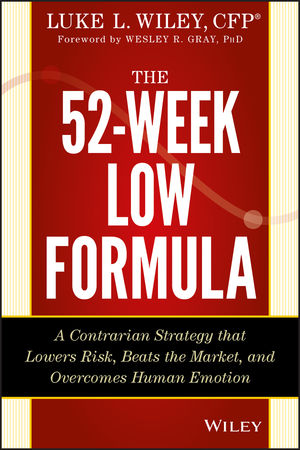 A new but timeless strategy and mindset that should greatly help investors lower downside risk while achieving market outperformance
In The 52-Week Low Formula: A Contrarian Strategy that Lowers Risk, Beats the Market, and Overcomes Human Emotion, wealth manager Luke L. Wiley, CFP examines the principles behind selecting the outstanding companies and great investment opportunities that are being overlooked.
Along the way, Wiley offers a melding of the strategies used by such investment giants as Warren Buffett, Howard Marks, Michael Porter, Seth Klarman, and Pat Dorsey. His proven formula helps investors get the upper hand by identifying solid companies that are poised for growth but have fallen out of the spotlight.
Shows you how to investigate companies and identify opportunities
Includes detailed discussions of competitive advantage, purchase value, return on invested capital, and debt levels
Presents several case studies to examine companies that have overcome obstacles by trading around their 52-week lows 
The 52-Week Low Formula is a must-read for investors and financial advisors who want to break through conventional strategies and avoid common mistakes.
See More
Introduction xiii
Foreword xxvii
Acknowledgments xxxi
Chapter 1 The 52-Week Formula 1
Chapter 2 Herding and the Bandwagon Effect 19
Chapter 3 Filter 1: Competitive Advantage 25
Chapter 4 Five Common Mistakes Investors Make 55
Chapter 5 Filter 2: Free Cash Flow Yield 67
Chapter 6 The Power of Fear and Decision Fatigue 83
Chapter 7 Filter 3: Return on Invested Capital 91
Chapter 8 This Time Is Never Different 105
Chapter 9 Filter 4: Long-Term Debt to
Free Cash Flow Ratio 109
Chapter 10 The Sunk-Cost Bias and Pride and Regret 131
Chapter 11 Filter 5: The 52-Week Low Formula and My Journey Trying to Disprove It 137
Chapter 12 The Importance of Embracing a Trailing 12-Month Return of −25 Percent 151
Chapter 13 The Problem with Selective Perception and Confirmation Basis 163
Chapter 14 Putting It All Together 169
Afterword 179
About the Companion Website 183
About the Author 185
Index 189
See More
LUKE L. WILEY, CFP®, CRPC, is the Senior Vice President of Wiley Wealth Management at UBS Financial Services in Cincinnati, Ohio. In 2012, he was among the top ten of the 7,000 UBS Financial Advisors in client retention and acquisition and has been called upon to provide strategic guidance for other wealth managers, financial planners, and investment managers by UBS management. His investment strategy and approach to life was defined by 17th century German mathematician Carl Gustav Jacob Jacobi who once wrote, "Invert, always invert." By solving for the opposite of your intended result, non-traditional paths to success reveal themselves. The idea of finding attractive investment opportunities within the 52-Week Low lists came about from Wiley reading a book that sells used for about $1,400 written by Seth Klarman, Margin of Safety: Risk-Averse Value Investing Strategies for the Thoughtful Investor.
See More