Crop Wild Relatives and Climate Change
ISBN: 978-1-118-85433-4
400 pages
August 2015, Wiley-Blackwell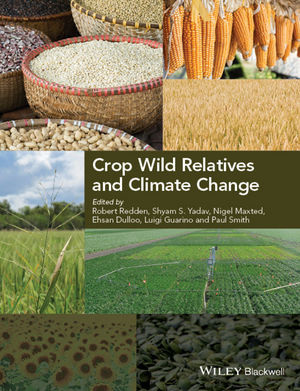 Two major challenges to continued global food security are the ever increasing demand for food products, and the unprecedented abiotic stresses that crops face due to climate change.Wild relatives of domesticated crops serve as a reservoir of genetic material, with the potential to be used to develop new, improved varieties of crops. Crop Wild Relative and Climate Change integrates crop evolution, breeding technologies and biotechnologies, improved practices and sustainable approaches while exploring the role wild relatives could play in increasing agricultural output.

Crop Wild Relative and Climate Change begins with overviews of the impacts of climate change on growing environments and the challenges that agricultural production face in coming years and decades. Chapters then explore crop evolution and the potential for crop wild relatives to contribute novel genetic resources to the breeding of more resilient and productive crops. Breeding technologies and biotechnological advances that are being used to incorporate key genetic traits of wild relatives into crop varieties are also covered. There is also a valuable discussion on the importance of conserving genetic resources to ensure continued successful crop production.

A timely resource, Crop Wild Relative and Climate Change will be an invaluable resource for the crop science community for years to come.
See More
Tribute in the Memory of Manav Yadav vii
About the Editors ix
List of Contributors xv
Foreword by Prof. Geoffrey Hawtin xix
Foreword by Dr. R S Paroda xxi
Preface xxiii
Acknowledgments xxv
Chapter 1: Impact of Climate Change on Agriculture Production, Food, and Nutritional Security 1
Shyam S. Yadav, Danny Hunter, Bob Redden, Mahboob Nang, D. K. Yadava, and Abdul Basir Habibi
Chapter 2: Challenge for Future Agriculture 24
Jerry L. Hatfield and John H. Prueger
Chapter 3: Global Warming and Evolution of Wild Cereals 44
Eviatar Nevo and Robert Henry
Chapter 4: Wild Relatives for the Crop Improvement Challenges of Climate Change: The Adaptation Range of Crops 61
Robert Redden
Chapter 5: The Importance of Crop Wild Relatives, Diversity, and Genetic Potential for Adaptation to Abiotic Stress-Prone Environments 80
Rodomiro Ortiz
Chapter 6: Conservation Planning for Crop Wild Relative Diversity 88
Nigel Maxted, Alvina Avagyan, Lothar Frese, José Iriondo, Shelagh Kell, Joana Magos Brehm, Alon Singer, and Ehsan Dulloo
Chapter 7: Research on Conservation and Use of Crop Wild Relatives 108
Mohammad Ehsan Dulloo, Elena Fiorino, and Imke Thormann
Chapter 8: Research on Crop Wild Relatives in Major Food Crops 130
Enrico Porceddu and Ardeshir Damania
Chapter 9: Utilization of Wild Relatives in the Breeding of Tomato and Other Major Vegetables 141
Andreas W. Ebert and Roland Schafleitner
Chapter 10: Conservation Roles of the Millennium Seed Bank and the Svalbard Global Seed Vault 173
Ruth J. Eastwood, Sarah Cody, Ola T. Westengen, and Roland von Bothmer
Chapter 11: Seed Biology 187
Sarah E. Ashmore, Amelia Martyn, Karen Sommerville, Graeme Errington, and Catherine A. Offord
Chapter 12: Biotechnology and Genomics: Exploiting the Potential of CWR 212
Peter G. Walley and Jonathan D. Moore
Chapter 13: Unavailability of Wild Relatives 224
Eve Emshwiller, Germán Calberto-Sánchez, Gezahegn Girma, Shelley Jansky, Julie Sardos, Charles Staver, Frederick L. Stoddard, and Nicolas Roux
Chapter 14: Synthetic Engineered Genes, GMOs, and Hybridization with Wild Relatives 250
Nelli A. Hovhannisyan and Aleksandr H. Yesayan
Chapter 15: Using Genomic Approaches to Unlock the Potential of CWR for Crop Adaptation to Climate Change 268
Gregory J. Baute, Hannes Dempewolf, and Losren H. Rieseberg
Chapter 16: The Economics of Crop Wild Relatives under Climate Change 281
Nicholas Tyack and Hannes Dempewolf
Chapter 17: Potential of Minor Fruit Crop Wild Relatives (CWR) as New Crops in Breeding for Market Diversification 292
Vojt¡ech Holubec, Tamara Smekalova, František Paprštein, Lenka Što¡cková, and Vojte¡ch R¡ezníc¡ek
Chapter 18: The Australian Vigna Species: A Case Study in the Collection and Conservation of Crop Wild Relatives 318
R. J. Lawn
Chapter 19: Beyond Biodiversity: Ecosystem Services of Crop Wild Relatives 336
Abdullah A. Jaradat
Chapter 20: CWR and the Prebreeding in the Context of the International Treaty on Plant Genetic Resources for Food and Agriculture 350
Shakeel Bhatti, Mario Marino, Daniele Manzella, Jan Petter Borring, and Álvaro Toledo
Index 357
See More
Shyam S. Yadav is International Adviser in Agriculture at the Civilian Technical Assistance Program, General Directorate Programs, Ministry of Agriculture, Irrigation and Livestock, Kabul, Afghanistan.
Bob Redden is a Curator of genetic resources at the Australian Temperate and Filed Crops Collection (ATFCC), Department of Primary Industries, Australia.
Nigel Maxted is a Senior Lecturer in Genetic Conservation in the School of Biosciences at the University of Birmingham.
Ehsan Dulloo is the Programme Leader for Conservation and Availability at Biodiversity International in Italy.
Luigi Guarino is a Senior Scientist for the Global Crop Diversity Trust.
Paul Smith is Head of Seed Conservation Department & Millennium Seed Bank at Kew Royal Botanical Gardens in the United Kingdom.
See More