E-book
Protein Aggregation in Bacteria: Functional and Structural Properties of Inclusion Bodies in Bacterial Cells
ISBN: 978-1-118-85503-4
288 pages
April 2014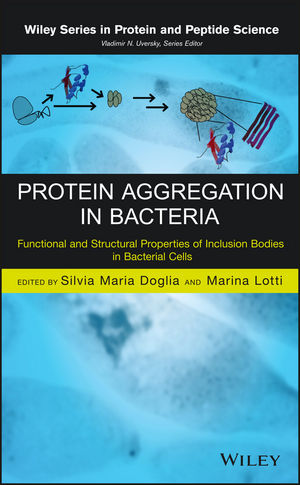 Focuses on the aggregation of recombinant proteins in bacterial cells in the form of inclusion bodies—and on their use in biotechnological and medical applications
The first book devoted specifically to the topic of aggregation in bacteria, Protein Aggregation in Bacteria: Functional and Structural Properties of Inclusion Bodies in Bacterial Cells provides a large overview of protein folding and aggregation, including cell biology and methodological aspects. It summarizes, for the first time in one book, ideas and technical approaches that pave the way for a direct use of inclusion bodies in biotechnological and medical applications.
Protein Aggregation in Bacteria covers:
Molecular and cellular mechanisms of protein folding, aggregation, and disaggregation in bacteria
Physiological importance and consequences of aggregation for the bacterial cell
Factors inherent to the protein sequence responsible for aggregation and evolutionary mechanisms to keep proteins soluble
Structural properties of proteins expressed as soluble aggregates and as inclusion bodies within bacterial cells both from a methodological point of view and with regard to their similarity with amyloids
Control of the structural and functional properties of aggregated proteins and use thereof in biotechnology and medicine
Protein Aggregation in Bacteria is ideal for researchers in protein science, biochemistry, bioengineering, biophysics, microbiology, medicine, and biotechnology, particularly if they are related with the production of recombinant proteins and pharmaceutical science.
See More
Contributors vii
Preface xi
Introduction to the Wiley Series in Protein and Peptide Science xiii
1 Fundamentals of Protein Folding 1
Vladimir N. Uversky
2 Recruiting Unfolding Chaperones to Solubilize Misfolded Recombinant Proteins 63
Rayees U.H. Mattoo and Pierre Goloubinoff
3 Osmolytes as Chemical Chaperones to Use in Protein Biotechnology 77
Ario de Marco
4 Inclusion Bodies in the Study of Amyloid Aggregation 93
Anna Villar-Piqué and Salvador Ventura
5 Protein Aggregation in Unicellular Eukaryotes 117
Marina Caldara, Joris Winderickx, and Vanessa Franssens
6 Structural Properties of Bacterial Inclusion Bodies 151
Antonino Natalello, Diletta Ami, and Silvia Maria Doglia
7 Residue-Specific Structural Studies of Inclusion Bodies 181
Christian Wasmer, Marielle Wälti, Yongli Chen, and Lei Wang
8 Biomedical Applications of Bacterial Inclusion Bodies 203
Imma Ratera, Spela Peternel, Joaquin Seras-Franzoso, Olivia Cano-Garrido, Elena García-Fruitós, Rafael Cubarsí, Esther Vazquez, José Luis Corchero, Escarlata Rodríguez-Carmona, Jaume Veciana, and Antonio Villaverde
9 Aggregation of Recombinant Proteins: Understanding Basic Issues to Overcome Production Bottlenecks 221
Marina Lotti and Loredano Pollegioni
10 Fusion to a Pull-Down Module: Designing Enzymes to Form Biocatalytically Active Insoluble Aggregates 247
Bernd Nidetzky
Index 263
See More
SILVIA MARIA DOGLIA, PhD, is Professor of Physics at the University of Milano-Bicocca, Italy. She received her Laurea degree in Physics at the University of Milano. She has been Staff Research Scientist of the Italian National Research Council; Visiting Scientist at the University of Stockholm; Visiting Professor at the Universities of Orléans (Fr) and of Reims (Fr). Her research in Biophysics at the University of Milano-Bicocca is focused on the study of protein folding and aggregation in vitro and in situ.
MARINA LOTTI, PhD, is Professor of Biochemistry at the University of Milano-Bicocca, Italy, where she leads the group Protein Engineering and Industrial Enzymology, and is the Head of the Department of Biotechnology and Biosciences. She obtained her PhD degree at the Max-Planck Institute of Molecular Genetics, Berlin, and was a researcher of the Italian National Research Council. Major research topics include the production of recombinant proteins, protein aggregation, cold-active enzymes, and intrinsically disordered proteins.
See More
More in this series