E-book
The 10-Minute Millionaire: The One Secret Anyone Can Use to Turn $2,500 into $1 Million or More
ISBN: 978-1-118-85680-2
256 pages
January 2017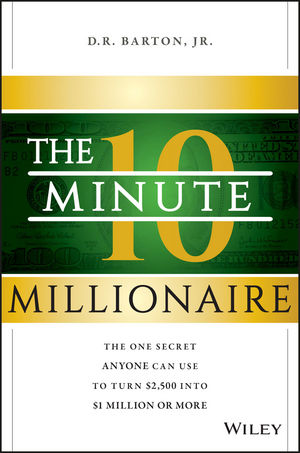 America's "Millionaires' Club" now has 10.4 million members – the most ever, according to the latest statistics. And it's a club you can join – much sooner than you might think, says D.R. Barton, Jr., a top trader, television analyst and former hedge fund officer. In his new book, the 10-Minute Millionaire, D.R. has distilled his decades of experience trading the markets into a system so simple that even a new investor can set it up and maintain it in increments of as little as 10 minutes.
The 10-Minute Millionaire combines goal-setting, stock-screening and trading strategies whose ultimate objective is to give you membership in that Millionaires' Club. The system is so simple D.R. has taught it to sixth graders, yet so powerful it can transform even a small starting stake into lifelong financial freedom – in a way that utterly destroys "buy-and-hold" investing.
Loaded with step-by-step illustrations and personal stories, the 10-Minute Millionaire takes the powerful secrets of Wall Street insiders and breaks them down into an easy-to-understand blueprint for beating the markets, day after day, week after week.
Using an easy three-step process, D.R. walks you through a repeatable and reliable way to identify the stock-market extremes that show up virtually every day. He trains you to properly frame each trade to maximize profit and minimize risk. Finally, he neutralizes the natural biases that lead most traders to financial destruction – and shows you how to book big profits from other trader's irrational miscues.
This isn't an algorithmic "black box." It's not "robo-trading." The 10-Minute Millionaire system still requires personal involvement. It still requires commitment. But it squeezes out emotion, filters out the noise, slashes the risk, and maximizes your potential for profits – and also for meaningful wealth.
Once you learn the 10-Minute Millionaire way, it's a system you can operate and update in tiny 10-minute increments. Before you know it, you'll be trading better than a seasoned pro. And you'll watch as your "assets" turn into true wealth.
And you'll learn the most-valuable lesson of all: Becoming a millionaire doesn't have to be an unattainable dream. Make it a goal, and pursue that goal, and before long that dream will be real.
See More
Foreword Marc Chaikin xi
Acknowledgments xiii
Prologue xix
SECTION I IT'S TIME TO THINK LIKE A MILLIONAIRE (AKA "THE PATH TO WEALTH IS A LOT SHORTER THAN YOU THINK") 1
Introduction The Huck Stops Here 3
Flying South 4
Force 10 from Brattonsville 5
Ten Minutes Can Change Your World 7
A Blueprint for Wealth 10
Notes 12
Chapter 1 The Critical Secret I Learned from the World's Billionaires 13
From Castaways to Kings 14
Learning in Luxury 16
That Ticking Sound You Hear . . . 17
The Private Lives of the World's Elite 19
The Basic Tenets of Prodigious Wealth 21
Notes 24
Chapter 2 Investing—The Ultimate Extreme Sport 25
Anatomy of an Auction Surprise 26
Those Inefficient "Efficient Markets" 29
Ghosts in the Machine 32
A Keynesian Game—Playing the Player, Not the Cards 34
Bubblicious Profits 37
Crazy Chickens 41
Rubber-Band Man 42
Bonus Chapter 2A The Millionaire's Cheat Sheet 47
Notes 54
Chapter 3 How the "Potentate of Profits" Will Help You Get an Edge 55
Picking Your Spots 56
Great Expectations 59
Risky Business 64
A Blueprint for Winning 67
Stop the Loss/Stop the Pain 72
Another Step toward Success 75
Sizing Up Your Opportunity 77
It's Better to Weight for an Edge Than to Wait for an Edge 80
Unconventional Wisdom 82
Intermission: A Look Back . . . and a Look Ahead 85
SECTION II FIND THE EXTREME, FRAME THE TRADE, BOOK THE PROFIT 91
Chapter 4 Running a System 93
Just Enough to Be Dangerous 95
The Tragic Tale of "Trader Tom" 97
The Systematic Investor 101
Bias Number 1: Loss Aversion Bias 104
Bias Number 2: Streak Bias 108
Bias Number 3: Results-Orientation Bias 110
Bonus Chapter 4A The Five Secrets of a Sleek Trading System 117
A Quintuplet of Benefits 119
It's Time to Become "Truly Rich" 121
Note 122
Chapter 5 Finding Extreme Stocks 123
Part I: Fast Movers 123
Navigating Your Way 125
V Is for Volatility 128
A Measured Approach 131
Volume and Price (How Much . . . and How High) 138
Screening for Fast Movers 140
Part II: Rubber Band Stocks 143
The Trend Is Your Friend 144
Momentum and the RSI 148
Putting It All Together 150
Shortcut Tip 151
Chapter 6 Framing the Trade 153
When You Fail to Plan . . . 154
A Contingency Plan to Revere 157
The Agony of Defeat 161
Separating Winners from Losers 163
I Wanna Hold Your Hand 164
Downside Protection 166
Sizing Up the Opportunity 171
Ready to Roll 173
Chapter 7 Book the Profits 177
Catching Your Fair Share 179
Sell Signal 181
Trailing Stops 183
Intermission: What You Can Do with What You Have Learned 187
SECTION III PUTTING IT ALL TOGETHER 191
Chapter 8 Your First Step . . . Toward Your First Million 193
Sampling the System 195
Cleared for Take-off 196
Drug Enforcement 203
Game On 209
Epilogue It's "Self-Improvement" . . . Not "Shelf Improvement" 215
Appendix The 10-Minute Millionaire's Trading Worksheet 219
Glossary 221
Index 227
See More
D.R. BARTON, JR., is cofounder of the Directional Research and Trading Hedge Fund Group where he served for 15 years as COO. A financial author, lecturer, and coach, he holds the national spotlight as a leading expert on system designs for risk reduction. A regular TV analyst on Fox Business and CNBC, Barton is also coauthor of The New York Times and Wall Street Journal best-selling book Safe Strategies for Financial Freedom. He's currently the editor of the Stealth Profits Trader and is chief technical strategist for Money Map Press LLC.
See More