E-book
Becoming an Architect, 3rd Edition
ISBN: 978-1-118-85719-9
368 pages
May 2014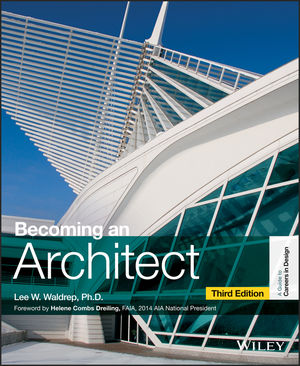 "Becoming an Architect will inspire future architects, career consultants, and human resources professionals alike, providing all the information you'll need to make intelligent decisions about careers in architecture." —From the Foreword by Helene Combs Dreiling, FAIA, 2014 AIA National President
Starting a career as an architect is an exciting prospect, but it's important to do your research before you take the plunge. The third edition of Becoming an Architect is an update to the best-selling guide and highlights the risks and rewards on the path to a career as an architect. You'll find new insight and tons of helpful resources, as well as a complete outline of the trajectory of an architect's early career, from higher education through internship and licensure. More than thirty-two new interviews and profiles from architecture students, emerging, and established professionals give the resource a truly personal feel, and help get you acquainted with real-life scenarios from architects from varying backgrounds and specialties.
With a highly accessible approach, this guide provides a complete overview of the profession, including educational requirements, design specialties, registration requirements, and the paths of a career in architecture. Whether you're a high school student, a college undergraduate, a career counselor, or a human resource professional, Becoming an Architect offers much-needed advice and information to anyone interested in career development for architects.
Covers recent changes to the Intern Development Program (IDP)
Provides advice on obtaining professional experience while studying to be an architect
Considers career paths in a myriad of work environments, such as government agencies, education, and research
Includes helpful appendixes with resources for further information, such as career-related associations, websites, and recommended reading
Obtain a solid introduction to a career as an architect, and plan your own path with the guidance and advice of dozens of others who have already started this process.
See More
FOREWORD xi
PREFACE xiii
ACKNOWLEDGMENTS xv
1 The Definition of an Architect 1
What Do Architects Do? 2
Design Process 3
Why Architecture? 4
Is Architecture for You? 4
Question—What Is Architecture? 5
Career Profiles 12
Profile of the Profession 36
Salary 36
Diversity 37
Question—What Are the Most Important
Skills an Architect Needs to Be Successful? 38
Career Profiles 45
2 The Education of an Architect 71
Preparation 72
Activities 72
Programs 72
Academic Coursework 73
Exploration 74
Visits 75
Summers 76
After-School Programs 77
Question—What Advice Would You Provide to Someone Who Wants to Be an Architect? 78
Career Profiles 86
Paths to an Accredited Degree 100
Bachelor of Architecture (B.Arch.) 100
Pre-Professional Bachelor of Science (B.S.) and Master of Architecture (M.Arch.) 100
Undergraduate Degrees (B.A./B.S.) in Fields Other Than Architecture and Master of Architecture (M.Arch.) 102
Doctor of Architecture (D.Arch.) 102
Joint Degrees 102
Post-Professional Degrees 103
Decision-Making Process 103
You 105
Institution 105
Architecture Program 106
Resources 109
Promotional Materials, Videos, Catalogs, and Websites 109
Guide to Architecture Schools/ARCHSchools.org 110
Career Days in Architecture 110
Campus Visits/Open Houses 110
Admissions Counselor/Administrator 111
Students, Faculty, Alumni, and Architects 111
National Architectural Accrediting Board (NAAB) 111
Architecture Program Report (APR) / Visiting Team Report (VTR) 111
Ranking of Architecture Programs 112
Application Process 112
Application 113
Application Essay/Personal Statement 113
Researching a Graduate Program 114
Test Scores 115
Transcripts 115
Portfolio 115
Recommendations 117
Scholarships/Fellowships/Competitions 118
Career Profiles 119
You Are an Architecture Student 135
Student Performance—Educational Realms and Student Performance Criteria 136
Courses 140
Architecture Electives: A Sample 144
Tools 144
Academic Enrichment 145
Off-Campus Programs (Study Abroad) 145
Independent Study 145
Minors/Certificates 146
Double Major/Degrees/Joint Degrees 146
Lecture Series/Exhibits/Reviews 147
Community Service 148
Mentoring 149
Student Organizations 149
Conclusion 150
Career Profiles 150
The Experience of an Architect 167
Gaining Experience as a Student 168
Shadow 168
Volunteer 168
Research with Faculty 168
Externship 168
Internship 169
Cooperative Education 170
Preceptorship 171
Career-Related Experience 171
Gaining Experience as an Emerging Professional 171
Full-Time Positions 171
Volunteer 172
Design Competitions 172
Mentoring 172
Professional Associations 172
Question—What Do You Look for When Hiring a New Designer? 173
Career Profiles 178
A.R.C.H.I.T.E.C.T. 201
Assessment 201
Research 201
Connections 201
Help 202
Interim Positions 202
Tools 202
Experience 203
Commitment 203
Transition 204
Moving toward Licensure 204
Intern Development Program (IDP) 204
Architect Registration Examination (ARE) 206
Intern Development Program (IDP) Experience Categories and Areas 207
NCARB Certificate 210
Conclusion 210
Career Profiles 210
The Careers of an
Architect 237
Career Designing 237
Assessing 238
Exploring 240
Decision Making 242
Planning 243
Career Profiles 245
Career Paths 266
Architectural Practice 267
Architect Positions 267
Outside Traditional Practice 268
Beyond Architecture 269
The Career Paths of an Architect 272
Career Profiles 273
The Future of the Architecture Profession 297
Sustainability 299
New Technologies/Social Media 299
Building Information Modeling (BIM) 300
The Future of Architecture Architects 300
New Practices 301
Integrated Project Delivery (IPD) 302
Collaboration 302
Diversity 302
Globalization 303
Public Interest Design 303
Distance Education/Learning 303
The Future 304
The Next Architect: A New Twist on the Future of Design 304
Question—What Do You See as the Future for the Architecture Profession? 305
Appendix A: Resources of an Architect 313
Collateral Organizations 313
Architecture-Related Associations 314
Associations-Related Careers 316
Architectural History 316
Construction 316
Design (Graphic, Industrial, Furniture, Lighting) 316
Historic Preservation 317
Interior Design 317
Planning/Landscape Architecture 318
Technical/Engineering 318
Dedicated to Architecture 319
Community Service 320
Recommended Reading 321
Websites 326
Appendix B: Accredited Architecture Programs in the United States and Canada 329
Appendix C: Career Profiles 341
INDEX 345
See More
LEE W. WALDREP, PHD, has over 20 years of experience in higher education with expertise in career development and architecture. Waldrep earned a Ph.D. in counseling and development from The American University, a master of architecture from Arizona State University, and a bachelor of science from the University of Michigan. During his career, he has served in three accredited architecture programs—the University of Illinois at Urbana-Champaign, the University of Maryland and Illinois Institute of Technology. Waldrep previously served as Associate Executive Director of the National Architectural Accrediting Board (NAAB) and as National Vice-President of the American Institute of Architecture Students (AIAS). Waldrep has written and presented on the topics of careers and architecture extensively around the country. In addition, he is a contributor to AIA's Architect's Handbook of Professional Practice, 15th Edition.
See More