Academic Entrepreneurship: How to Bring Your Scientific Discovery to a Successful Commercial Product
ISBN: 978-1-118-85908-7
230 pages
September 2017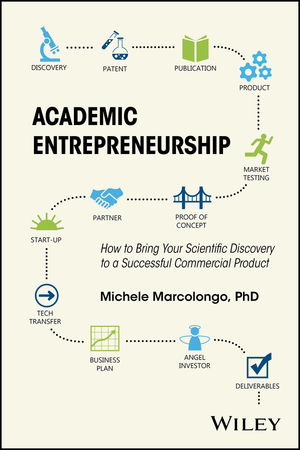 The pathway to bringing laboratory discoveries to market is poorly understood and generally new to many academics. This book serves as an easy-to-read roadmap for translating technology to a product launch – guiding university faculty and graduate students on launching a start-up company.

• Addresses a growing trend of academic faculty commercializing their discoveries, especially those supported by the National Science Foundation and National Institutes of Health
• Offers faculty a pathway and easy-to-follow steps towards determining whether their discovery / idea / technology is viable from a business perspective, as well as how to execute the necessary steps to create and launch a start-up company
• Has a light-hearted and accessible style of a step-by-step guide to help graduate students, post-docs, and faculty learn how to go about spinning out their research from the lab
• Includes interviews by faculty in the disciplines of materials science, pharmaceuticals, medical devices, information technology, energy, and mechanical devices – offering tips and discussing potential pitfalls to be avoided
See More
Dedication
Foreword
Preface
Acknowledgements
About the Author
Chapter 1: So, You Have a Game-Changing Discovery… Congratulations!
Chapter 2: Now What? Protect Your Intellectual Property.
Chapter 3: Are They Buying What You're Selling? The Search Phase
Chapter 4: Friend or Foe: The Tech Transfer Office and Licensing
Chapter 5: Proof-Of-Concept Centers: Bridging the Innovation Gap
Chapter 6: Start-Up Management: You've to Kiss a Lot of Frogs
Chapter 7: Graduate Students and Post-docs, Start-Up Your Career
Chapter 8: Incubators and Accelerators, It's Time to Move Out
Chapter 9: Do You Believe in Angels? Financing Your Company
Chapter 10: Your Roadmap: Avoid the Potholes
Index
See More
Michele Marcolongo, PhD, is Department Head and Professor of Materials Science and Engineering and has a laboratory focus in biomaterials. In a past position as Senior Associate Vice Provost for Translational Research, she worked to translate research discoveries from the laboratory toward commercialization and served on the Operations Boards of the Nanotechnology Institute and the Energy Commercialization Institute. Dr. Marcolongo has co-founded two companies in the field of medical devices.
See More