E-book
Handbook of Play Therapy, 2nd Edition
ISBN: 978-1-118-85982-7
720 pages
October 2015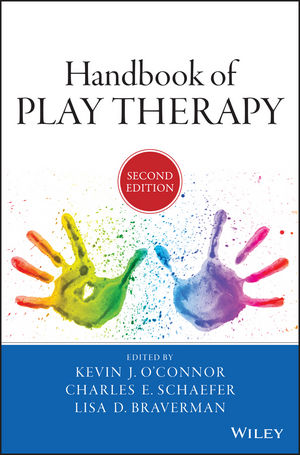 A complete, comprehensive play therapy resource for mental health professionals
Handbook of Play Therapy is the one-stop resource for play therapists with coverage of all major aspects written by experts in the field. This edition consolidates the coverage of both previous volumes into one book, updated to reflect the newest findings and practices of the field.
Useful for new and experienced practitioners alike, this guide provides a comprehensive introduction and overview of play therapy including, theory and technique, special populations, nontraditional settings, professional and contemporary issues. Edited by the founders of the field, each chapter is written by well-known and respected academics and practitioners in each topic area and includes research, assessment, strategies, and clinical application. This guide covers all areas required for credentialing from the Association for Play Therapy, making it uniquely qualified as the one resource for certification preparation.
Learn the core theories and techniques of play therapy
Apply play therapy to special populations and in nontraditional settings
Understand the history and emerging issues in the field
Explore the research and evidence base, clinical applications, and more
Psychologists, counselors, marriage and family therapists, social workers, and psychiatric nurses regularly utilize play therapy techniques to facilitate more productive sessions and promote better outcomes for patients. Handbook of Play Therapy provides the deep, practical understanding needed to incorporate these techniques into practice.
See More
Preface xi
About the Editors xiii
Contributors xv
Part 1: Introduction
1 An Introduction to the Field of Play Therapy 3
John W. Seymour
2 The History of Play Therapy 17
Jane L. Johnson
3 The Therapeutic Powers of Play 35
Athena A. Drewes and Charles E. Schaefer
Part 2: Core Theories
4 Psychoanalytic and Jungian Play Therapy 63
Audrey F. Punnett
5 Child-Centered Play Therapy 93
Geri Glover and Garry L. Landreth
6 Cognitive-Behavioral Play Therapy 119
Susan M. Knell
7 Filial Therapy 135
Risë VanFleet and Glade L. Topham
8 Theraplay®: Creating Secure and Joyful Attachment Relationships 165
Phyllis B. Booth and Marlo L.-R. Winstead
9 Ecosystemic Play Therapy 195
Kevin J. O'Connor
10 Prescriptive Play Therapy 227
Charles E. Schaefer and Athena A. Drewes
Part 3: Core Techniques
11 Sandtray/Sandplay Therapy 243
Linda E. Homeyer
12 Metaphors and Stories in Play Therapy 259
Pat Pernicano
13 Expressive Arts in Play Therapy 277
Julia Gentleman Byers
14 Using Drama in Play Therapy 289
Steve Harvey
15 Board Games in Play Therapy 309
Jessica Stone
Part 4: Applications for Special Populations
16 Play Therapy Across the Life Span: Infants, Children, Adolescents, and Adults 327
Heidi Gerard Kaduson
17 Parent–Child Interaction Therapy With Children With Disruptive Behavior Disorders 343
Lauren Borduin Quetsch, Nancy Wallace, Meredith Norman, Ria Travers, and Cheryl McNeil
18 DIR®/Floortime™: A Developmental/Relational Play Therapy Approach Toward the Treatment of Children With Developmental Delays, Including Autism Spectrum Disorder (ASD) and Sensory Processing Challenges 357
Esther B. Hess
19 Play Therapy With Children With Attachment Problems 381
Sarah C. Patton and Helen E. Benedict
20 Play Therapy With Children With Disabilities 397
Karla D. Carmichael
21 Play Therapy With Survivors of Interpersonal Trauma: Overcoming Abuse and Crime 417
Charles Edwin Myers
22 Play Therapy With Children Experiencing Medical Illness and Trauma 437
Laura Nabors and Jessica Kichler
23 Play Therapy and Crisis InterventionWith Children Experiencing Disasters 455
Jennifer N. Baggerly
Part 5: Play Therapy in Nontraditional Settings

24 Play Therapy in Medical Settings 473
Kristin S. Bemis
25 Play Therapy in Schools 485
Kristi L. Perryman
26 Play Therapy and the Legal System 505
Daniel S. Sweeney
Part 6: Professional Issues
27 Ethics in Play Therapy 523
Cynthia A. Reynolds
28 Limit-Setting in Play Therapy 539
Allan M. Gonsher
29 Play Therapy Supervision 549
Jodi Ann Mullen
Part 7: Contemporary Issues
30 Play Therapy Research: Issues for 21st Century Progress 563
Janine Shelby, Ruth Ellingsen, and Charles E. Schaefer
31 Neuroscience and Play Therapy: The Neurobiologically-Informed Play Therapist 583
Edward F. Hudspeth and Kimberly Matthews
32 Issues of Culture and Diversity in Play Therapy 599
Eliana Gil and Lexie Pfeifer
33 Technology in the Playroom 613
Kevin B. Hull
Part 8: Research
34 Methodologies Suited to the Study of Play Therapy 631
Dee C. Ray and Hayley L. Stulmaker
35 The Empirical Support for Play Therapy: Strengths and Limitations 651
Sue C. Bratton
Author Index 669
Subject Index 681
See More
KEVIN J. O'CONNOR, PHD, RPT-S, is a Clinical Psychologist and Distinguished Professor in Clinical PsyD and PhD programs at the California School of Professional Psychology. Along with Charles E. Schaefer, he cofounded the Association for Play.
CHARLES E. SCHAEFER, PHD, RPT-S, is Professor Emeritus of Psychology at Fairleigh Dickson University. Dr. Schaefer has written or edited over 55 professional books, many on the topic of play therapy.
LISA D. BRAVERMAN, PHD, is a pediatric psychologist who specializes in the areas of oncology, child abuse, and trauma. She also treats children, adolescents, and their families.
See More