Introducing Autodesk Maya 2015: Autodesk Official Press
ISBN: 978-1-118-86284-1
624 pages
June 2014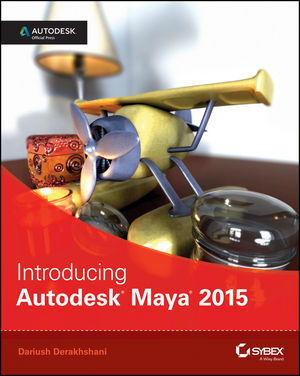 Learn Autodesk Maya from an award-winning insider  
Best-selling author, visual effects supervisor, and technical educator Dariush Derakhshani brings you a newly-updated, step-by-step guide to the most popular and complex 3D application on the market, Autodesk Maya. Introducing Autodesk Maya 2015 includes straightforward lessons, real-world examples, detailed tutorials, and downloadable project files that get you modeling and animating your own digital models and scenes right away.
The book starts you with the latest CG concepts and production workflows, and then shows you how to create a solar system to help get you acquainted with the basic tool set in Maya. From there, the books helps you:   
Learn the Maya user interface, including menus and plug-ins 
Build simple animations and 3D images right away 
Explore polygons, modeling, and NEX tools 
Get started with HDRI lighting, rendering, dynamics, simulations, and effects   
Whether you're new to 3D or migrating from another 3D application,
Introducing Autodesk Maya
2015
will kick-start your creativity and get you up and running with Maya.  Author Derakhshani has worked on movies such as
The Fantastic Four
and
Pan's Labyrinth
, the South Park TV series, and numerous commercials and music videos. 
See More
Introduction xvii
Chapter 1 Introduction to Computer Graphics and 3D 1
A Preview of the CG Process 2
The CG Production Workflow 2
Digital Images 4
Summary 8
Chapter 2 Jumping into Basic Animation Headfirst 9
You Put the U in User Interface 10
Project: The Solar System 14
Creating a Project 15
The Production Process: Creating and Animating the Objects 17
Hierarchy and Maya Object Structure 28
The Solar System, Resumed 30
Outputting Your Work: Playblasting 37
Summary 38
Chapter 3 The Autodesk® Maya® 2015 Interface 39
Navigating in Maya 40
Exploring the Maya Layout 40
Building a Decorative Box 50
Mapping the Box's Reference Planes with Hypershade 53
Organizing Workflow with the Layer Editor 57
Modeling the Decorative Box 58
Editing the Decorative Box Model Using the Shelf 63
Continuing the Decorative Box Model 67
Finishing the Decorative Box Model 71
Summary 78
Chapter 4 Beginning Polygonal Modeling 79
Planning Your Model 80
Polygon Basics 82
Poly Editing Tools 84
Putting the Tools to Use: Making a Cartoon Hand 93
Creating Areas of Detail on a Poly Mesh 101
Modeling a Catapult 115
Summary 142
Chapter 5 Modeling with NURBS Surfaces and Deformers 143
NURBS for Organic Curves 144
Using NURBS Surfacing to Create Polygons 151
Converting a NURBS Model to Polygons 153
Using Artisan to Sculpt NURBS 154
Creating a Pair of Glass Candle Holders 154
Modeling with Simple Deformers 161
The Lattice Deformer 166
Animating Through a Lattice 170
Summary 174
Chapter 6 Practical Experience! 175
Evaluating the Toy Plane 176
Building the Landing Pontoons 178
Oh, What a Body! Modeling the Body of the Plane 194
The Rear Stabilizers 198
You Spin Me Right Round—The Engine and Propeller 201
The Plane's Wings 206
Assembling the Plane 215
Summary 217
Chapter 7 Autodesk® Maya® Shading and Texturing 219
Maya Shading 220
Shader Types 220
Shader Attributes 223
Shading and Texturing the Toy Plane 227
Textures and Surfaces 232
Textures and UVs for the Red Wagon 240
Photo-Real Mapping: The Decorative Box 274
Toon Shading 291
For Further Study 294
Summary 294
Chapter 8 Introduction to Animation 295
Keyframe Animation: Bouncing a Ball 296
Throwing an Axe 307
Replacing an Object 318
Animating Flying Text 320
Animating the Catapult 324
Summary 329
Chapter 9 More Animation! 331
Skeletons and Kinematics 332
Skeletons: The Hand 348
Inverse Kinematics 362
Basic Relationships: Constraints 366
Basic Relationships: Set-Driven Keys 371
Rigging the Locomotive 375
Creating a Simple Character Rig 382
For Further Study 391
Summary 391
Chapter 10  Autodesk® Maya® Lighting 393
Basic Lighting Concepts 394
Maya Lights 398
Light Linking 405
Adding Shadows 407
Raytracing Soft Shadows 411
mental ray Lighting 412
mental ray Physical Sun and Sky 414
Lighting Effects 418
Assembling and Lighting a Scene 422
Further Lighting Practice 430
Tips for Using and Animating Lights 430
Summary 432
Chapter 11 Autodesk® Maya® Rendering 433
Rendering Setup 434
Previewing Your Render: The Render View Window 443
Setting the Default Renderer 445
Reflections and Refractions 446
Using Cameras 448
Motion Blur 456
Batch Rendering 456
Rendering the Wine Bottle 458
mental ray for Maya 461
Render Layers 467
Final Gather 478
Ambient Occlusion 482
HDRI 490
Displacement Mapping the Decorative Box 493
Rendering the Scene with mental ray 504
Summary 516
Chapter 12 Autodesk® Maya® Dynamics and Effects 517
An Overview of Dynamics and Maya Nucleus 518
Rigid Bodies 518
Rigid Body Dynamics: Shoot the Catapult! 522
nParticle Dynamics 530
Emitting nParticles 530
Animating a Particle Effect: Locomotive Steam 538
Introduction to Paint Effects 547
Getting Started with nCloth 551
Customizing Maya 557
Summary 561
Where Do You Go from Here? 562
Index 563
See More
Dariush Derakhshani is an award-winning visual effects and CG supervisor, author, and educator. He has worked on movies such as RED and Pan's Labyrinth, TV shows such as Game of Thrones, Falling Skies, and South Park, as well as countless commercials and music videos. He teaches story and 3D animation, and is the author all the Introducing Maya books, as well as coauthor of the Autodesk 3ds Max Essentials series of books.
See More
Learn more about