E-book
Air Quality Management
ISBN: 978-1-118-86389-3
208 pages
March 2014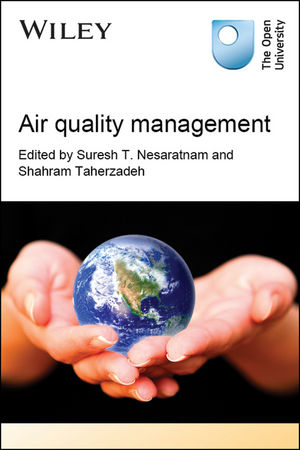 Designed to accompany the new Open University course in Environmental Monitoring and Protection, this is one of four new titles which will equip the reader with the tools to undertake Environmental Impact Assessments (EIAs). Used in planning, decision-making and management, EIAs review both the theoretical principles and environmental considerations of engineering and environmental projects to help steer fundamental legislation in the right direction. Air Quality Management begins with an introduction to the atmosphere around us and the units of concentration. It then discusses the importance of meteorology and the part it plays in air quality, before detailing the main types of air pollutants, their sources, and their effects on humans and their environments. Further chapters discuss measurement technologies and systems, as well as a selection of control and elimination methods. Finally, the book details methods of modelling atmospheric dispersion.
Discover our e-book series on Environmental Monitoring and Protection, published in partnership with The Open University!
Find out more about the series editors, the titles in the series and their focus on water, noise, air and waste, and The Open University courses in Environmental Management.
Visit www.wiley.com/go/ouebookseries
See More
Section 1: Air basics
1.1 Introduction
1.2 Clean air – a basic human need
1.3 What is air pollution?
1.4 Air quality
1.5 The human respiratory system
1.6 Summary
Section 2: Meteorology and air pollutants
2.1 Introduction
2.2 Physical characteristics of the atmosphere
2.3 Dry adiabatic lapse rate theory
2.4 Atmospheric stability
2.5 The main air pollutants
2.6 Effects of air pollutants
2.7 Acid deposition
2.8 Climate change
2.9 Summary
Section 3: Environmental monitoring
3.1 Introduction
3.2 Manual ambient air quality measurement
3.3 Particulate matter
3.4 Continuous ambient air quality monitoring
3.5 Remote or long-path monitoring
3.6 Biomonitoring
3.7 Summary
Section 4: Air pollution control techniques
4.1 Introduction
4.2 Preventing and controlling particulate emissions
4.3 Preventing and controlling gaseous emissions
4.4 Sulfur dioxide and nitrogen oxides
4.5 Dioxins and related compounds
4.6 Dispersion from chimneys
4.7 Odour pollution and control
4.8 Summary
Section 5: Atmospheric dispersion modelling
5.1 Introduction
5.2 Box models of air quality
5.3 The point source, Gaussian plume dispersion model
5.4 Summary
Glossary
References
Acknowledgements
See More
Suresh T. Nesaratnam
is a Senior Lecturer in environmental engineering at The Open University, where he is involved in the distance-teaching of water and wastewater treatment. He graduated with an Honours degree in Chemical Engineering from Imperial College, London and then studied for a Masters and a PhD in Biochemical Engineering at the University of Birmingham. Before joining The Open University in 1991, he worked in a large Engineering Consultancy in Malaysia; in Applied Research for the oil industry, in Kuwait; in the enforcement of pollution control regulations with the Ministry of the Environment, in Oman; and in Scotland, where his work was on water and wastewater treatment for offshore oil and gas platforms. His research interests cover water and wastewater treatment, and his most recent publication is on the 2018Optimization of activated carbon production from date pits', in the International Journal of Environmental Engineering.
Shahram Taherzadeh is a Lecturer in environmental engineering at The Open University, where he is a key member of the Acoustics Research Group. Shahram graduated with a First Class Honours degree in Physics from the University of Essex. He undertook research for a PhD in Acoustics, at The Open University. He is an active researcher, specialising in the modelling of outdoor sound propagation, outdoor noise mitigation methods and interaction of sound with the ground. He is author or co-author of a number of papers in scientific journals and conference proceedings. Shahram is involved in teaching noise pollution control to undergraduate and postgraduate students and Finite Element Analysis to Postgraduates. He is an examiner for UK Institute of Acoustic's Diploma in Acoustics and Noise Control.
See More