E-book
Revolutionize Learning & Development: Performance and Innovation Strategy for the Information Age
ISBN: 978-1-118-86411-1
256 pages
April 2014, Pfeiffer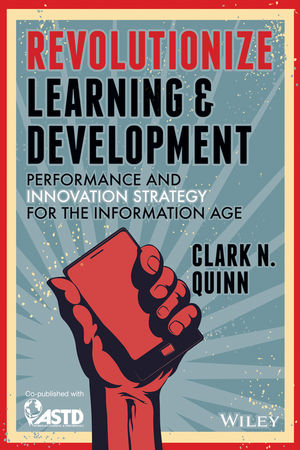 Transform learning and development practices to make your programs relevant and meaningful
Existing training and development practices need a major overhaul. Learning and development practitioners and managers must increasingly face the fact that old methods are no longer relevant in today's tech-savvy world and, in many cases, they simply don't work. In Revolutionize Learning and Development, you'll get a straightforward look at how people really learn and get introduced to practical steps for rethinking, redesigning, and reestablishing learning delivery. This book shows you how to take advantage of new understandings and new technologies so you can make a meaningful impact on your organization.
In four sections, the book lays out crucial background knowledge, conceptual frameworks, and practical steps for transforming learning and development so that it has the greatest return for businesses. Managers, practitioners, and executives will benefit from the illustrations, vignettes, and sidebars that highlight the author's advice and expertise.
Learn to avoid the pitfalls of outdated and irrelevant learning solutions, including those that ignore the importance of clear objectives, proper execution, and thorough evaluation
Discover the practical steps for implementing the best and most effective strategies for making the most of training programs
Benefit from a thorough examination of what happens when managers and practitioners make major changes in strategy, leadership, and technology
Get familiar with the roles of research-based frameworks, performance support, and informal learning
Don't let learning and development myths derail you. Find out how to breathe new life into your programs with practical guidance designed to inspire today's best learning technology solutions.
See More
Foreword xi
Preface xv
Acknowledgments xvii
About the Author xxi
Introduction xxiii
Why xxiii
What xxiii
How xxv
Use xxvi
1 A Call to Arms 1
#Fail 1
Harnessing Magic 4
Performance 6
Bottom Line 7
Section 1 Status Quo 9
2 Our World 11
Change 11
Change in Companies 14
Bottom Line 16
3 Our Industry 17
Inadequate 18
Event-Ful 19
Cobbler's Children 21
Wrong Focus 22
Disengaging 24
Insufficient Practice 25
Antisocial 25
Unresolved 26
Rigid 27
Mismeasured 28
Mythed Foundations 28
Barriers 30
No Credibility 31
Bottom Line 31
Section 2 "To Hand" 33
4 Our Brains 35
Our Brains in Action 36
Our Brains on Learning 39
Bottom Line 45
5 Our Organizations 47
Empowerment 48
Communication 49
Culture 53
Bottom Line 55
6 Our Technology 57
Formal 57
Performance Support 61
Social 62
Mobile 66
Infrastructure 68
Bottom Line 71
Section 3 Aligning 73
7 A Framework for Moving Forward 75
Bottom Line 80
8 What Does This Look Like? 81
Stakeholder Perspectives 81
Case Studies 89
Mark Britz 89
Tulser 93
Jane Bozarth 99
Allison Anderson 104
Charles Jennings 109
Assess Yourself 115
Bottom Line 124
9 Re-Think 127
Performance as Strategy 128
Doing Less 131
Learning as Culture 132
Organization 135
Supporting Work 136
Bottom Line 138
Leader Reflections 139
Allison Rossett 139
Marc Rosenberg 142
Section 4 Path Forward 147
10 Re-Do 149
Performance Consulting 150
Development Facilitation 160
Prioritization 165
Measured 167
Tech 170
Pragmatics 176
Bottom Line 179
11 Moving Forward 181
Parallel Paths 182
The Money Story 185
The Long Game 186
Conclusion 188
References 191
Appendix A: The LPI Capability Map 199
Appendix b: The Towards Maturity Model 203
Appendix c: ASTD Competency Model 207
Index 209
See More
Clark Quinn, author of Engaging Learning, Designing mLearning, and The Mobile Academy, is a well-known and respected contributor to the eLearning field. The first recipient of the eLearning Guild's Guild Master award, he has spoken internationally and consults to Fortune 500 corporate, education, not-for-profit, and government sectors.
See More