Leadership Theory: Facilitator's Guide for Cultivating Critical Perspectives
ISBN: 978-1-118-86417-3
504 pages
February 2017, Jossey-Bass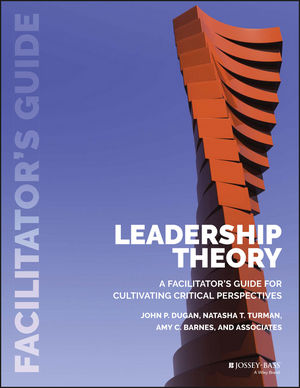 The facilitator's guide brings to life the content of the survey text, Leadership Theory. It offers instructive advice on how to prepare for the use of a critical perspective as well as providing practical resources to translate survey text content to practice.
The facilitator's guide consists of:
An overview of how to use the guide as well as recommended skills and reflection questions for educators prior to implementing material.
Objectives, critical concepts, a chapter overview, and a chapter framework for each chapter from Leadership Theory
Lesson plan "walk-throughs" containing 2-3 activities for each chapter of the survey text, with information for learning outcomes, activity setup, and additional notes for facilitation.
See More
Using the Facilitator's Guide ix
Acknowledgments xi
Editors and ContributingAuthors xiii
Introduction and Critical Facilitation 1
Amy C. Barnes
Chapter 1 The Evolving Nature of Leadership 13
1A Our Evolving Understanding of Leadership 13
Melissa L. Rocco
1B What Is Leadership? Connecting Personal Identity to Social Systems and Power Dynamics 23
Sara C. Furr & Vijay Pendakur
1C Social Identities and the Development of Efficacy 35
Andrea M. De Leon & Allison M. Schipma
1D Exploring Cultural Sensitivity, Acceptance, and Understanding in Leadership 46
Mathew R. Goldberg & Michelle L. Kusel
Chapter 2 Critical Perspectives as Interpretative Frameworks 55
2A Understanding Core Critical Concepts: Experiential Explorations into the Contextualization of Knowledge Production 55
Maurice Stevens
2B Fundamental Skills forApplying Critical Perspectives to Leadership: Practicing the Art of Deconstruction and
Reconstruction 68
OiYan A. Poon & Dian D. Squire
2C Ideology and Leadership 81
Sharon Chia Claros
Chapter 3 Interpreting Leadership Theory Using Critical Perspectives 93
3A Interpreting Leadership Theory Using Critical Perspectives 93
Melissa L. Rocco
3B Applying Critical Perspectives to the Evolution of Leadership Theories 104
Stephanie H. Chang & Natasha Chapman
3C Implicit Leadership Through a Critical Lens:How Implicit Biases Support the Dominant Narrative 121
Amy C. Barnes
3D Critical Considerations in Gender and Leadership 135
Renique Kersh
Chapter 4 Person-Centered Theories 151
4A The Leadership Practices Inventory Through a Critical Lens 151
David M. Rosch
4B Strengths-Based Leadership Through a Critical Lens:Valuing Social Identity and Power Dynamics in Strengths
Facilitation 180
Amy C. Barnes
4C Emotionally Intelligent Leadership Through a Critical Lens 200
Paige Haber-Curran
Chapter 5 Theories of Production and Effectiveness 215
5A Style Leadership Through a Critical Lens 215
Daniel M. Jenkins, Amanda B. Cutchens, & Corey Seemiller
5B Critical Perspectives on Situational Leadership Theory:Does Considering Situational Context Foster Inclusivity? 226
Amy C. Barnes
5C Path-Goal Leadership Theory: Four Leadership Styles and Situational Factors 241
Matthew Sowcik & Clinton M. Stephens
Chapter 6 Group-Centered Theories 257
6A LMX Theory Through a Critical Lens: Exploring the Impact of Power and Privilege 257
Natasha Chapman & Benjamin Brooks
6B Team Leadership Through a Critical Lens 274
Adam Goodman
Chapter 7 Theories of Transformational Leadership 291
7A Transformational Leadership 291
Marilyn J. Bugenhagen
7B Servant Leadership Through a Critical Lens 306
Richard A. Couto
7C Raising the Mirror: The Social Change Model Through a Critical Lens 322
Lesley-Ann Brown-Henderson
Chapter 8 Relationship-Centered Theories 333
8A Relational Leadership in Organizations: Deconstructing an Aspirational Leadership Approach 333
Kristina C. Alcozer Garcia
Chapter 9 Vanguard Theories 345
9A Authentic Leadership Through a Critical Lens: Resisting Dominant Narratives 345
Ana M. Rossetti & Mark Anthony Torrez
9B Adaptive Leadership:Helping theWork of theGroup Move Forward 362
Scott J. Allen & Marc Lynn
9C Complexity Leadership Through a Critical Lens: Context and Complexity forAdaptive Change 378
Kevin M. Hemer & Laura Osteen
Chapter 10 Toward a Justice-Based Leadership Model 399
10A Cultivating Critical Hope Through Communities of Praxis 399
Willie Gore & Satugarn P. Limthongviratn
10B Ethics and Leadership 410
Kathryn Kay Coquemont
10C Justice and Leadership 421
Valeria Cortés
Chapter 11 Integration and the Path Forward 439
11A Charting One'sOwn Theory of Leadership 439
M. Sonja Ardoin
References 453
Author Index 467
Subject Index 473
See More
JOHN P. DUGAN is an associate professor in the higher education graduate program at Loyola University Chicago, where he teaches student development theory, leadership, and multiculturalism for social justice. He is the principal investigator for the Multi-Institutional Study of Leadership, and the co-editor of The Handbook for Student Leadership Development, Second Edition.
NATASHA T. TURMAN is a doctoral research assistant and project manager for the Multi- Institutional Study of Leadership at Loyola University Chicago, where she is pursuing her doctorate in Higher Education with a cognate in Women and Gender Studies.
AMY C. BARNES is Clinical Assistant Professor, Higher Education and Student Affairs and coordinator of undergraduate leadership courses for the Department of Educational Studies at The Ohio State University. She is a member of the Higher Education and Student Affairs program faculty.
See More