Succession Planning for Financial Advisors: Building an Enduring Business, + Website
ISBN: 978-1-118-86647-4
224 pages
June 2014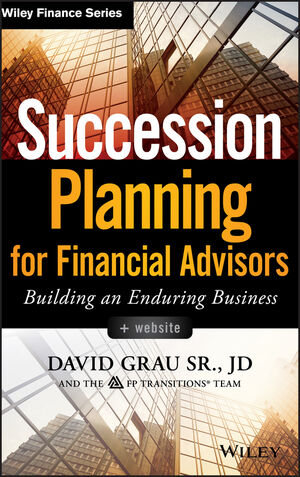 This book is going to challenge you and everything you think you know about succession planning.
For independent advisors, succession planning is quickly becoming the cornerstone to a strategic growth strategy designed to perpetuate their business and their income streams beyond their own lifetime, while providing a multi-generational service platform that attracts and rewards younger advisors. This makes succession planning one of the most, if not the most, important practice management tools in this industry today.
As an independent financial advisor, now is the time to address the question of what will happen to your practice and your clients after you "exit the building."  In most cases, the answers are right in front of you. Thankfully, Succession Planning for Financial Advisors: Building an Enduring Business has arrived to transform today's practices into businesses designed to endure and prosper and serve generations of clients.
Learn how to create a "Lifestyle Succession Plan" that can provide a lifetime of income and benefits to the founder even as he/she gradually retires on the job
Unlock the power of equity management – the best planning and building tool an independent advisor owns
Learn how to attract and retain the best of the next generation to help you build a great business and to support your succession plans and care for your clients and their families
Determine precisely when to start a formal succession plan and related continuity plan so that your business can work for you when you need it most
Understand why succession planning and selling your business are completely different strategies, but how they can complement each other when used correctly 
95% of independent financial service professionals are one owner practices.  To the positive, these practices are among the most valuable professional service models in America. But almost all advisors are assembling their practices using the wrong tools – tools borrowed from historically successful, but vastly different models including wirehouses, broker-dealers, and even OSJ's and branch managers.  Revenue sharing, commission splitting and other eat-what-you-kill compensation methods dominate the independent sector and virtually ensure that today's independent practices, if left unchanged, will not survive the end of their founder's career.  It is time to change course and this book provides the map and the details to help you do just that. 
For independent practice owners and staff members, advisors who want to transition to independence, as well as accountants, attorneys, coaches and others involved in the financial services space, there are invaluable lessons to be learned from Succession Planning for Financial Advisors. Written by the leading succession planning expert in the financial services industry, former securities regulator, M&A specialist, and founder of the nationally recognized consulting and equity management firm, FP Transitions, David Grau Sr., JD, has created an unmatched resource that will have an enduring and resounding impact on an entire industry.
See More
Preface ix
Acknowledgments xi
Introduction xiii
CHAPTER 1 The Succession Conundrum 1
Practices Built to Die 1
What Exactly Is a Succession Plan? 2
Why You Need to Create a Succession Plan Now 4
Your Clients Are Watching You! 8
Why This Industry Struggles with This Concept 9
The Evolution of the Solution 11
Mind Your Own Business 14
The Opportunity at Hand 16
CHAPTER 2 How to Start Creating Your Succession Plan 19
Defining Your Goals 19
Building a Foundation for Success 24
Facing Your Biggest Challenges 26
Equity—A Powerful Business-Building Tool 33
Valuing a Financial Services Practice 35
Practicing Equity Management 47
Building Profit-Driven Businesses 49
CHAPTER 3 Transforming Your Practice into a Business 51
Assessing What You Have Built 51
A Building Problem, Not a Planning Problem 55
A Parable 58
Building Your Ship 60
Rethinking Your Compensation System 61
Balancing Revenue Strength and Enterprise Strength 63
Selecting the Right Entity Structure 65
Remodeling Your Cash Flow 72
Production Model versus Business Model 77
CHAPTER 4 Creating Your Succession Team 81
The People Problem 81
The Secret Formula: G-1 + G-2 + G-3 82
Plan Before You Build and Hire 85
Mining the Talent Pool 87
Turning Employees into Equity Partners 89
Onboarding Talent with a Book of Business 91
The Case of the Super Producer 94
Help Wanted Ad 96
Solving the Talent Crisis in This Industry 98
A Conversation with the Next Generation 99
CHAPTER 5 The First Step—A Continuity Plan 103
A Dress Rehearsal for Succession Planning 103
What Exactly Is a Continuity Plan? 104
Basic Components of a Continuity Plan 105
Types of Agreements 106
Funding Your Continuity Plan 111
Continuity Plan Dos and Don'ts 112
A Powerful Acquisition Tool 115
Communicating Your Plan 115
CHAPTER 6 Charting Your Succession Course 117
Exit Strategies versus Succession Plans 117
Selling Your Practice 118
Mergers 124
What Doesn't Work in This Industry 126
Employee Stock Ownership Plans 129
What Does Work? A Lifestyle Succession Plan 132
Goals of a Lifestyle Succession Plan 134
The Family Business—A Special Case 136
"Yes, but . . ." (Obstacles to Overcome) 139
CHAPTER 7 Succession Planning Step-by-Step 147
Where to Start 147
Assembling Your Support Team 150
Enjoy the Planning Process 152
Doing the Math 153
Establishing a Fair Price 154
The Nuts and Bolts of a Plan 155
Documentation 166
Bank Financing—Expanding Your Options 167
Beware of Benchmarks and Survey Results 169
CHAPTER 8 A Tale of Ownership 171
Succession Planning Case Study 171
CHAPTER 9 Course Corrections 179
Returning to the Harbor 179
Empowering the Next Generation 180
Growth Is a Sign That Your Plan Is Working 182
What to Do When Your Plans Change 183
What to Do When Their Plans Change 184
Handling the Culture Shift 185
Conclusion 187
About the Companion Website 189
About the Author 191
Index 193
See More
DAVID GRAU SR., JD, is the founder and president of FP Transitions, a firm that specializes in building financial services businesses of enduring and transferable value. He has authored over 85 nationally published articles, white papers, and manuals on complex succession strategies, equity management, business continuity, income-perpetuation plans, and mergers and acquisitions. Grau Sr. was named one of the most influential people in the profession in an industry survey by Financial Planning magazine and is a nationally recognized expert on succession planning and business-perpetuation strategies in the financial services industry.
See More