E-book
Twentieth-Century Europe: A Brief History, 1900 to the Present, 3rd Edition
ISBN: 978-1-118-86677-1
416 pages
July 2014, Wiley-Blackwell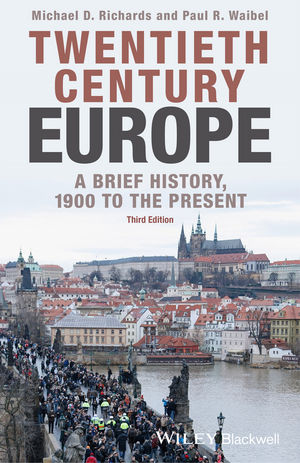 Twentieth-Century Europe: A Brief History presents readers with a concise and accessible survey of the most significant themes and political events that shaped European history in the 20th and 21st centuries.
Features updates that include a new chapter that reviews major political and economic trends since 1989 and an extensively revised chapter that emphasizes the intellectual and cultural history of Europe since World War II
Organized into brief chapters that are suitable for traditional courses or for classes in non-traditional courses that allow for additional material selected by the professor
Includes the addition of a variety of supplemental materials such as chronological timelines, maps, and illustrations
See More
Preface vii
Part 1 Overview: 1900–1919 1
1 Before the Deluge: Europe, 1900–1914 5
2 The Great War, 1914–1918 35
3 Revolution and Peacemaking, 1917–1919 65
Part 2 Overview: 1919–1939 91
4 Aftershocks of the Great War 95
5 Recovery and Prosperity, 1919–1929 117
6 From Depression to War, 1929–1939 145
Part 3 Overview: 1939–1967 171
7 Armageddon: Europe in World War II, 1939–1945 175
8 Cold War and Decolonization, 1945–1961 207
9 Out of the Ashes: From Stunde Null (zero hour) to a New Golden Age, 1945–1967 235
Part 4 Overview: 1968–Present 269
10 Metamorphosis: An Era of Revolutionary Change, 1968–1988 275
11 Searching for Meaning in a Multicultural World 313
12 Charting a New Course: Europe from 1989 to the Present 345
Appendix 379
Index 384
See More
Michael D. Richards is Professor Emeritus, Sweet Briar College. He is the author of Revolutions in World History (2003), and has published book chapters, articles, and reviews in scholarly journals, periodicals, and reference works.
Paul R. Waibel is Professor of History at Belhaven University. He is the author of Politics of Accommodation (1983), Quiknotes: Christian History (2000), Martin Luther: A Brief Introduction to His Life and Works (2005), and numerous articles and reviews in scholarly journals, periodicals, reference works, and anthologies.
See More