E-book
The Influence of Fraternity and Sorority Involvement: A Critical Analysis of Research (1996 - 2013): AEHE Volume 39, Number 6
ISBN: 978-1-118-86697-9
176 pages
February 2014, Jossey-Bass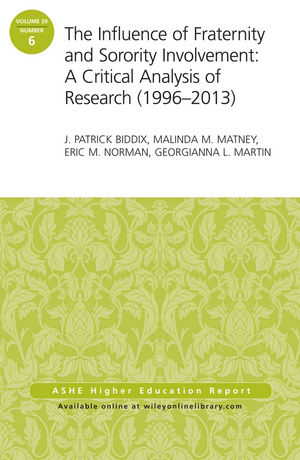 Despite negative connotations and empirical evidence to support detrimental aspects of fraternity and sorority membership, decades of nationally representative data show students remain interested in joining. This monograph reconsiders the value of membership, based on scholarly research published since 1996 in the following ways:
Through identifying behavioral, psychological and educational outcomes of fraternity/sorority involvement
By differentiating outcomes between and among organizations
Through recommending implications for policy and practice based on research.
Findings revealed an unexpected amount of scholarly research interest on fraternity and sorority involvement, and membership correlates in the last two decades from a variety of disciplines.

Despite a disproportionate focus on behavioral correlates, such as alcohol use, hazing and sexual assault, researchers in the past decade have slowly added psychosocial and educational considerations, building toward a more holistic understanding of outcomes related to involvement.


See More
Executive Summary ix
Foreword xv
Introduction 1
Terminology 3
Problem Statement 4
Purpose of the Monograph 5
Research Questions 5
Importance of the Topic 6
Research Approach 8
Theoretical Consideration 9
Organization of This Monograph 11
Alcohol-Related Behavioral Effects 13
Context 14
Research Design and Terminology 15
Criticisms of the Terminology 17
Rates and Statistics 17
Binge Drinking 18
Heavy Episodic Drinking (HED) 20
Problem Drinking, Alcoholism, and Alcohol Dependence 21
Weekly and Monthly Consumption 22
Special Occasion/High-Risk Drinking 23
Predisposition to Join, Previous Alcohol Experience, and Other Controls 25
The New Member Education Period 27
Socialization and Organizational Effects 28
Consumption at Fraternity Parties 30
Fraternity and Sorority Houses 32
Other Comparisons Within Groups 35
Comparisons to Athletes 37
Comparisons to Other Campus-Based Organizations 39
Consumption Patterns During and After College 42
Summary of Findings 42
Other Behavioral Effects 47
Hazing 47
Hazing Research in Journal Articles 49
Hazing Research in Other Publications 52
Sex-Related Research: Instruments, Terminology, and Criticism 54
Rape Myths, Beliefs, and Bystander Intervention 56
Sexual Aggression and Coercion 58
Sorority as At-Risk Group for Sexual Assault 59
Comparing Fraternity Members to Athletes 62
Other Drug Use 63
Smoking, Other Tobacco, and Salvia divinorum 64
Ecstasy, Marijuana, and Opioid Analgesics 66
Illegal Use of Stimulant Drugs 67
Academic Dishonesty 68
Fake ID Use and Gambling 70
Other Research 73
Summary of Findings 74
Psychosocial Effects 79
Attitudes and Values Toward Self 79
Fraternity Involvement and Identity Formation 81
Sorority Involvement and Identity Formation 84
Sorority Body Image and Disordered Eating 87
Similarities in Identity Formation and Body Image 90
Depression, Self-Esteem, and Sense of Belonging 91
Moral Development and Ethical Issues 93
Attitudes Toward Others 94
Understanding Others and Diverse Experiences 95
Summary of Findings 97
Educational Effects 101
Research Methods and Terminology 102
Critical Thinking and Reasoning Skills 104
Academic Performance, Persistence, and Graduation 105
Other Educational Effects 106
Within-Group Comparison 107
Summary of Findings 108
Recommendations for Practice and Research 111
Recommendations for Campus Professionals and Policy Makers 111
Recommendations for Alumni and Volunteers 114
Recommendations for Inter/National Professionals 115
Recommendations for Fraternity and Sorority Collegiate Members 116
Recommendations for Future Research 118
Recommendations for Refining Research 120
Conclusion 121
References 123
Name Index 141
Subject Index 149
About the Authors 155
See More
J. PATRICK BIDDIX, PhD, is an associate professor of Higher Education and coordinator of the College Student Personnel Program at the University of Tennessee, Knoxville.
MALINDA M. MATNEY, PhD, is a senior research associate for Student Life and lecturer in the Center for the Study of Higher and Postsecondary Education at the University of Michigan.
ERIC M. NORMAN, EdD, is the dean of students at Indiana University–Purdue University Fort Wayne and a limited-term lecturer in the College of Engineering, where he teaches organizational leadership development.
GEORGIANNA L. MARTIN, PhD, is an assistant professor of Higher Education and Student Affairs Administration at the University of Southern Mississippi.
See More
Learn more about