Running a Bar For Dummies, 2nd Edition
ISBN: 978-1-118-88072-2
360 pages
May 2014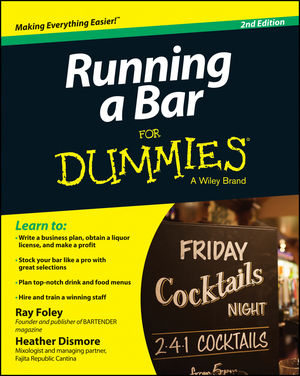 Get insider details on how to operate a successful bar
Running a Bar For Dummies, 2nd Edition shows established and future bar owners how to establish and maintain a successful business. Using clear, concise language, this For Dummies guide contains all the information you need to start your bar off on the right foot. From grand opening to last call, you'll discover the insider tricks that keep the business end running smoothly and the customers happily engaged. With updated information on marketing and social media, the book walks you step by step through the entire process, revealing the nitty-gritty details most new bar owners only discover after starting.
The bar business continues to grow; however, securing running capital and having knowledge about the business are cited as the two biggest reasons new bars fail. Running a Bar For Dummies, 2nd Edition shines a light on these issues to help bar owners prepare properly. The book helps you find your way through the maze of licensing and permits, developing a business plan, and preparing for your grand opening, plus offers clear, no-nonsense guidance on dealing with tough customers. Every step of the way, Running a Bar For Dummies, 2nd Edition is a reference you can count on.
Understand the bar business and important legal issues
Stock the necessities, including equipment and inventory
Promote your business using marketing and social media
Manage expenses and control cash flow
When run correctly, a bar can be an extremely profitable business, but the key to success is knowing exactly what you're getting into. By recognizing common problems and teach you how to adapt quickly to changing conditions, Running a Bar For Dummies, 2nd Edition provides the information you need to develop those skills, and get your bar started.
See More
Introduction 1
Part I: Cheers! Getting Started in the Bar Industry 5
Chapter 1: Bar Business Basics 7
Chapter 2: Understanding What It Takes to Own and Operate a Bar 15
Chapter 3: Minding the Money and the Law 29
Chapter 4: Deciding What Type of Bar to Have 49
Part II: Gearing Up to Open the Doors 59
Chapter 5: Putting Your Business Plan Together 61
Chapter 6: Selecting Your Bar's Site, Décor, and Name 77
Chapter 7: Stocking Up on Smallwares and Equipment 103
Chapter 8: Setting Up Your Bar's Inventory 123
Chapter 9: Planning and Creating Your Menus 143
Part III: Employees, Customers, and Products: Managing the "Right Stuff" 163
Chapter 10: Hiring, Training, and Keeping Your Employees 165
Chapter 11: Rule #1: Practicing Good Customer Service 189
Chapter 12: Boning Up on Bar Beverages 205
Chapter 13: Getting Ready for Your Grand Opening, Step by Step 223
Part IV: Managing Your Inventory, Revenue, and Future 237
Chapter 14: Controlling Expenses and Operating Efficiently 239
Chapter 15: Keeping Your Bar's Bottom Line from Hitting Bottom 261
Chapter 16: Building and Keeping Your Bar Crowd 275
Part V: The Part of Tens 301
Chapter 17: Ten Ways to Run a Safe Bar 303
Chapter 18: Ten Myths about Running a Bar 307
Chapter 19: Ten Bar Owner Sins Not to Commit, Ever 311
Appendix: Useful Websites for Every Bar Owner 315
Index 323
See More
Ray Foley, a former Marine with more than 30 years of bartending and restaurant experience, is the founder and publisher of BARTENDER magazine. Heather Dismore is a veteran of both the restaurant and publishing industries. Her published works include Running a Restaurant For Dummies.
See More