E-book
The Professional Practice of Architectural Working Drawings, 5th Edition
ISBN: 978-1-118-88085-2
688 pages
August 2017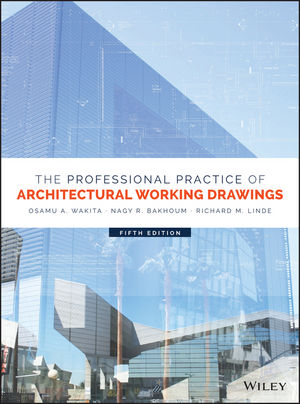 The detailed, highly illustrated, comprehensive guide to architectural working drawings
The Professional Practice of Architectural Working Drawings is a complete guide to the skills you need to create a set of drawings that clearly and effectively communicate your design. Covering everything from site, floor, framing, and foundation plans to building sections and elevations, this book presents crucial concepts and real-world techniques architects rely on every day. You'll learn the standards, customs, regulations, and symbols, alongside computer-generated drawings, 3D modeling, Building Information Modeling, and other architectural technology. This new fifth edition includes updated information on sustainability concepts, layering systems in line with AIA standards, deeper explorations of dimensioning, more sample ADA drawings, and a new selection of case studies that offer a real-world glimpse into how these topics relate to the architect's everyday work. Hundreds of drawings demonstrate important skills and concepts, and online ancillary materials offer a robust set of resources to students and instructors.
Architectural drawings must be precise, accurate, and complete; they must follow certain standards that make them universally understood in the proper context. This book teaches you how to produce professional-level drawings that leave no room for questions or confusion.
Create architectural drawings that effectively communicate your design
Learn techniques used in both residential and light commercial projects
Investigate BIM, 3D modeling, and other architectural technologies
Understand dimensioning, sustainability, ADA standards, and more
Architects use drawings as a second language, to effectively communicate ideas to clients, contractors, builders, and other design professionals throughout all stages of the project. The Professional Practice of Architectural Working Drawings teaches you how to become fluent in the visual language of architecture, to communicate more effectively with all project stakeholders.
See More
Preface xiii
PART I PROFESSIONAL FOUNDATIONS 1
Chapter 1 Professional Foundations 3
The Physical Office 4
Office Structure 4
Resource Library 6
Architect/Client Relationship 7
Building 13
Building Information Modeling on Building Design 15
Chapter 2 Standards and Techniques, Hand Drafting, Computer-Aided Drafting, and Metrification 17
Standards and Techniques Introduction 18
Office Standards 31
The Dimensional Reference System 35
Freehand and Hand Drafting 36
Office Standards 44
National CAD Standards 65
Metrics 66
Conclusion 73
Chapter 3 Human Concerns and Building Information Modeling (BIM) 75
Introduction 76
Human Considerations 76
Americans with Disabilities Act (ADA) 76
Building Information Modeling (BIM) 85
Chapter 4 Sustainable/Green Architecture 93
Environmental and Human Considerations 94
Sustainable Architecture 95
Natural Impact 95
Impact of Man 104
Mold 114
Energy Sources 115
Green Architecture 119
Future of Energy Sources 119
Chapter 5 Construction Materials and Methods 123
Building Materials 124
Wood as a Material 124
Wood Floor Systems 129
Wood Wall Systems 133
Wood Roof Systems 137
Concrete 142
Steel System 151
Steel Stud Wall Framing System 155
Steel Decking Roof System 155
Light Steel Roof Framing System 155
Masonry System 156
Composite Systems and Combinations of Materials 160
Chapter 6 Initial Preparation Phase for Construction Documents 169
Guidelines for Construction Documents 170
Transitioning from Schematic Drawings to Construction Documents 171
Building Code Requirements 172
Selecting the Primary Structural System 173
Requirements of Consultants 173
Regional Considerations 174
Energy Conservation 175
Project Programming 176
Interrelationship of Drawings 176
Project Book 183
PART II DOCUMENT EVOLUTION 207
Chapter 7 Site Analysis and Site Documents 209
Introduction 210
Site Analysis Defined 210
Site Analysis Applied 212
Soils and Geology Map 216
Site Plan 217
Grading Plan 223
Site and Grading Plan 230
Drainage Plan 234
Erosion and Sediment Control Plans 235
The Utility Plan 236
Circulation Plan 236
Landscape, Irrigation, and Drainage Plans 237
Conclusion 237
Chapter 8 Floor Plan 245
Floor Plans 246
Types of Floor Plans 249
Symbols 260
Other Floor-Plan Considerations 265
Drawing a Floor Plan with a Computer 269
Case Studies: Working Drawing Development 277
Chapter 9 Foundation and Roof Plans, Floor, and Roof Framing Systems 301
Introduction 302
Types of Foundations 302
Examples 311
Summary of Typical Conventions for Foundation Plan 317
Exterior and Interior Walls 318
A Steel Structure 319
Case Studies: Working Drawing Development 322
Roof Plans and Framing Systems 333
Floor Framing 355
Case Studies: Working Drawing Development 359
Chapter 10 Building Sections 379
Building Sections Defined 380
Drafting a Building Section 383
Types of Building Sections 385
Chapter 11 Exterior and Interior Elevations 401
Exterior Elevations 402
Material Designations 412
Drafting an Exterior Elevation 419
Weatherproofing 421
Drawing an Elevation with and without a Model 423
Case Studies: Working Drawing Development 425
Interior Elevations 431
Dimensions and Intersections 440
Drafting an Interior Elevation: Examples 441
Computers and Interior Elevations 443
Evolution of a Set of Interior Elevations 443
Case Studies: Working Drawing Development 450
Chapter 12 Schedules: Door, Windows, and Finish 453
Schedules Defined 454
Pictorial Schedules: Doors and Windows 455
Interior Finish Schedules 456
Additional Schedules 459
Structural Schedules 460
CAD-Generated and Computer-Drafted Schedules 461
Schedules Using BIM 463
Chapter 13 Architectural Details and Vertical Links (Stairs/Elevators) 469
Architectural Details 470
Freehand Detail Sketches 470
PART III TENANT IMPROVEMENT, ADDITIONS AND ALTERATION, HISTORICAL RESTORATION, BIM VIA REVIT, AND INTRODUCTION TO DESIGN 505
Chapter 14 Additions/Alterations, Historical Preservation (Restoration), and Tenant Improvements 507
Additions/Alterations 508
Tenant Improvement Introduction 512
Existing Buildings 512
Existing Floor Level—Madison-B Building 512
Development of Working Drawings—Keim Building 514
Working Drawings 525
Chapter 15 BIM via Revit 537
Building Information Modeling (BIM) 538
Architectural Working Drawings 539
Floor Plan 540
Pre-Revit 544
Revit 545
Revit—Working Drawings 549
PART IV CASE STUDIES 559
Chapter 16 One-Story Conventional Wood-Framed Structures 561
Introduction 562
Design and Schematic Drawings 563
Evolution of the Working Drawings 563
Chapter 17 Construction Documents for a Two-Story, Wood-Framed Residence with BIM 585
Introduction 586
BIM-Drawn Two-Story Wood-Framed Residence 619
Chapter 18 Clay Theater—Steel/Masonry Structure; Margaux—Masonry Structure 643
Introduction 644
Conceptual Design: Site and Client Requirements for Clay Theater 644
Design Development Punch List 644
Initial Schematic Studies 644
Margaux—Masonry Building 648
Index 665
See More
OSAMU A. WAKITA, HON. AIA, is a retired professor of architecture and former department chair at Los Angeles Harbor College. An award-winning educator of over 50 years, Osamu is recognized by the California Council of the American Institute of Architects as a leading authority on perspective drawing.
NAGY R. BAKHOUM is a licensed architect and principal of Obelisk Architects in Torrance, California, and a Professor of Architecture in the Los Angeles Community College system. Nagy has worked on high-end residential and commercial projects around the world, and has over 20 years of experience as an educator.
RICHARD M. LINDE, AIA, was a licensed architect and past president of the American Institute of Architects.
See More