Designing Commercial Interiors, 3rd Edition
ISBN: 978-1-118-88208-5
576 pages
April 2016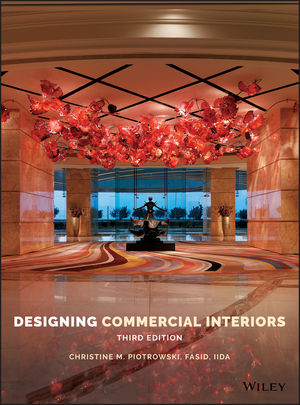 A practical, comprehensive resource for commercial interior design
Designing Commercial Interiors is the industry standard reference, now fully revised and expanded to reflect the latest developments in commercial interior design. This book guides you through the entire design process, from planning to execution, to teach you the vital considerations that will make your project a success.
This new third edition includes new:
Sustainability concepts for a variety of commercial spaces
Coverage of accessibility, security, safety, and codes—and how these factors influence commercial design
Chapters on design research, project process, and project management
Drawings and photographs of design applications
Supplemental instructor's resources
Commercial interior design entails a much more complex set of design factors than residential design, and many of these considerations are matters of safety and law. This book walks you through the process to give you a solid understanding of the myriad factors in play throughout any commercial project, including how the global marketplace shapes designers' business activities.
Whether it's a restaurant, office, lodging, retail, healthcare, or other facility, the interior designer's job is much more complicated when the project is commercial. Designing Commercial Interiors is an exhaustive collection of commercial design skills, methods, and critical factors for professionals, instructors, and those preparing for the NCIDQ exam.
See More
Preface xv
Acknowledgments xvii
1 Commercial Interior Design 1
Historical Overview 3
Understanding the Client's Business 5
Working in Commercial Interior Design 6
Where the Jobs Are 11
Professionalism 15
Summary 19
Bibliography and References 20
2 Forces That Shape Commercial Interior Design 23
Cultural Sensitivity 24
Global Marketplace 27
Sustainable Design 31
Security and Safety 44
Codes 46
Accessible Design 51
Summary 58
Bibliography and References 58
3 Research and Project Process 63
Problem Solving in Design 64
Research Methodologies in Design 67
Evidence-Based Design 71
Project Goals and Concept Development 73
Design Process 74
Programming Elements 77
Summary 80
Bibliography and References 80
4 Project Management 82
What Is Project Management? 82
Role and Responsibilities of the Project Manager 84
Working Relationships with Stakeholders and Team Members 87
Project Delivery Methods 92
Building Information Modeling (BIM) 97
Project Process 97
Adaptive Use 110
Summary 116
Bibliography and References 117
5 The Office 121
Historical Overview 122
Issues Impacting Office Design 125
An Overview of Office Operations 131
Types of Office Spaces 145
Summary 148
Bibliography and References 149
6 Office Interior Design Elements 153
Planning and Design Elements 154
Design Applications 189
Summary 213
Bibliography and References 213
7 Lodging Facilities 218
Historical Overview 219
Overview of Lodging Business Operations 221
Types of Lodging Facilities 224
The Changing Lodging Guest 226
Planning and Interior Design Elements 229
Design Applications 244
Summary 269
Bibliography and References 270
8 Food and Beverage Facilities 274
Historical Overview 275
Overview of Food and Beverage Business Operations 277
Types of Food and Beverage Facilities 280
Planning and Interior Design Elements 283
Design Applications 300
Summary 322
Bibliography and References 323
9 Retail Facilities 326
Historical Overview 326
Overview of Retail Business Operations 328
Types of Retail Facilities 332
Planning and Interior Design Elements 335
Design Applications 352
Summary 366
Bibliography and References 366
10 Healthcare Facilities 370
Historical Overview 371
Overview of Healthcare/Medicine 372
Types of Healthcare Facilities 378
Planning and Interior Design Elements 382
Design Applications 396
Summary 434
Bibliography and References 434
11 Senior Living Facilities 439
Historical Overview 440
Overview of Senior Living Facilities 441
Types of Senior Living Facilities 445
Planning and Interior Design Elements 452
Design Applications 466
Summary 480
Bibliography and References 481
12 Recreational Facilities 485
Fitness Center 486
Day Spas 488
Golf Clubhouses 494
Auditoriums 500
Summary 506
Bibliography and References 507
Appendix 510
Trade Associations 510
Periodicals 512
Glossary 513
Index 538
See More
CHRISTINE M. PIOTROWSKI, FASID, IIDA, is a two-time recipient of the ASID/Polsky Prize and author of Professional Practice for Interior Designers, Fifth Edition; Becoming an Interior Designer, Second Edition; and Problem Solving and Critical Thinking for Designers.
See More
Instructors Resources
Request a print evaluation copy
Contact us

See More
See Less