Mastering Mobile Learning
ISBN: 978-1-118-88491-1
360 pages
October 2014, Pfeiffer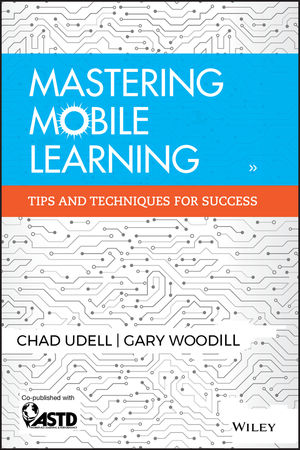 Discover the strategies, tools, and technologies necessary for developing successful mobile learning programs
In the modern, rapidly-expanding mobile learning environment, only clear guidelines and state-of-the-art technologies will stand up to the challenges that lie ahead. With a smart focus that combines a proven process with all-important strategies and practical applications, Mastering Mobile Learning stands as the most modern, comprehensive resource on the subject. It also features unique technical content previously unavailable among the literature of the mobile learning field. This book will help you turn concept into reality.
This book will show you best practices for obtaining and providing educational, training, and professional development content on devices like smartphones, tablets and other mobile devices. Trainers, educators, designers, instructional technologists, workplace learning professionals, and HR professionals will learn how mobile learning differs from other forms of e-learning, and will be introduced to the challenges and—more importantly—the advantages of mobile learning strategies and technologies for 21st century business environments. The book provides:
An overview of mobile learning, including evolving definitions and reasons for executives to embrace this approach
A discussion of the business drivers of mobile learning, advice for creating a mobile learning content strategy, and easy ways to inexpensively launch mobile learning
Valuable tips on how to use unique affordances of mobile devices to better serve your learners while they are on the go
Information on the ROI of mobile learning, using mobile devices as research tools, and why training in mobile development is critical
An overview of the technical aspects of the design and development of mobile learning
Written by experts in this burgeoning field, Mastering Mobile Learning provides a roadmap for creating the most effective learning content, strategies, and applications possible.
See More
Foreword xi
Tony Bingham
Preface xv
Introduction 1
Chad Udell and Gary Woodill
PART 1 UNDERSTANDING MOBILE LEARNING 5
1 Enterprise Mobile Learning: A Primer 7
Gary Woodill and Chad Udell
2 The Seven Shifts in Enterprise Learning 15
Gary Woodill
3 The Disruptive Nature of Mobile Learning 21
John Feser
4 Why Executives Should Care About Mobile Learning 31
John Feser
5 mLearning Is Not e-Learning on a Mobile Device 35
John Feser
PART 2 STRATEGIC THINKING ABOUT MOBILE LEARNING 43
6 The Six Ps of Mobile Learning Strategy 45
Chad Udell
7 The Business Case for Mobile Learning 59
John Feser
8 The New "Nomadism" as a Driver of Mobile Learning 69
Gary Woodill
9 Creating a Mobile Learning Content Strategy 73
Chad Udell
10 Seven Easy and Inexpensive Ways to Launch Mobile Learning 77
John Feser
11 Building Brand Advocacy Through Mobile Learning 83
Scott McCormick and Chad Udell
12 Developing a Mobile Management Strategy 89
Gary Woodill and Scott McCormick
13 Change Management Strategies for Mobile Learning 101
Scott McCormick
PART 3 THE VARIETIES OF MOBILE LEARNING EXPERIENCES 105
14 Categories of Mobile Learning Content 107
Gary Woodill and Chad Udell
15 Unique Affordances of Mobile Learning 111
Gary Woodill

16 Leveraging Geolocation to Make Your Content More Relevant 127
Chad Udell
17 Incorporating Multi-Touch and Gestures into Mobile Learning 131
Chad Udell
18 Storing Preferences and Inferring Intent in Mobile Learning Experiences 137
Chad Udell
19 Using a Mobile Camera as a Powerful Learning Tool 141
Chad Udell
20 Employing Mobile Device Sensors for Enhanced Learning Experiences 145
Chad Udell
21 Alternative Reality Games as Mobile Learning 149
John Feser
22 Using Mobile Games for Sales Training and Assessment 157
Chad Udell
23 Voice and Messaging for Mobile Learning 161
Chad Udell
24 Using Mobile Devices as Research Tools 165
Gary Woodill
25 Performance Support as a Form of Mobile Learning 171
Gary Woodill
26 Mobile Learning in "Third Spaces": The Move to Alternative Workspaces 175
Gary Woodill
27 The Impact of Mobile Learning on Assessment and Evaluation 179
Gary Woodill and Chad Udell

PART 4 DESIGN AND DEVELOPMENT PROCESSES FOR MOBILE LEARNING 185
28 Mysteries, Heuristics, and Algorithms: Design Thinking for Mobile Learning 187
Gary Woodill
29 Ubiquity and Mobility as Design Considerations for Mobile Learning 191
Chad Udell
30 Design Considerations in Converting e-Learning to mLearning 199
Chad Udell
31 The Importance of Curation for Successful Mobile Experiences 205
Chad Udell
32 Selecting Tools for Mobile Learning Development 209
Chad Udell
33 Instructional Design Patterns for Mobile Learning 213
Gary Woodill
34 Creating Digital Publications for Mobile Learning 223
Heather Ford
35 Designing for Multiple Screens in iOS 229
Daniel Pfeiffer
36 Designing for Context 235
Chad Udell
37 Using Mobile Devices to Leverage Social Media for Learning 237
Gary Woodill
38 Responsive Design for Multiple Screen Formats 243
Chad Udell
39 Design Choices for Mobile Learning Management Systems 251
Gary Woodill
40 Maps 3.0: The New Route to Learning with Social Geospatial Data 255
Jim Ferolo
41 Using Push Notifications to Make Mobile Learning More Useful 265
Chad Udell
42 Improving Performance for Mobile Web and HTML5-Based Apps 269
Daniel Pfeiffer
43 Understanding the Experience API 277
Gary Woodill
44 Implementing Mobile Learning Metrics 281
Chad Udell
PART 5 MANAGING AND DELIVERING MOBILE LEARNING PROJECTS 285
45 Managing a Mobile Learning Project Implementation 287
Gary Woodill and Chad Udell
46 Security in a Mobile World 293
Chad Udell
47 Education and Training for Mobile Development 295
Jim Ferolo
48 Integrating Mobile Learning with Social Media 297
Adam Bockler
49 Budgeting for Social and Mobile Learning 305
Gary Woodill
50 Keeping Up with New Developments in Mobile Learning 311
Gary Woodill
About the Authors 317
About the Contributors 319
About the Association for Talent Development 321
Index 323
See More
CHAD UDELL is the managing director of Float Mobile Learning. Chad is the author of Learning Everywhere: How Mobile Content Strategies Are Transforming Training and works with industry-leading Fortune 500 companies on developing mobile learning strategies that are then implemented by Float.
GARY WOODILL as a senior analyst for Float Mobile Learning, he conducts research and market analyses, as well as assessments and forecasting for emerging technologies. He is the author of The Mobile Learning Edge and the co-author of Training and Collaboration with Virtual Worlds.
See More