The ADA Practical Guide to Substance Use Disorders and Safe Prescribing
ISBN: 978-1-118-88601-4
240 pages
July 2015, Wiley-Blackwell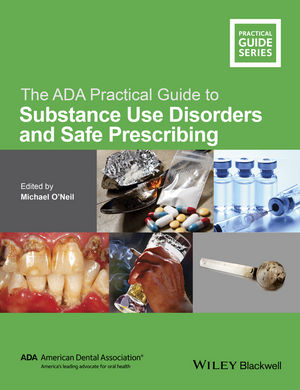 Dentists have been inundated by patients with an array of complicated medical conditions and pain/sedation management issues. This is in addition to a variety of legal regulations dentists must follow regarding the storage and recordkeeping of controlled substances. Avoid unknowingly putting your practice at risk by becoming victim to a scam or violating a recordkeeping requirement with The ADA Practical Guide to Substance Use Disorders and Safe Prescribing.
This Practical Guide is ideal for dentists and staff as they navigate:
• Detecting and deterring substance use disorders (SUD) and drug diversion in the dental office (drug-seeking patients)
• Prescribing complexities
• Treating patients with SUD and complex analgesic and sedation (pain/sedation management) needs and the best use of sedation anxiety medication
• Interviewing and counselling options for SUD
• Federal drug regulations
Commonly used illicit, prescription, and over-the-counter drugs, as well as alcohol and tobacco, are also covered.
Special features include:
• Clinical tools proven to aid in the identification, interviewing, intervention, referral and treatment of SUD
• Basic elements of SUD, acute pain/sedation management, and drug diversion
• Summary of evidence-based literature that supports what, when and how to prescribe controlled substances to patients with SUD
• Discussion of key federal controlled substance regulations that frequently impact dental practitioners
• Checklists to help prevent drug diversion in dental practices
• Chapter on impaired dental professionals
• Case studies that examine safe prescribing and due diligence
See More
Contributors xi
Preface xiii
Acknowledgments xv
1 Substance Use Disorders, Drug Diversion, and Pain Management: The Scope of the Problem 1
Michael O'Neil, PharmD
Introduction 1
Definitions 2
Substance Use Disorder, Drug Misuse, Drug Diversion, and Pain Management in the Dental Community 4
Understanding the Cultures of Substance Use Disorder, Drug Misuse, and Drug Diversion 8
Summary 9
References 10
2 Understanding the Disease of Substance Use Disorders 11
James H. Berry, DO and Carl Rollynn Sullivan, MD
Introduction 11
Definitions 11
Epidemiology: Drug/Alcohol 13
Pathophysiology/Brain Pathways 14
Signs, Symptoms, Behavior 15
Treatment Methods 20
Summary 26
Appendix 2.A: Common Opioid Analgesics and their Brand Names 27
References 29
Resources and Further Readings 30
3 Principles of Pain Management in Dentistry 31
Paul A. Moore, DMD, PhD, MPH and Elliot V. Hersh, DMD, MS, PhD
Introduction 31
Definitions 32
Neurophysiology and Neuroanatomy of Acute Inflammatory Pain 32
Orally Administered Analgesic Agents 33
Medication-Assisted Therapies for Treating Drug-Dependent Patients 41
Adjunctive Drugs Used to Limit Pain in Dentistry 41
Guidelines for Analgesic Therapy 43
Summary 45
References 45
Resources and Further Readings 46
4 Special Pain Management Considerations: (1) Chronic Methadone, Buprenorphine, and Naltrexone Therapy; (2) Chronic Opioids for Nonmalignant Pain 47
Michael O'Neil, PharmD
Introduction 47
Definitions 48
Interviewing the Patient: Establishing Goals of Treatment 49
Pharmacological Treatment of Opioid Addiction 49
Treating Acute Dental Pain 51
Acute Pain in Patients Receiving Opioid Maintenance Therapy 51
The Active Opioid Addict 55
Acute Pain Management in Patients Receiving Naltrexone Therapy 56
Acute Pain Management in Patients Receiving Opioids for Chronic Pain 57
Summary 57
References 58
5 Sedation and Anxiolysis 61
Matthew Cooke, DDS, MD, MPH
Introduction 61
Definitions 61
Spectrum of Anesthesia and Sedation 62
Preoperative Evaluation 64
Physical Status Classification 65
Sedation 65
Medications Available for Sedation of Patients with Substance Use Disorder 68
The Concept of Balanced Anesthesia 76
Monitoring and Documentation 76
Summary 78
Disclaimer 78
References 79
Resources and Further Readings 82
6 Common Substances and Medications of Abuse 83
William J. Maloney, DDS and George F. Raymond, DDS
Introduction 83
Definitions 83
Signs and Symptoms of Substance Use Disorder 85
Common Substances of Abuse 86
Prescription Medications 100
Over-the-Counter Medications 111
Summary 112
References 112
Resources and Further Readings 118
7 Tobacco Cessation: Behavioral and Pharmacological Considerations 119
Frank Vitale, MA and Amanda Eades, PharmD
Introduction 119
Definitions 119
Forms of Tobacco 121
Oral Effects of Tobacco Use 121
Dental Practitioner Management of Tobacco Use 122
Spit Tobacco Interventions 124
Oral Substitutes 125
Social Support/Disapproval 125
Medication Management for Smoking Cessation 126
The Role of Nicotine 126
Pharmacotherapy Options 127
Summary 138
References 138
Resources and Further Readings 140
8 Detection and Deterrence of Substance Use Disorders and Drug Diversion in Dental Practice 141
Sarah T. Melton, PharmD, BCPP, BCACP, CGP, FASCP and Ralph A. Orr
Introduction 141
Definitions 141
Screening Patients for Substance Use Disorder 142
Schemes and Scams to Obtain Prescription Drugs 144
Dental Practitioner- and Office Personnel-Related Prescription Drug Diversion 147
Prescription Drug Monitoring Programs 148
Disposal of Controlled Substances 153
Universal Precautions in Prescribing Controlled Substances 154
Summary 157
References 157
Resources and Further Readings 158
9 Interviewing and Counseling Patients with Known or Suspected Substance Use Disorders: Dealing with Drug-seeking Patients 159
George F. Raymond, DDS and William J. Maloney, DDS
Introduction 159
Definitions 160
Preinterview Considerations 160
Patient Interview Considerations 161
Interviewing and Counseling Techniques 162
What Questions Should Be Asked? 163
Screening Tools 164
Documentation 165
Summary 166
References 166
Resources and Further Readings 167
10 Office Management of Controlled Substances 169
Carlos M. Aquino
Introduction 169
Federal Statutes and Regulations 169
Definitions 169
Common Violations by Dental Practitioners 170
Surviving a Drug Enforcement Administration Inspection 173
Practice Due Diligence Program 175
Management of Noncontrolled Substances in the Office 176
Summary 176
Resources and Further Readings 176
11 Addiction and Impairment in the Dental Professional 177
William T. Kane, DDS, MBA, FAGD, FACD
Introduction 177
Definitions 178
The Complexity of Addiction 178
The Neurobiology of Addiction 179
The Stigma of Addiction 180
Epidemiology of Addiction in Dentistry 180
Risk Factors for Substance Use Disorder 180
Substances of Choice 182
Identifying Addiction 183
"The Conspiracy of Silence" 183
Intervention 184
Evaluation/Assessment 185
Treatment 186
Family and Staff 186
Relapse 187
Monitoring 187
Peer Assistance or Dental Well-being Committee Programs 187
Summary 189
References 189
Resources and Further Readings 190
12 Due Diligence and Safe Prescribing 191
Michael O'Neil, PharmD
Introduction 191
Definitions 191
Case Scenarios 192
Summary 205
References 206
Continuing Education Examination 207
Index 213
See More
Michael O'Neil, Pharm.D., is Professor and Vice Chair of the Department of Pharmacy Practice at South College School of Pharmacy in Knoxville, Tennessee. Dr. O'Neil has more than 25 years' experience as a critical care and pain specialist and has taught pharmacy students, pharmacy residents, nursing students, surgery/medical students, and medical residents in the classroom and at the bedside. He has completed research and published in several leading health professional journals including pharmacy, dentistry, and nursing. Dr. O'Neil has also served as a consultant and expert on prescription drug abuse, substance abuse, and drug diversion for the U.S. Drug Enforcement Agency, the Bureau of Criminal Investigation, the U.S. Attorney's Office, the West Virginia Board of Dental Examiners, the American Association of Dental Boards, and several law enforcement agencies. Dr. O'Neil developed the West Virginia Pharmacists Recovery Network where he served as Executive Director and head investigator. Dr. O'Neil helped initiate other professional recovery networks in medicine, dentistry and nursing.
See More