U.S. History For Dummies, 3rd Edition
ISBN: 978-1-118-88898-8
432 pages
April 2014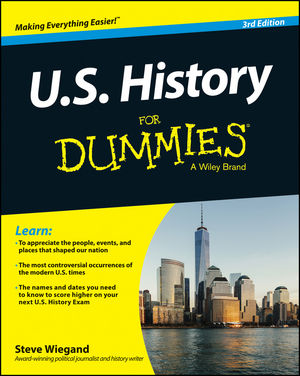 Ace your next history test with this concise, easy-to-read guide
U.S. History for Dummies, 3rd Edition fills the need to improve high school proficiency in history by providing a complete history of the United States, presented in an accessible, reader-friendly format designed to engage students while reinforcing lessons learned in class. The National Assessment of Educational Progress 2011 report showed that only 12% of high school seniors in the U.S. perform at a "proficient" level in history. This, coupled with the fact that U.S. History courses and AP exams have been redesigned to remedy the situation, means that many students and parents are in need of a supplemental study guide.
Award-winning political journalist and history writer Steve Wiegand guides you through the events that shaped our nation, from pre-Columbian civilizations to the 21st century. The explorers, the wars, the leaders, and the eras are all fully explored and explained, demonstrating how the past influences the future. From the Boston Tea Party to the current Tea Party, the updated 3rd edition includes information about events that have occurred since the previous edition's 2009 release. New coverage includes:
Recession recovery, including federal efforts, unemployment, and the widening class divide
The rise of the extreme right and the bitter divisions between political parties and geographic regions
Seeking the balance between superpower and domestic caretaker
The impact of social media, government surveillance, and cyber crime
Not all history is old news, and what happened yesterday affects us all today. It is vitally important that all U.S. citizens are well-versed in the building of our nation, and remain aware of current events. For students and parents wondering what they've missed, U.S. History for Dummies, 3rd Edition unlocks the door to the past—and the future.
See More
Introduction 1
Part I: Getting Started with US History 5
Chapter 1: America: A Short Biography 7
Chapter 2: Native Americans and Explorers: 14,000 BC (?)–1607 21
Chapter 3: Pilgrims' Progress: The English Colonies, 1607–1700 39
Chapter 4: You Say You Want a Revolution: 1700 –1775 53
Chapter 5: Yankee Doodlin': 1775 –1783 69
Chapter 6: Blueprints and Birth Pains: 1783–1800 83
Part II: Growing Pains 95
Chapter 7: "Long Tom" and One Weird War: 1800–1815 97
Chapter 8: Pulling Together to Keep from Falling Apart: 1815–1844 115
Chapter 9: War, Gold, and a Gathering Storm: 1845–1860 137
Chapter 10: A Most Uncivil War: 1861–1865 151
Chapter 11: Putting the Country Back Together: 1865–1876 167
Part III: Coming of Age 179
Chapter 12: Growing Up: 1876–1898 181
Chapter 13: Growing into the 20th Century: 1899 –1918 199
Chapter 14: Gin, Jazz, and Lucky Lindy: 1919–1929 215
Chapter 15: Uncle Sam's Depressed: 1930–1940 231
Chapter 16: The World at War: 1941–1945 247
Part IV: America in Adulthood 265
Chapter 17: TV, Elvis, and Reds under the Bed: 1946–1960 267
Chapter 18: Camelot to Watergate: 1961–1974 283
Chapter 19: Hold the Malaise, or, Ayatollah So: 1975 –1992 299
Chapter 20: No Sex, Please, I'm the President: 1993 –1999 313
Part V: Facing the New Millennium 325
Chapter 21: Terror Comes Home; America Goes to War(s) 327
Chapter 22: Recessions Can Be Really Depressing 341
Chapter 23: Reforming Healthcare Is No Tea Party 353
Chapter 24: This New America 367
Part VI: The Part of Tens 379
Chapter 25: Ten Events That Defined American Culture 381
Chapter 26: Ten Unfor tunate Statements by US Presidents 385
Part VII: The Appendixes 389
Appendix A: The Bill of Rights: Amendments 1–10 of the Constitution 391
Appendix B: The Declaration of Independence 393
Index 397
See More
Steve Wiegand, an award-winning political journalist and history writer for more than three decades, has been a reporter and columnist for the San Diego Evening Tribune, San Francisco Chronicle, and Sacramento Bee. He has authored or coauthored a half-dozen books on world and U.S. history.
See More