Mobile Learning: A Handbook for Developers, Educators, and Learners
ISBN: 978-1-118-89430-9
400 pages
March 2015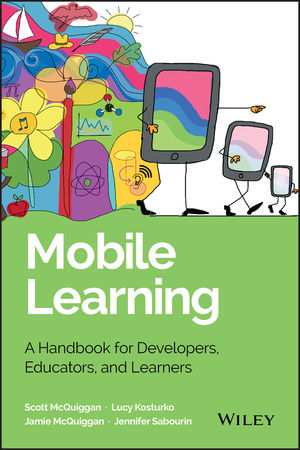 Explore the game-changing technology that allows mobile learning to effectively reach K-12 students
Mobile Learning: A Handbook for Developers, Educators and Learners provides research-based foundations for developing, evaluating, and integrating effective mobile learning pedagogy. Twenty-first century students require twenty-first century technology, and mobile devices provide new and effective ways to educate children.
But with new technologies come new challenges—therefore, this handbook presents a comprehensive look at mobile learning by synthesizing relevant theories and drawing practical conclusions for developers, educators, and students.
Mobile devices—in ways that the laptop, the personal computer, and netbook computers have not—present the opportunity to make learning more engaging, interactive, and available in both traditional classroom settings and informal learning environments. From theory to practice, Mobile Learning explores how mobile devices are different than their technological predecessors, makes the case for developers, teachers, and parents to invest in the technology, and illustrates the many ways in which it is innovative, exciting, and effective in educating K-12 students.
Explores how mobile devices can support the needs of students
Provides examples, screenshots, graphics, and visualizations to enhance the material presented in the book
Provides developers with the background necessary to create the apps their audience requires
Presents the case for mobile learning in and out of classrooms as early as preschool
Discusses how mobile learning enables better educational opportunities for the visually impaired, students with Autism, and adult learners.
If you're a school administrator, teacher, app developer, or parent, this topical book provides a theoretical, well-researched discussion of the pedagogical theory and mobile learning, as well as practical advice in setting up a mobile learning strategy.
See More
Preface ix
Acknowledgments xiii
Chapter 1 Changing Education with Mobile Learning 1
A Brief History of Educational Technology: What Will Revolutionize the System? 3
Mobile Learning: Reaching Kids Today 6
What Is Mobile Learning? 8
Benefits and Challenges of Mobile Learning 9
How to Make Mobile Learning Work 16
Conclusion 19
Notes 20
Section 1 The Mobile Classroom 23
Chapter 2 The Science of Learning 25
Introduction 25
Information Processing and Learning 27
Other Critical Facets of Learning 33
Implications for Mobile Learning 37
Conclusion 45
Notes 46
Chapter 3 What Is It About These Devices? 49
Connected 50
Aware 52
Multimodal 55
Familiar 56
Personal 57
Comprehensive 59
Consolidated 60
Portable 61
Relevant 62
Secure 63
Conclusion 64
Notes 64
Chapter 4 Creating the Mobile Classroom 67
Theoretical Foundations 68
Instructional Methods 70
Problem-Based, Inquiry-Based, and Experiential Learning 77
Alternative Learning Environments 78
Conclusion 82
Notes 82
Chapter 5 Higher-Order Thinking Skills and Digital Fluency 85
Higher-Order Thinking Skills 88
Leveraging Mobile Learning 93
Critical Thinking 104
Classrooms for Higher-Order Thinking 107
Conclusion 109
Notes 110
Chapter 6 Instructional Management and Levels of Technology Access 115
Mobile Learning Programs 117
Levels of Access in the Mobile Classroom 122
1:Teacher 123
1:Many 125
1:1 128
Bring Your Own Device (BYOD) 132
Conclusion 137
Notes 137
Section 2 Creating the Mobile Learning Experience 141
Chapter 7 Mobile Technology's Defining Features 143
Hardware 144
Software 149
Accessories 156
Conclusion 159
Notes 160
Chapter 8 The Educational App Development Process 161
Research Stage: Is It a Good Idea? 162
Building the Right Team: Capturing a Variety of Expertise 164
Building the App 169
Case Study: App Development at SAS
Curriculum Pathways 175
Conclusion 177
Notes 177
Chapter 9 Design and User Experience 179
Designing a Great App: Make It Easy 179
Putting Great Design to Work 187
Conclusion 191
Notes 192
Chapter 10 Data, Evaluation, and Learning Analytics 195
Asking the Questions 196
Gathering Data 200
Sample Data Collection 206
Mobile Data Analytics: Turning Data into Information 209
Conclusion 212
Notes 213
Chapter 11 The Business of Educational Apps 215

The Educational App Market Is• • • 215
How to Sell Your App: Pricing Models 222
How Users Buy Your App 228
Marketing 230
Conclusion 233
Notes 233
Section 3 Mobile Learning for Everyone 237
Chapter 12 Informal Learning 239
Developing Lifelong Learners 240
Bridging Formal and Informal Learning 241
Conclusion 251
Notes 252
Chapter 13 Engaging Young Users: Apps for Preschoolers 255
Key Skills for Preschool Apps 256
What Makes an Engaging Preschool App? 264
Challenges 270
Conclusion 276
Notes 277
Chapter 14 Making Accessible Apps: Autism and Visual Impairment 281
Introduction 281
Advantages of the iPad for Special Populations 281
Autism and Autism Spectrum Disorders (ASD) 285
Visual Impairment 291
Developing Accessible Apps 297
Conclusion 300
Notes 301
Chapter 15 Balancing Power: Data Use, Privacy, and Digital Citizenship 305
Privacy 306
Privacy Legislation 311
Open Issues 312
Digital Citizenship: Teaching Responsible Use 318
Conclusion 321
Notes 322
Chapter 16 Mobile Learning Today and Tomorrow 325
Introduction 325
Making Mobile Learning Work 326
The Future 333
Conclusion 338
Notes 339
Appendix A List of Apps by Chapter 341
Appendix B The Great App Checklist 359
How to Use This Checklist 360
The Great App Checklist 361
Notes 363
About the Authors 365
Index 367
See More
SCOTT MCQUIGGAN leads SAS Curriculum Pathways, an interdisciplinary team focused on the development of no-cost educational software. He developed his first app, SAS Flash Cards, in 2010.
LUCY KOSTURKO is a research scientist and curriculum specialist for SAS Curriculum Pathways. Kosturko's research interests include self-regulated learning and educational technologies.
JAMIE MCQUIGGAN is a writer for SAS Institute Inc. She coauthored Implement, Improve and Expand your Statewide Longitudinal Data System: Creating a Culture of Data in Education.
JENNIFER SABOURIN is a research scientist and a software developer at SAS Institute Inc. Her research focuses on educational technologies and data analytics.
See More
More in this series