E-book
Medical and Dental Space Planning: A Comprehensive Guide to Design, Equipment, and Clinical Procedures, 4th Edition
ISBN: 978-1-118-89657-0
688 pages
July 2014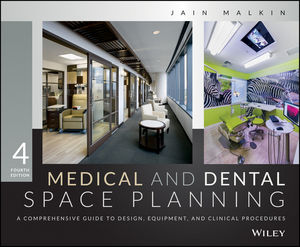 THE UPDATED DEFINITIVE REFERENCE ON MEDICAL AND DENTAL OFFICE DESIGN
Medical and Dental Space Planning is an indispensable guide to the myriad of details that make a medical or dental practice efficient and productive. The unique needs of more than thirty specialties, as well as primary care, are explained in the context of new technology and the many regulatory and compliance issues influencing design. Concepts are also presented for ambulatory surgical centers, diagnostic imaging, clinical laboratories, breast care clinics, endoscopy centers, community health centers, radiation oncology, and single-specialty and multispecialty group practices and clinics. A thorough review of the latest dental technology and many creative space plans and design ideas for each dental specialty will be of interest to both dentists and design professionals. Important topics like infection control are top of mind, influencing every aspect of dental office design.
An "inside look" at what goes on in each specialist's office will familiarize readers with medical and dental procedures, how they are executed, and the types of equipment used. Technology has radically impacted medical and dental practice: digital radiography, electronic health records, mobile health devices, point-of-care diagnostic testing, digital diagnostic instrumentation, CAD/CAM systems for digital dental impressions and milling of restorations in the dentist's office, portable handheld X-ray, and 3D cone beam computed tomography for dentists all have major implications for facility design.
The influence of the Affordable Care Act is transforming primary care from volume-based to value-based, which has an impact on the design of facilities, resulting in team collaboration spaces, larger consultative examination/assessment rooms, and accommodation for multidisciplinary practitioners who proactively manage patient care, often in a patient-centered medical home context.
The wealth of information in this book is organized to make it easy to use and practical. Program tables accompany each medical and dental specialty to help the designer compute the number and sizes of required rooms and total square footage for each practice. This handy reference can be used during interviews for a "reality check" on a client's program or during space planning. Other features, for example, help untangle the web of compliance and code issues governing office-based surgery.
Illustrated with more than 600 photographs and drawings, Medical and Dental Space Planning is an essential tool for interior designers and architects as well as dentists, physicians, and practice management consultants.
See More
Preface ix
Acknowledgments xiii
Introduction: Changing Perspectives xv
Chapter 1 New Directions 1
ACO Quality Metrics, A Sampling of Innovation, Building Blocks of High-Performing Primary Care, The Smartphone Will See You Now: The mHealth Revolution, Bringing Healthcare into the Home, Telemedicine, Boomers and Technology
Chapter 2 General Parameters of Medical Space Planning 15
Building Shell Design, Planning Module, Amenities, Building Shell Configurations, Building Standards, Tenant Improvement Allowances, Politics, Leasing Strategy, Hospital-Based Mobs
Chapter 3 Practice of Medicine: Primary Care 30
Family Practice, Exam Room Design Changes, The Triple Aim, Direct Care—The Future of Private Medicine, Internal Medicine, Endoscopy, Pediatrics, Urgent Care Centers, Employee Health and Wellness Centers, Integrative Medicine
Chapter 4 Community Health Centers 141
Overview, Characteristics of "Safety-Net" Community Health Centers, An Evidence-Based Approach to Safety-Net Clinic Design, Exemplary Projects, Summary
Chapter 5 Medicine: Specialized Suites 167
Surgical Specialties, Obstetrics and Gynecology, Urogynecology, Perinatology, Breast Centers, Reproductive Enhancement (Assisted Reproductive Technologies), Oncology, General Surgery, Bariatric Surgery, Otolaryngology, Ophthalmology, Lasik Surgery, Plastic Surgery, Office-Based Surgery, Dermatology, Orthopedic Surgery, Allergy, Neurology, Neurosurgery, Pain Management Centers, Psychiatry, Urology
Chapter 6 Diagnostic Medicine 320
Diagnostic Imaging, PACS, Ultrasound, Nuclear Medicine, Computed Tomography, Mammography, Radiation
Oncology, Bone Density Scanning (DEXA), Magnetic Resonance Imaging, Clinical Laboratory, CLIA and Other Regulations, Summary
Chapter 7 Group Practice 388
Stark Statute, Accreditation, Types of Group Practices, Primary Care Clinics, Health Maintenance Organizations, HMO Models, Point-of-Service, Single-Specialty Group, Multispecialty Group, Internal Medicine Group, Family Practice Group, A Few Considerations
Chapter 8 Ambulatory Surgical Centers 418
Overview, Advantages of Ambulatory Surgery, Ownership and Affiliation, Economic and Regulatory Issues, Marketing Considerations, Survey of Surgical Procedures, Trends and Innovation, Facility Design, Operational Protocols, Patient Flow, Facility Access, Individual Components of an FOSC, Administration, Recovery Care Centers and Specialty Surgical Hospitals, Types of Procedures Necessitating Extended Care, Summary
Chapter 9 Paramedical Suites 449
Physical Therapy, Pharmacy

Chapter 10 Practice of Dentistry 468
High-Touch Patient Amenities, Interview Questionnaire—An Important Design Tool, Plan the Space Before Signing a Lease, Codes and Regulatory Agency Review, New Technology Transforms the Dental Office, Infection Control, General Dentistry, General Dentistry: Prosthodontics Emphasis, Esthetic/Cosmetic Dentistry, Technology Resources, Relevant Information in Other Chapters of the Book, Orthodontics, Pediatric Dentistry, Endodontics, Periodontics, Oral and Maxillofacial Surgery, Unique Projects, Summary
Chapter 11 Interior Finishes and Furniture 593
Hard-Surface Flooring, Carpet, Wall Base, Wall Treatments, Furniture, Upholstery Fabric
Chapter 12 Lighting 612
Biological Effects of Light, Technical Data, Innovation and Trends, Energy Conservation, Medical Office Electrical and Lighting Requirements
Chapter 13 Construction Methods and Building Systems 623
LEED®/Green Design, Heating, Ventilating, and Air-Conditioning, Control of Odors, Plumbing, Medical
Gases, Medical/Dental Office Communication Systems, Fire Protection, Checklist
Chapter 14 Researching Codes and Reference Materials 632
Fire Protection, ANSI Standard 17.1-ADAAG, Sanitation, Minimum Construction Requirements, Energy
Conservation/Environmental Impact, Certificate of Need, Issues Relating to Outpatient Medical Facilities Under a Hospital's License, Codes Relating to Medical Office Buildings, Isolation of Risk, Required Exits, Separation of Exits, Stairs and Doors, Fire-Warning or Fire-Extinguishing Devices, Flammability Testing, Carpet, Wallcoverings, Codes—For the Good of All
Appendix 639
ADA Bathroom Configurations
Index 643
See More
Jain Malkin, CID, AAHID, EDAC, is founder of the firm Jain Malkin Inc., a leader in the field of evidence-based design for healthcare facilities. The author of several books on healthcare design, including A Visual Reference for Evidence-based Design, she consults from her studio in La Jolla, California. Malkin serves on the board of The Center for Health Design and lectures widely on excellence in healthcare facility design.
See More