Introduction to Global Health Promotion
ISBN: 978-1-118-89779-9
560 pages
May 2016, Jossey-Bass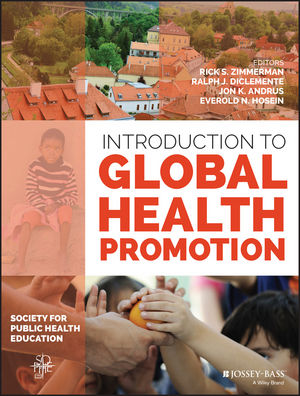 Introduction to Global Health Promotion
addresses a breadth and depth of public health topics that students and emerging professionals in the field must understand as the world's burden of disease changes with non-communicable diseases on the rise in low- and middle-income countries as their middle class populations grow. Now more than ever, we need to provide health advocacy and intervention to prevent, predict, and address emerging global health issues. This new text from the Society for Public Health Education (SOPHE) prepares readers with thorough and thoughtful chapters on global health promotion theories, best practices, and perspectives on the future of the field, from the individual to the global level.
The world's biggest health care challenges—including HIV, malaria, heart disease, smoking, and violence, among others—are explored in detail in Introduction to Global Health Promotion. The state of the science, including the latest empirical data, is distilled into 19 chapters that update readers on the complex issues surrounding a variety of illnesses and conditions, and disease epidemics and individual, social, institutional, and governmental barriers to preventing them. Expert authors bring to the fore human rights issues, new uses of technology, and practical application of theory. These perspectives, along with the book's multidisciplinary approach, serve to create a well-rounded understanding of global health today.
Learn more from the Editors of
Introduction to Global Health Promotion
here.
See More
Preface xiii
Acknowledgments xix
The Editors xxi
SOPHE xxv
The Contributors xxvii
Chapter 1 The State of Global Health 1
Richard Skolnik
Chapter 2 Global Health Promotion: The State of the Science 31
David V. McQueen
Chapter 3 Global Health Promotion and the Social Determinants of Health 49
Kumanan Rasanathan and Alyssa Sharkey
Chapter 4 Models of Health Behavior Change: International Applications 65
Rick S. Zimmerman, Zhiwen Xiao, Purnima Mehrotra, and Charles Roy
Chapter 5 Two Health Communication Approaches: Communication for Behavioral Impact (COMBI) and Entertainment Education 99
Everold N. Hosein, May G. Kennedy, and Sandra de Castro Buffington
Chapter 6 Global Health Promotion in the Context of Human Rights 129
Elvira Beracochea and Lubna Ahmed
Chapter 7 eHealth and Global Health Promotion 145
Sheana S. Bull, Gretchen Domek, and Deborah Thomas
Chapter 8 Reducing Maternal and Infant Mortality: Meeting a Global Challenge 173
Padmini Murthy
Chapter 9 Malaria Prevention and Control 191
Fouzia Farooq and Elke S. Bergmann-Leitner
Chapter 10 Global Immunization Initiatives from a Health Promotion Perspective 209
Marilyn E. Rice, Jon K. Andrus, Virginia Swezy, and Rick S. Zimmerman
Chapter 11 The Evolving Global HIV Pandemic: Epidemiology, Prevention, and Future Priorities 239
Ralph J. DiClemente, Puja Seth, and Purnima Mehrotra
Chapter 12 Community-Based Risk Communication in Epidemics and Emerging Disease Settings 271
Renata Schiavo, Karen M. Hilyard, and Ewart C. Skinner
Chapter 13 Noncommunicable Diseases (NCDs): Moving Toward Health Promotion 303
C. James Hospedales, Andr´e Pascal Kengne, Branka Legetic, and Adriana Blanco Marquizo
Chapter 14 Women's Cancers 339
Silvana Luciani and Irene Agurto
Chapter 15 Health Promotion in Families and Communities: An Integrated Approach from Latin America and the Caribbean 363
Fernando Zacarias, Adrian Diaz, Manuel Pena, Adela Paez Jimenez, Leticia Martinez, and Gina Tambini
Chapter 16 Oral Health Promotion 383
Margaret Scarlett and Gary L. Kreps
Chapter 17 Adaptation and Implementation of Public Health Innovations in Developing Countries 425
Bonita Stanton, Xiaoming Li, and Linda Kaljee
Chapter 18 Health Promotion in the Global Setting: The Role of International Organizations and Governments 445
John (Jack) Bryant and F. Curtiss Swezy
Chapter 19 The Future of Global Health Promotion 467
Rick S. Zimmerman, Jon K. Andrus, and C. James Hospedales
Author Index 491
Subject Index 499
See More
EDITORS
RICK S. ZIMMERMAN, PHD, is a Professor and Associate Dean for Research in the College of Nursing at the University of Missouri—St. Louis.
RALPH J. DICLEMENTE, PHD, is Charles Howard Candler Professor of Public Health and Associate Director, Emory Center for AIDS Research.
JON K. ANDRUS, MD, is Executive Vice President of the Sabin Vaccine Institute and Director of the Vaccine Advocacy and Education (VAE) program.
EVEROLD N. HOSEIN, PHD, is a Senior Communication Advisor-Consultant for the World Health Organization and Communication Consultant for the United Nations Children's Fund.
SOCIETY FOR PUBLIC HEALTH EDUCATION (SOPHE) is the leading international professional association for health education professionals, faculty, and students. Founded in 1950, SOPHE is the only independent, professional organization devoted exclusively to health education and health promotion in all settings.
See More
Partnership: Developed and endorsed by Society for Public Health Education, a world leader in training and advocacy for health education and health promotion.
Editors: All four editiors are major contributors in the field.
Breadth: Comprehensive coverage of global health promotion, including maternal and child mortality, HIV, chronic disease prevention, and nutrition health promotion.
Academic potential: Positioned as a required text for undergrad and intro-level graduate courses.
See More
"Bravo! At last, a solid reference on the latest, state-of-the art thinking and approaches of health promotion in the ever-changing context of practice. . . . In my opinion, this publication should be on the standard reading list for all health promotion departments in schools of public health. The content explores various dimensions of health promotion work in global settings that helps showcase good practice and lessons learned. I especially appreciated the book's practicality and easily accessible language. As such, this publication serves as a valuable, a 'must have' resource for health promotion practitioners working in both developing and industrialized countries."
—Erma Manoncourt, Ph.D. Vice-President of Communications for the International Union of Health Promotion and Education
"This book provides a clear pathway to learn and explore the nuanced details of global health promotion concepts, theories, and implementation strategies used in contemporary health and development projects across the globe. [It] espouses not only some of the most important content areas for global health students and professionals, but such content is infused and enriched by key perspectives and case studies from the field that demonstrate real applications of global health surveillance and program implementation in practice. . . . This book gives a much needed update of global health texts that both contextualizes new complexities and challenges in health promotion work and illustrates critical application of techniques in health promotion delivery. Additional iterations of this text may include more specific data on the successes and failures at the level of health promotion professionals across the globe."
—Muhiuddin Haider, Ph.D., research associate professor, University of Maryland School of Public Health's Institute for Applied Environmental Health

"The state of global health has changed dramatically over the past two decades. Developing a competent health promotion workfoce is key for building the future and is critical to delivering the vision, values, and commitment of global health promotion (Barry, Allegrante, Lamarre, Auld & Taub, 2009). The book Introduction to Global Health Promotion shares the best evidence on the approaches that have been successful in promoting health and reducing mobidity and mortality in a variety of areas. (...) Global health promotion is more relevant today than ever in addressing public health problems especially with the growth of noncummunicable and chronic diseases globally. These factors have caused an increased interest in health within universities and a call for students to study health from the global perspective."
—Health Promotion Practice, Jennifer Torres, Los Angeles County Department of Public Health, Los Angeles, and Teachers College, Columbia University, New York.
See More
Instructors Resources
Request a print evaluation copy
Contact us

See More
See Less