E-book
Smart Data Pricing
ISBN: 978-1-118-89933-5
536 pages
August 2014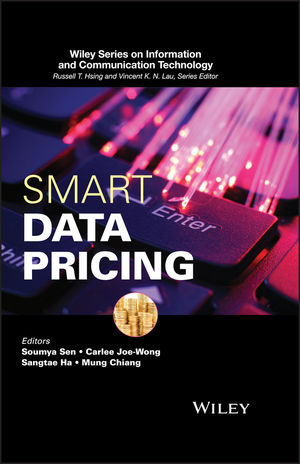 A comprehensive text addressing the high demand for network, cloud, and content services through cutting-edge research on data pricing and business strategies
Smart Data Pricing tackles the timely issue of surging demand for network, cloud, and content services and corresponding innovations in pricing these services to benefit consumers, operators, and content providers. The pricing of data traffic and other services is central to the core challenges of network monetization, growth sustainability, and bridging the digital divide. In this book, experts from both academia and industry discuss all aspects of smart data pricing research and development, including economic analyses, system development, user behavior evaluation, and business strategies.

Smart Data Pricing:
• Presents the analysis of leading researchers from industry and academia surrounding the pricing of network services and content.
• Discusses current trends in mobile and wired data usage and their economic implications for content providers, network operators, end users, government regulators, and other players in the Internet ecosystem.
• Includes new concepts and background technical knowledge that will help researchers and managers effectively monetize their networks and improve user quality-of-experience.
• Provides cutting-edge research on business strategies and initiatives through a diverse collection of perspectives.
• Combines academic and industry expertise from multiple disciplines and business organizations.
The ideas and background of the technologies and economic principles discussed within these chapters are of real value to practitioners, researchers, and managers in identifying trends and deploying new pricing and network management technologies, and will help support managers in identifying new business directions and innovating solutions to challenging business problems.
See More
FOREWORD xv
PREFACE xvi
CONTRIBUTORS xx
I SMART DATA PRICING IN TODAY'S ECOSYSTEM 1
1 Will Smart Pricing Finally Take Off? 3
Andrew Odlyzko
2 Customer Price Sensitivity to Broadband Service Speed: What Are the Implications for Public Policy? 35
Victor Glass, Stela Stefanova, and Ron Dibelka
3 Network Neutrality with Content Caching and Its Effect on Access Pricing 47
Fatih Kocak, George Kesidis, and Serge Fdida
II TECHNOLOGIES FOR SMART DATA PRICING 67
4 Pricing under Demand Flexibility and Predictability 69
Ozgur Dalkilic, John Tadrous, Atilla Eryilmaz, and Hesham El-Gamal
5 Dual Pricing Algorithms by Wireless Network Duality for Utility Maximization 97
Chee Wei Tan and Liang Zheng
6 Human Factors in Smart Data Pricing 127
Soumya Sen, Carlee Joe-Wong, Sangtae Ha, and Mung Chiang
III USAGE-BASED PRICING 167
7 Quantifying the Costs of Customers for Usage-Based Pricing 169
László Gyarmati, Rade Stanojevic, Michael Sirivianos, and Nikolaos Laoutaris
8 Usage-Based Pricing Differentiation for Communication Networks: Incomplete Information and Limited Pricing Choices 195
Shuqin Li and Jianwei Huang
9 Telecommunication Pricing: Smart Versus Dumb Pipes 241
Atanu Lahiri
IV CONTENT-BASED PRICING 267
10 Economic Models of Sponsored Content inWireless Networks with Uncertain Demand 269
Matthew Andrews, Ulas Ozen, Martin I. Reiman, and Qiong Wang
11 CDN Pricing and Investment Strategies under Competition 289
Yang Song, Lixin Gao, and Arun Venkataramani
12 Smart Pricing and Market Formation in Hybrid Networks 321
Aris M. Ouksel, Doug Lundquist, and Sid Bhattacharyya
13 To Tax or To Subsidize: The Economics of User-Generated Content Platforms 341
Shaolei Ren and Mihaela van der Schaar
V MANAGING CONTENT DELIVERY 363
14 Spare Capacity Monetization by Opportunistic Content Scheduling 365
Bell Labs and Alcatel-Lucent
15 Asynchronous Content Delivery and Pricing in Cellular Data Networks 391
Vijay Gabale, Umamaheswari Devi, Ravi Kokku, and Shivkumar Kalyanraman
16 Mechanisms for Quota Aware Video Adaptation 415
Jiasi Chen, Amitabha Ghosh, and Mung Chiang
17 The Role of Multicast in Congestion Alleviation 441
Alan D. Young
VI PRICING IN THE CLOUD 453
18 Smart Pricing of Cloud Resources 455
Yu Xiang and Tian Lan
19 Allocating and Pricing Data Center Resources with Power-Aware Combinatorial Auctions 477
Benjamin Lubin and David C. Parkes
INDEX 501
See More
Soumya Sen is an Assistant Professor of Information & Decision Sciences at the Carlson School of Management of the University of Minnesota. He is a co-founder of the Smart Data Pricing Forum and a startup called DataMi. His interdisciplinary research on the economics of network systems has been published by the IEEE, ACM, and AIS. He received his MS and PhD in Electrical & Systems Engineering from the University of Pennsylvania and did his postdoctoral research at Princeton University.
Carlee Joe-Wong is a PhD candidate at Princeton University's Program in Applied and Computational Mathematics. She co-founded DataMi, a start-up company commercializing smart data pricing, in 2012. She received her AB in Mathematics in 2011 and her MA in Applied and Computational Mathematics in 2013, both from Princeton University.
Sangtae Ha is an Assistant Professor in the Department of Computer Science at the University of Colorado at Boulder with a joint appointment in the Interdisciplinary Telecommunications Program. He co-founded DataMi in 2012 as the founding CTO. Prior to this, he was an Associate Research Scholar in the Department of Electrical Engineering at Princeton University from 2009 to 2013. He received his PhD in Computer Science from North Carolina State University in 2009.
Mung Chiang is the Arthur LeGrand Doty Professor of Electrical Engineering at Princeton University, the Director of the Keller Center for Innovations in Engineering Education, and the Chair of Princeton Entrepreneurship Advisory Committee. He is the recipient of the 2013 Alan T. Waterman Award.
See More
More in this series