E-book
The Real Estate Wholesaling Bible: The Fastest, Easiest Way to Get Started in Real Estate Investing
ISBN: 978-1-118-90039-0
264 pages
March 2014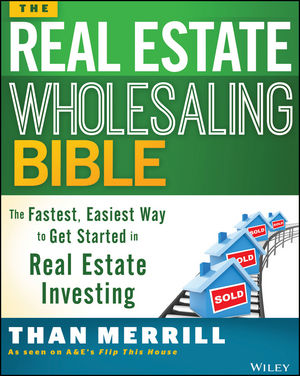 Learn how to make money wholesaling real estate without having to swing a hammer or deal with tenants.

Wholesaling is one of the best ways to get started making money in the world of real estate investing. Think of it as the day trading of real estate except it is simpler and has less risk if you learn how the process works. In fact when you learn how to do it the right way, you can minimize your risk substantially. The Real Estate Wholesaling Bible teaches what you need to know to profit from real estate wholesaling without needing a lot of capital or previous experience. This rapidly expanding business is relatively simple, profitable, and perfect for today's real estate market. Plus it's an ideal system for making money even in the toughest real estate markets. All you will need to get started is a computer, an Internet connection, this audiobook, some passion, and a lot of curiosity.

• Teaches the mechanics of how to wholesale real estate, including exactly how to find, analyze, finance, and sell wholesale deals like clockwork
• Explains how actually to build a business and develop systems that are not dependent on you as the business owner
• Shows how to develop a turnkey, systems-dependent business that serves as a vehicle for all the people it touches: the owners, the employees, and the community

Many real estate investors' ideas of success focus squarely on profitability. Author Than Merrill believes success happens when your real estate investment business is not only profitable but also gives you the time to enjoy your life and fulfill your passions and dreams.
See More
Introduction 1
The Shrinking Middle Class in America 1
How I Got Started Investing in Real Estate 3
Why We Decided to Start Wholesaling 4
Set Skepticism Aside—It Will Hold You Back 5
Is This Book for You? 6
The Catalyst to a Better Life 7
1 Wholesaling Overview: What's in It for You? 9
The Benefits of Learning How to Wholesale Real Estate 9
Conclusion 13
2 Getting to Know Your Local Real Estate Market 15
The Importance of Gaining Intimate Local Market Knowledge 15
Step 1: Gain an Understanding of Local Market Metrics 16
Step 2: Get to Know Price Points of Properties by Neighborhood 17
Step 3: Understand Zoning Laws within the Market 18
Step 4: Study Your Competition 19
Step 5: Identify Key Real Estate Professionals in the Market 19
Set Your Focus 20
Conclusion 20
3 Establishing Your Marketing Presence 21
Foundational Marketing Materials 21
Business Cards 22
Seller Credibility Packet 22
Buyer Credibility Packet 23
Private Money Credibility Packet 23
Core Website 24
Facebook Page for Your Business 25
Easy-to-Remember Phone Number 25
Memorable Business Name 26
Logo and Business Color Schemes 26
Conclusion 26
4 Understanding the Pre-Foreclosure Process 27
Definition of Foreclosure and How to Learn Your State's Process 27
Types of Foreclosure 28
Buying Properties from People in Foreclosure 32
Conclusion 33
5 Finding Pre-Foreclosure Properties 37
Finding Recent Pre-foreclosure Property Filings 37
Conclusion 40
6 Finding Wholesale Deals Utilizing Direct Mail Campaigns 41
Step 1: Find the Best List 42
Step 2: Decide How Many Times You Will Mail the Prospect 44
Step 3: Create a Spreadsheet to Track Your Mailings 44
Step 4: Determine What Types of Direct Mail Pieces You Will Use 45
Step 5: Craft a Compelling Message 46
Step 6: Choose Postage 48
Step 7: Set Up Your Inbound System 49
Step 8: Fulfill Your Campaigns 49
Step 9: Note Response Rates 50
Conclusion 50
7 Finding Deals on the Multiple Listing Service 53
The MLS Offer System 53
Outsource Steps within the System 56
Conclusion 57
8 Finding Deals Utilizing Craigslist 59
Searching for Properties under the "Real Estate for Sale" Section 59
Searching for Properties by Keyword 60
Contacting Landlords Who Are Renting Properties 60
Contacting People Having Estate Sales 61
Creating Advertisements that Get People to Contact You 61
Creating a Compelling Ad Title/Headline 61
Using Symbols to Make Your Title/Headline Stand Out 62
What the Body of Your Advertisement Should Communicate 62
Conclusion 64
9 Other Killer Ways to Find Profitable Real Estate Deals 65
Purchasing Internet Leads 65
Questions to Ask about Purchasing Internet Leads 66
Facebook 67
Facebook Ads 67
Other Real Estate Professionals and Investors 68
Door Hangers 69
Bus Bench Advertising 69
Banners 69
Vehicle Wraps 70
Car Magnets 70
Billboards 71
Television Advertising 72
Conclusion 72
10 Overview of How to Value Real Estate 73
The Cost Approach 73
The Income Approach 74
The Sales Comparison Approach 74
A Word of Caution 75
Always Determine the Highest and Best Use of the Property 75
Your Goal as a Wholesaler When Making Offers 76
Conclusion 76
11 Deal Evaluation System Stage 1: Gathering Information 77
Vital Information to Gather in Stage 1 78
Recommended Tools to Gather and Track Information 82
Conclusion 84
12 Deal Evaluation System Stage 2: The Desktop Evaluation 85
Step 1: Confirm the Property Details by Reviewing the Property Card 85
Step 2: Pull the Listing Sheet If the Property Is Listed with an Agent 86
Step 3: Understand What You Are Trying to Determine with the Sales Comparison Approach 87
Step 4: Find the Best Comparables Using the Multiple Listing Service 87
Step 5: Look for Off-Market Comparables 89
Step 6: Analyze the Sold Comparables to Determine Whether the Property Is Worth Visiting 90
Step 7: Classify Your Leads 90
Step 8: Prepare Your Comparable Package 91
Step 9: Prepare Your Buying Appointment Package 92
Conclusion 93
13 Deal Evaluation System Stage 3: The Property Visit 95
Filling Out the Comparable Sales Adjustment Grid 96
Performing Drive-by Inspections of the Subject Property and Comparables 96
Examining Comparables that Are Active and on Deposit 98
Making Adjustments 99
Calculating Adjustments 103
Conclusion 103
14 Estimating Repairs on Properties 105
Repair Cost Is a Critical Number You Need to Make the Right Offer 106
Our System to Estimate Repairs 106
Exterior Repairs 107
Interior Repairs 111
Mechanicals 116
Other 117
Things That Can Greatly Enhance the Value of a Property 119
Conclusion 122
15 Negotiating and Making Offers to Sellers 123
Negotiate with Confidence 124
Step 1: Uncover the Seller's True Needs and Desires 124
Step 2: Research the Seller or Agent You're Negotiating With 125
Step 3: Know What You Are Offering before Meeting with the Seller 126
Step 4: Walk through the Property 126
Step 5: Build Rapport and Dive Deeper into the Seller's Motivating Factors 127
Step 6: Explain How You Can Help the Seller 129
Step 7: Frame Your Offer 130
Step 8: Handle Objections Effectively 130
Step 9: Sign the Purchase and Sale Agreement 132
Conclusion 132
16 Understanding Purchase and Sale Agreements 133
Parties Involved 133
Description of Real Estate 134
Personal Property Included in the Sale Price 134
Purchase Price and Financing 135
Where Deposits Are Held 135
Financing Contingency 135
Condition of Premises 136
Inspection Contingencies 136
Statement Regarding Lead-Based Paint 136
Occupancy, Possession, and Closing Date 136
Deed Type 137
Marketable Title 137
Adjustments 137
Buyer's Default Clause 137
Seller's Default Clause 137
Risk of Loss and Damage 137
Addendums 138
Broker/Agent Fees 138
Time to Accept 138
Conclusion 138
17 How to Get the Money for Your Wholesale Deals 139
Conclusion 140
18 Working with Private Lenders 141
What Exactly Is "Private Money"? 142
How Is the Lender Protected? 142
Turning People into Private Money Lenders 143
Finding Existing Private Money Lenders 143
Can You Openly Advertise for Private Money Lenders? 144
Meeting with the Lender for the First Time 144
Conclusion 145
19 Working with Transactional Lenders and Hard-Money Lenders 147
What Is Transactional Funding? 148
Hard-Money Lending 149
When You Will Use a Hard-Money Lender in Wholesaling 149
Know the Terms 150
Qualifying for a Hard-Money Loan 150
Locating Hard-Money and Transactional Lenders 151
Conclusion 152
20 Building a Trophy Database of Buyers 153
How You Can Leverage a Database 154
You Must Have Software to Build a Trophy Database 155
Conclusion 155
21 Networking to Find Buyers 159
Strategic Networking Opportunities 159
Networking with Other Real Estate Professionals 162
How to Build Relationships and Stand Out from the Crowd 165
Conclusion 166
22 Direct Response Marketing Strategies to Find Buyers 167
Craigslist, Backpage, and Other Online-Classified-Ad Websites 168
Facebook Real Estate Groups 169
Company Website 169
Lead-Generation Pages (Squeeze Pages) 170
Penny Saver Newspapers 170
Reaching Out to Your Competition 170
Cash Buyers 171
Conclusion 172
23 Marketing Your Wholesale Deal 175
Make Sure Your Trophy Database Is Organized 175
Assemble the Critical Information into a Wholesale Deal Marketing Package 176
Call Your Most Serious Buyers First 176
E-mail Blasts 177
Text Blasting 177
Voice Broadcasting 178
What If You Have a Deal to Sell but Don't Have a Buyers' List? 178
Conclusion 179
24 Classifying, Prescreening, and Communicating with Buyers 181
Classify Buyers within Your Trophy Database 181
The Importance of Prescreening Buyers 182
What to Do When Buyers Contact You 183
What You Need to Know about a Buyer 183
Communicating Properly and Training Your Wholesale Buyers 184
Conclusion 185
25 Working and Negotiating with Buyers 187
Know the Comparable Sales in the Area 187
Have an Accurate Repair Cost 188
Create a Sense of Urgency 189
Common Negotiating Techniques Buyers Use 189
What if the Buyer Thinks You're Making Too Much? 190
Confirm Funding 190
Case Study 191
Conclusion 192
26 How You Profit: Selling a Contract 193
What Does It Mean to "Sell a Contract"? 193
Completing the Assignment of Real Estate Purchase and Sale Agreement 194
How Do You Get Paid? 195
Coordinating the Closing 195
Common Questions 196
Which Is the Better Exit Strategy: Selling a Contract or Double Closing? 196
Common Misconceptions about Wholesaling 197
Conclusion 197
27 How You Profit: Double Closing 201
What Is a Double Closing? 201
Signing the First Purchase and Sale Agreement on the A-B Transaction 202
Signing the Second Purchase and Sale Agreement on the B-C Transaction 203
Know How the Buyer in the B-C Transaction Is Planning on Funding the Deal before You Sign a Second Purchase and Sale Agreement 204
What Else to Look for from Your C Buyer 205
Don't Pass Funding Through 206
Always Have Legal Counsel 206
Conclusion 207
28 The Real Estate Closing Process 211
Who Handles the Escrow and Closing? 211
What Is Required to Open Escrow? 212
Who Selects the Escrow Company? 213
Are You Opening One Escrow or Two? 213
What Happens during Escrow? 213
How Do You Prepare for Closing? 214
What Can Cause Delays during the Closing Process? 215
What to Check the Day before Closing 216
What Takes Place at the Closing? 217
How to Ensure There Are No Snags the Day of Closing 217
Hiring Someone to Help You Process Your Wholesale Deals 217
Conclusion 217
29 Building Your Local Team 219
Real Estate Agents 220
Locating the Top Agents in Your Market 221
Hard-Money Lenders 222
Mortgage Brokers 222
Insurance Agents 222
Title Agent/Real Estate Attorney 223
Contractors 223
Conclusion 224
30 Building Your Business Advisory Team 225
Real Estate Coaches 227
Marketing Mentors 227
Negotiation and Sales Mentors 227
Business Management Mentors 228
Legal Mentors 229
Tax Mentors 229
Mastermind Group 229
Conclusion 230
31 The Path of Smart Growth 231
Preparing for Growth 231
Managing Your Time 232
Developing Systems 232
Growing at a Sustainable Pace 233
Integrating Technology into Your Business Management Systems 233
Hiring Employees and Scaling Your Business 234
Constantly Improving Your Leadership Skills 235
Index 237
See More
THAN MERRILL (San Diego, CA; www.fortunebuilders.com) is the founder and president of FortuneBuilders.com, the largest and most successful real estate educational and coaching company in the country. FortuneBuilders has been featured in Inc. magazine's "Inc. 500 List" as one of the fastest growing private companies three years in a row. Than has also been featured in 20+ episodes of A&E's hit TV show Flip This House. In the past decade he has done close to 1,000 real estate deals, everything from single-family, to multifamily, to commercial properties.
See More