E-book
Angel Investing: The Gust Guide to Making Money and Having Fun Investing in Startups
ISBN: 978-1-118-90121-2
304 pages
April 2014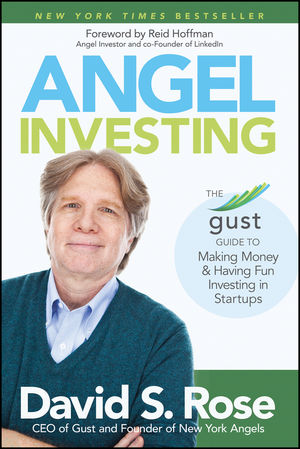 Achieve annual returns of 25% or more with a well-designed angel portfolio
Written by David S. Rose, the founder of Gust—the global platform that powers the world of organized professional angel investing—Angel Investing is a comprehensive, entertaining guide that walks readers through every step of the way to becoming a successful angel investor. It is illustrated with stories from among the 90+ companies in which David has invested during a 25 year career as one of the world's most active business angels and includes instructions on how to get started, how to find and evaluate opportunities, and how to pursue and structure investments to maximize your returns.
From building your reputation as a smart investor, to negotiating fair deals, adding value to your portfolio companies and helping them implement smart exit strategies, David provides both the fundamental strategies and the specific tools you need to take full advantage of this rapidly growing asset class. He details the advantages of joining an angel group, explains how seed and venture funds can help leverage an investor's resources, and reveals how recent regulatory changes and new online platforms are making startup investing accessible to millions of Americans.
Making money is no longer about sitting back and reading stock listings, David says. It is now about being part owner of an exciting startup that can be fun and financially rewarding.
Angel Investing
teaches investors how to carefully select and manage investments, establish a long term view, and approach angel investing as a serious part of an alternative asset portfolio while also enjoying being an integral part of an exciting new venture.
See More
Foreword Reid Hoffman xv
Introduction: How I Became An Angel Investor xvii
Part I The Basics of Angel Investing 1
1 The 25 Percent Annual Return:Why Everyone with Six Figures to Invest Should Consider Angel Investing 3
2 Plus, It's Really Fun! The Nonfinancial Rewards of Being an Angel 23
3 The Portfolio Theory of Angel Investing: Why Every Angel Needs to Invest in at Least 20 Companies 37
4 The Financial Life of a Startup: Where Angels Fit in the Big Financing Picture 47
Part II The Nuts and Bolts 55
5 Develop Your Deal Flow: Sourcing and Identifying High-Potential Opportunities 57
6 Bet the Jockey, Not the Horse: Evaluating the Entrepreneur and Picking the Right One to Back 67
7 Here Comes the Pitch: Listening to the Story Does It Make Sense for Your Portfolio? 77
8 Look Under the Hood and Lead a Deal: Coordinating Due Diligence and Running the Show 87
9 Valuations and Expectations: Discovering the Secret Economics of the Angels 93
10 Investment Rounds and Their Forms: Common Stock, Convertible Notes, or Preferred Stock? 109
11 The Art of the Angel Deal: Negotiating a Win/Win Relationship with Your Entrepreneur 121
12 Term Sheets and Closing: Trust Everyone…but Cut the Cards Anyway 127
13 After the Investment: Managing Your Portfolio and Adding Value as an Active Angel 133
14 Exits and Other Unicorns: Getting Your Money Out Makes All Things Right 147
Part III Your Place in the World of Angels 159
15 The Entrepreneurship Financing Ecosystem: Grants, Venture Capital, Accelerators, and Other Players 161
16 Building Your Angelic Reputation: Getting the Best Deals to Come to You 175
17 Joining an Angel Group: Increasing Your Opportunities and Reducing Your Risks 179
18 Impact Investing: DoingWell While Doing Good 189
19 Sit Back and Let Someone Else Do theWork: Investing in Startups through Seed Funds and Venture Funds 195
20 Crowdfunding and the Global Revolution: Angel Investing for Everyone 199
Appendixes
A Angel Screening and ValuationWorksheet 205
B Angel Investment Due Diligence Checklist 209
C Gust Convertible Note Term Sheet 215
D Gust Series Seed Term Sheet 223
E Gust Revenue-Backed Note Term Sheet 237
F International Angel Investor Federations 243
G Major Regional Angel Groups 245
H Angel Investing Blogs and Resources 249
Glossary 253
Acknowledgments 265
Index 271
See More
DAVID S. ROSE is a serial entrepreneur, Inc 500 CEO and one of the world's most active angel investors. Described by Forbes as "New York's Archangel," by BusinessWeek as a "world conquering entrepreneur," and by Red Herring as "patriarch of Silicon Alley", David has founded or funded over 90 high tech companies. He is the founder and CEO of Gust, the international collaboration platform for startup financing used by over 50,000 accredited angel investors, 1000 angel groups and venture capital funds, and 250,000 entrepreneurs. Gust received the SIIA CODiE Award for Best Collaboration Solution in both 2012 and 2013, as well as the 2012 SWIFT/Innotribe Award as the world's most innovative financial technology company.
David is also Managing Partner of Rose Tech Ventures, an early stage angel fund; Founder and Chairman Emeritus of New York Angels, the most active angel group in America; and Associate Founder and Founding Track Chair for Finance, Entrepreneurship and Economics at Singularity University, the Google/NASA-sponsored post-graduate program in exponential technologies. A native New Yorker, David has a BA from Yale University, an MBA in Finance from Columbia Business School, and a D. Eng. h.c. from Stevens Institute of Technology.
See More