Helping Children with ADHD: A CBT Guide for Practitioners, Parents and Teachers
ISBN: 978-1-118-90320-9
304 pages
June 2017, Wiley-Blackwell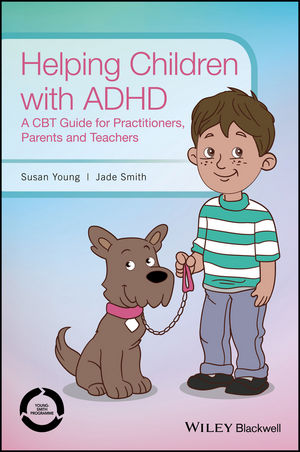 Combining the latest research evidence with the authors' practical expertise, Helping Children with ADHD offers a complete intervention programme for flexibly delivering behavioural and cognitive interventions to children aged 6-12 with ADHD and associated conditions.
Redefines and develops best practice in the application of cognitive and behavioural techniques to help children aged 6-12 with ADHD and associated comorbid conditions, including learning difficulties
Offers a range of engaging resources within a pragmatic and practically-focused approach; modular structure allows the interventions to be selected and tailored according to the particular age, ability and needs of the individual child
An appendix of entertaining stories about Buzz, a boy with ADHD, provides structural narrative while also teaching core skills in areas such as keeping calm, planning, managing impulsivity and dealing with anxiety
Straightforward, accessible language allows the techniques to be used by those without expert clinical training; dedicated sections provide advice for using the approach in school, home and group contexts
A companion website provides downloadable materials including illustrated patient worksheets to accompany the narrative stories
See More
About the Authors vii
Foreword ix
Acknowledgements xiii
Preface xv
About the Companion Website xix
1 Introduction 1
2 The Young–Smith Programme 11
3 Introduction to Buzz and His Family 35
4 Attention 45
5 Hyperactivity 75
6 Impulsivity 99
7 Anxiety 121
8 Frustration and Anger 147
9 Social Skills and Relationships 179
10 Setting Goals and Planning Ahead 205
11 Problem -solving 225
12 Mood and Self -Esteem 247
Index 269
See More
Susan Young is a clinical academic working at the Centre for Mental Health, Imperial College London, UK, and Visiting Professor at Reykjavik University, Iceland. She was previously employed as a Clinical Neuropsychologist at the Maudsley Hospital, where she set up and developed the psychology service at the first adult ADHD service in the UK. She is the author of over 100 publications in peer reviewed journals, four books and three manualised CBT programmes that are in use internationally, numerous chapters, and the ADHD Child Evaluation [ACE].
Jade Smith is a Cinical Psychologist who has worked in a range of Child and Adolescent Mental Health, Neurodevelopmental and Paediatric Services providing assessment and treatment for young people with complex neurodevelopmental disorders and associated emotional, behavioural and mental health needs. She designed and implemented an ADHD pathway as well as contributing to ADHD assessments in National & Specialist Children's Services in London. She currently works with children with learning disabilities and long term conditions.
See More
"This book is recommended to all professionals wanting to increase their skills in working with children affected by ADHD. It presents a detailed and practical scheme based on cognitive-behavioural therapy, with well-worked-out sessions and advice. Teachers and clinicians will find good ideas for promoting resilience and overcoming disability." -- Professor Eric Taylor, Retired Head of the Child & Adolescent Psychiatry Department, Institute of Psychiatry, King's College London, UK
"Finally a comprehensive resource applying research proven principles to address the myriad of co-occurring problems children with ADHD frequently experience. Drs. Young and Smith are to be commended for providing clinicians with this thorough guide filled with practical ideas and strategies for the novice and experienced clinician." -- Sam Goldstein, Ph.D., Editor in Chief, Journal of Attention Disorders, University of Utah School of Medicine
"This is a valuable resource for parents, carers and school staff, and fills an important gap in the in the support available for children diagnosed with ADHD. Most important of all, it addresses the criticism often levelled at current services, in that it places the child at the heart of the treatment process, and helps them to understand how best to minimise the difficulties that they may face at home and in school, and how best to make the most of their potential. The programme will help increase skills, planning, organisation, and personal resilience, and so lead to more positive outcomes for this vulnerable population." -- Bill Colley, Educational Consultant, The UK ADHD Partnership, London, UK
"Drs. Young and Smith's CBT Guide to working therapeutically with children is a must have for any CBT therapist or children's counsellor who is involved in supporting young people with ADHD. Providing clear and effective strategies that offer the child a framework to learn how to understand and live successfully with ADHD, this guide is long overdue." -- Dr. Tony Lloyd, CEO, ADHD Foundation
See More
Instructors Resources
Request a print evaluation copy
Contact us

See More
See Less