Textbook
The Human Footprint: A Global Environmental History, 2nd Edition
ISBN: 978-1-118-91246-1
384 pages
December 2014, ©2015, Wiley-Blackwell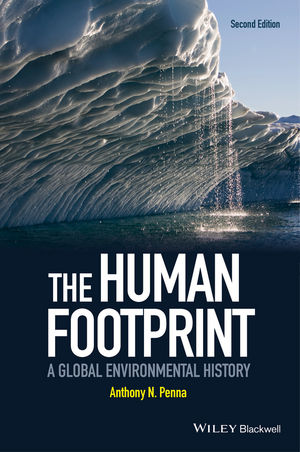 The Human Footprint: A Global Environmental History, Second Edition
, presents a multidisciplinary global history of Earth from its origins to the present day.
Provides a comprehensive, global, multidisciplinary history of the planet from its earliest origins to the present era
Draws on the most recent research in geology, climatology, evolutionary biology, archaeology, anthropology, history, demography and the social and physical sciences
Features the latest research findings on planetary history, human evolution, the green agricultural revolution, climate change, global warming and the nature of world/human history interdependencies
Offers in-depth analyses of topics relating to human evolution, agriculture, population growth, urbanization, manufacturing, consumption, industrialization, and fossil fuel dependency.
See More
List of Figures xiii
Acknowledgments xvii
Introduction 1
The Nature ofWorld History 1
The Nature of Big History 2
The Nature of World Environmental History 3
Earth's History and Human Origins 3
Mass Migrations and the Rise of Agriculture 4
Population Growth and the Rise of Cities 8
Cities and the Rise of Manufacturing and Industry 9
World Trade and New World Ecology 10
Fossil Fuels and Climate Change 11
Notes 12
1 An Evolving Earth 15
Introduction 15
The Origins of Earth and Its Unique Atmosphere: From Hot to Cold Planet 16
Icehouse Planet and Greenhouse Planet 18
Plate Tectonics, Super-continents, and Climate Change 20
TheWarming 21
The Cooling 25
The Elevation of the Tibetan Plateau and Its Effect on the Global Climate 26
The Birth, Death, and Rebirth of the Mediterranean Sea and Its Hemispheric Environmental Effects 32
The Impact of the Isthmus of Panama on Global Climate Change 34
TheMid-Pliocene, Glacial and Interglacial Cycles, and "Modern" Times 35
Notes 38
2 Evolving Humanity 41
Introduction 41
Climatic Changes and Evolution 42
Another Effect of the Closing of the Mediterranean Sea 44
Human Ancestry 45
The Birth of Human Intelligence 46
Early Diets andTheir Nutritional Value 51
Translating Human Intelligence into Action 54
Tectonic Upheavals, Landscape Changes, and Climate 55
Population Migration and Expansion 56
Homo Neanderthalensis vs. Homo Sapiens 58
The Broad Spectrum: An Economic Revolution 63
Notes 65
3 Foraging, Cultivating, and Food Production 69
Introduction 69
Early Farming and aWarming Climate 70
Settlement and Domestication 72
Early Agricultural Communities 74
Early Agriculture in China 77
Early Agriculture in Africa 79
Early Agriculture in Mesoamerica 80
Early Agriculture in Europe 81
World Agriculture during the Age of Manufacture and Industry 82
The First Green Revolution, 1840–1930 87
The Second Green Revolution, 1945– 88
Agro-business, Food Prices, and Climate Change 94
Notes 95
4 Populating the Earth: Diet, Domestication, and Disease 99
Introduction 99
A Modern Demographic Scenario 100
The Role of Disease in Calculating Population Size 102
The Impact of Migration and Settlement on Global Population Growth 106
The Role of Nutrition in Early Population Growth 107
The Role of Animal Domestication in the Spread of Infectious Disease 110
Nutrition, Climate Change, and Population 113
A Population Bomb or Not? 120
Notes 125
5 TheMaking of an Urban World 128
Introduction 128
What Does "Urban" Mean? 134
Early Urbanization and Its Environmental Effects 135
Ancient Urbanization 137
The Origin ofWriting 140
The Impact of Changing Rivers on Environmental Quality 143
Urbanization in the Indus Valley 145
China's Early Cities 150
Ancient Mesoamerican Cities 152
Early European Cities 154
Notes 160
6 Mining, Making, and Manufacturing 163
Introduction 163
The Age of Copper and Bronze 166
The Effects of Ancient Mining on Human Health and the Environment 171
Mining in the RomanWorld 174
The Age of Iron 178
Iron-Making in China and India 180
Iron-Making in Premodern Europe 184
Manufacturing in West Africa, 1350–1800 CE 190
Manufacturing in Colonial America 192
Manufacturing in the Modern World 193
Notes 193
7 Industrial Work 196
Introduction 196
The Economies of China and India 196
European Hegemony and British Industrialization 198
Economic Developments in China, Japan, and India 199
Harnessing the Power of Water 203
Disease, Death, and a Public Health Response 205
The Power of Steam 208
The Role of Invention and Innovation 211
Comparing Industrialization in the United States and Britain 212
Coal, Iron, and Steel 222
Industrial Transformation and Global Auto Mobility 228
Notes 231
8 Trade and Consumption 235
Introduction 235
Global Trading Networks 236
Distancing Consumers from Producers 237
Material Goods 240
Luxury Foods Become Commodities 244
Tobacco 244
Sugar 249
Coffee and Tea 253
Environmental Effects of Increased Cultivation of Coffee 257
Conspicuous Consumption 258
Global Consumption 260
The Automobile and Electronics in Emerging Markets 263
The Great Recession, 2008–2013 264
Notes 265
9 Fossil Fuels and Wind, Water, Nuclear, and Solar Energy 269
Introduction 269
The EotechnicWorld:Waterwheels andWindmills 270
The Paleotechnic World: Energy from Coal 280
The Neotechnic World: Energy from Oil 286
The Developing World's Demands for Energy 298
The Case for Natural Gas: A Neotechnic Energy Solution 299
Hydraulic Fracturing of Rock, or "Fracking," to Release Natural Gas Deposits 300
The Case for Nuclear Energy: Another Neotechnic Solution 302
The Case for Renewable Wind and Solar Power: A Return to the Eotechnic 303
Notes 309
10 A Warming Climate 312
Introduction 312
The Rise and Fall of the Mayan Civilization 315
The Medieval Warm Period (1000–1300 CE) and Little Ice Age (1300–1850 CE) 316
Current Global Climate Conditions 319
The Role of Solar Energy 322
The Role of the Atlantic Circulation Energy Exchange 323
The Role of Fossil Fuel Emissions 324
What Is to Be Done? 329
Notes 333
Epilogue 336
Notes 342
Index 343
See More
Anthony N. Penna is Professor Emeritus of History, Northeastern University. His books include Nature's Bounty: Historical and Modern Environmental Perspectives (1999), Remaking Boston: An Environmental History of the City and Its Surroundings (co-editor, 2009), and Natural Disasters in a Global Environment (co-author; Wiley, 2013).
See More